In this post, I'm going to break down EVERYTHING you need to know about lace closure and lace frontal (360 frontal included).
What they are.
What are their similarities and differences?
And how to sew in a lace frontal or lace closure.
… Let's dive right in.
What Is a Lace Closure?
A lace closure is a top piece of hair that consists of some hair strands and a relatively small lace base material. Closures are typically 4×4 in size.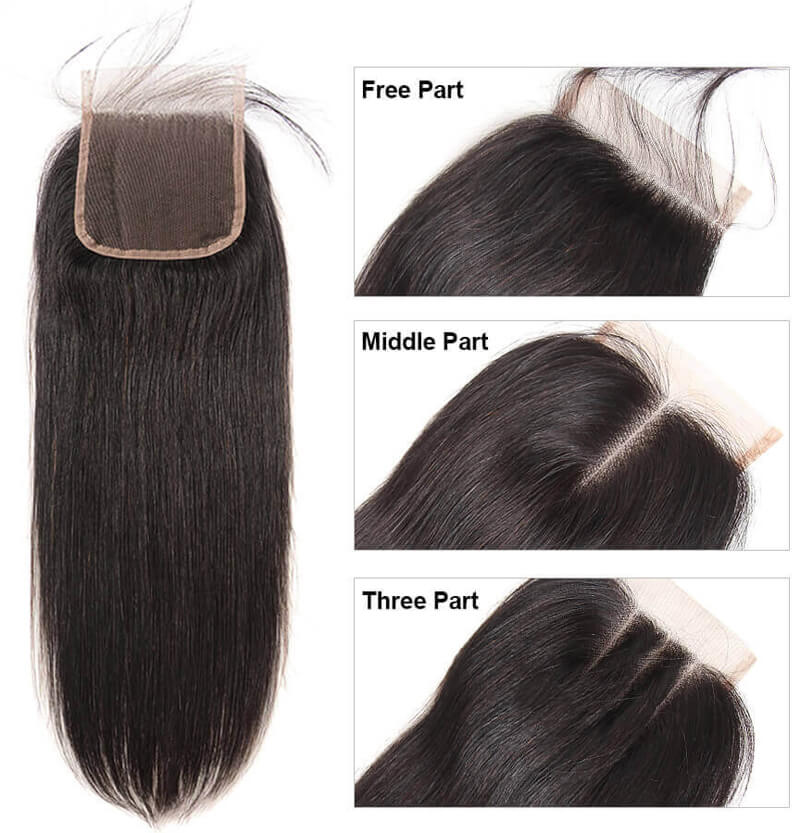 As you can see, there are three different options for closure: middle part, free part, and three part. And the purpose of the closure is to finish your style flawlessly so that it looks natural.
What Is a Lace Frontal?
A lace frontal is the "finishing piece" that consists of some hair strands and a relatively big lace base material. Frontals are typically 13×4 in size, but there are also frontals with lengths of 13'' x 6'' or 13''x 2''.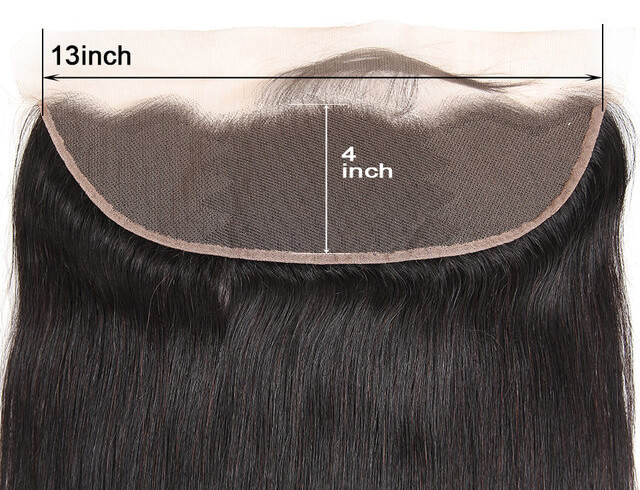 A frontal spreads from ear to ear, which covers the entire hairline. This allows you to part your hair as you like, making it the most versatile option.
Frontals do typically recreate a hairline. If you want to try something different, this could be the perfect solution.
You might heard a new phrase like "360 lace frontal." But, how about 360 frontal?
What Is a 360 Lace Frontal?
A 360 frontal is a lace headband with hair on it. This frontal is the upgraded version of the original lace frontal.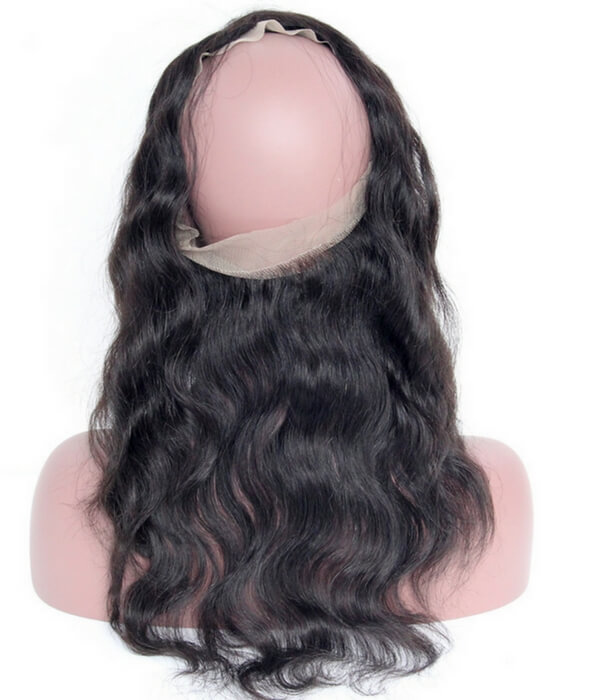 The 360 frontals have been more popular in recent years, because of their uniqueness and maximum versatility.
It covers the entire perimeter of your head with space left in the middle for bundle installation, allowing for more versatility.
And this frontal allows the wearer to not only pull the hair back, but also put your hair into various high ponytails.
How Much Does a Lace Closure or Frontal Cost?
A good lace closure or frontal might set you back somewhere between $30 – $300…
Pretty affordable, right?
Usually, there are a few cost factors you need to consider:
Brand of Hair
Length of Hair Closure(10'', 12'', 14'', 16'', 18'', 20'')
Color of Hair Closure(1B, 613)
Texture of Hair Closure(Straight, Curly or Wavy)
Size of Hair Closure(4×4, 5×5, 6×6, 13×4, 13×6, 360 frontal)
Finding a reliable brand isn't an easy task.
There are several factors involved when choosing a hair brand for your money. Sometimes trial and error is a part of the process.
So, being educated about hair makes it a lot easier to spot lousy brands.
Lace closures or frontals with longer hair (18'' – 22'')  will cost more than closures or frontals with shorter hair (12'' – 16'') because longer hair is more expensive to source.
Also, hair texture is a critical factor. You need to be sure it blends with your bundles.
The size of the lace closure or frontal will also play an essential role in the price. A bigger lace frontal like a 13" X 6" will require more hair and time to manufacture than a 4" X 4" lace closure.
A standard 1B color of lace closure or frontal will cost less than colored hair because there are extra manufacturing costs of coloring the hair.
So, it's up to you.
Pro tip: 
The lace closures or frontals are made with virgin hair and can be VERY expensive.
A single virgin hair frontal can take 2 days for one employee to create because it has to be done strand by strand keeping the cuticle in the right direction.
Lace Closure vs. Lace Frontal – What's the Similarity?
Both lace closures and frontals are great because they eliminate the need for leaving hair out and the risk of heat damage.
If you're interested in getting a weave, a natural look is a must-be! A lace closure or frontal is the perfect solution.
And they serve a similar purpose – to close off a weave install flawlessly. When completed, it will give you the illusion that hair is growing directly from your scalp.
Pretty cool, right?
Lace closures and frontals allow a more realistic-looking hairline. And both can be used as a solution to hair loss and constructed into wigs.
Although lace closure and frontal have many similarities, the differences between the two are distinct.
Lace Closure vs. Lace Frontal – What's the Difference?
The differences between lace closures and lace frontals are size, versatility, and cost.
Size
Size is the most obvious difference. Closures are typically 4×4 in size and tend to sit in the middle of the head or on the side for a side part look.
However, the most common length of a frontal is 13×4, which covers the entire hairline. A new generation of frontals (the 360 frontal), now allows for full hairline coverage around the entire head.
Versatility
A lace frontal goes from ear to ear, which gives greater coverage, allowing you to be able to part the hair anywhere and therefore provides more flexibility in styling.
However, a lace closure only covers a portion of your head, so it's close to impossible to pull your hair back without exposing your tracks.
Cost
Although lace closures are typically smaller and less versatile, they are also the least expensive.
Instead, lace frontals are the larger and most versatile, they are also the most expensive.
Pro tip: Lace frontals typically require fewer bundles for a full install.
Lace Closure vs. Lace Frontal – Which is Better?
The answer is: ask yourself because it's a matter of preference!
If you are looking to stick to a lower-cost budget and don't mind maintaining the same style, lace closure is a perfect solution.
Besides, if you are experiencing some thinning at the top of your head, a lace closure would be great to cover that up.
Lace frontals provide more versatility. If you enjoy often changing up your look, frontals are your best option for overall style versatility.
But, if you want absolute styling freedom, the 360 lace frontal is the perfect solution for your hair needs.
Introducing- Base Material of Frontal Closure
In today's hair market, there are two popular base materials for closures and frontals: lace and silk base.
Lace is the most common base for both frontals and closures.
And this lace is made of a universal color that blends with most skin tones.
If you want a more realistic look, a silk base is a perfect solution. When compared to lace closure, a silk base closure provides a more natural look as it looks like a scalp.
But, this closure can be quite expensive!
How to Install a Lace Closure or Frontal?
Learn step-by-step how to apply a lace closure or frontal to your install for that perfect finish. Here's the detailed technique of Ericka:
How Many Bundles Do I Need for a Sew-In with a Lace Closure or Frontal?
This is one very frequently asked question.
Well, a few factors go into choosing how many bundles you'll need for your desired look:
Length
Weight
Texture
Size of Your Head
Type of Closure
Because a lace closure is smaller than a frontal, you will probably need more hair from bundles.
If you use a 360 lace frontal, you will need about two bundles up to 22'' and three bundles once you are going over 24''  in length.
Remember: the longer the length of your bundles, the more hair your generally going to need.
The standard weight of one bundle is​ ​about​ ​3.5​ ​oz or 100 grams.​
However, the hair bundle that some hair vendors sell weighs ​about​ 50 grams, which means that you'll need more hair bundle sew-ins.
The kind of hair must be taken into account when deciding how many bundles you'll need.
With curly hair or deep wave, you can get away with fewer bundles since the hair density is naturally going to be fuller. I recommend 2-3 bundles for a naturally full look.
Instead, if you choose straight hair, you might always need about 3 to 4 bundles for a brimful look.
In short, when deciding how many bundles you need with a lace closure or frontal, you have to consider many factors. But, here's an easy-to-remember answer:
You need three bundles for your sew-in, that's typically the magic number.
If you're still confused, you can consult with your stylist before deciding on exactly how many bundles you will need.
Over To You
Now I'd like to hear from you:
What do you think of lace frontal or lace closure?
Do you plan on getting one?
Or maybe you have a question.
Either way, let me know by leaving a comment below right now.