If you've been in the HAIR industry for a while, you know hair brands are a dime a dozen.
They all promise to provide high-quality hair wigs and help you achieve the perfect look every day.
Just take a look: A simple "human hair wigs" Google Search generates a TON of hair sellers.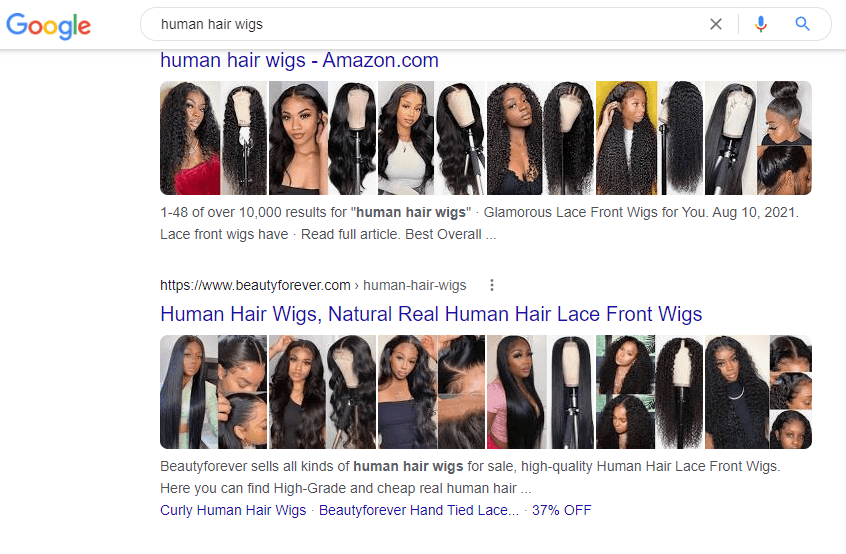 Unfortunately, a lot of these sellers don't deliver on their promises. And as a newbie, it can be downright difficult separating quality hair products from those merely selling false hope.
In this article, I review UNice hair and see whether it lives up to the hype.
In fact, I'm going to give an honest review based on my real experience purchasing their products. And I will give my opinion, let you decide for yourself if UNice is worth the price.
Let's dive right in.
Note: This is an unbiased review, not a sponsoring positive post.
What Is UNICE?
Unice (created by Unice Co., Ltd) is a hair brand that is known for its human hair products. And UNice Hair is a global beauty e-Commerce business based out of XuChang, China.
This e-commerce site is a known China company that deals with wigs, extensions, and bundle packs.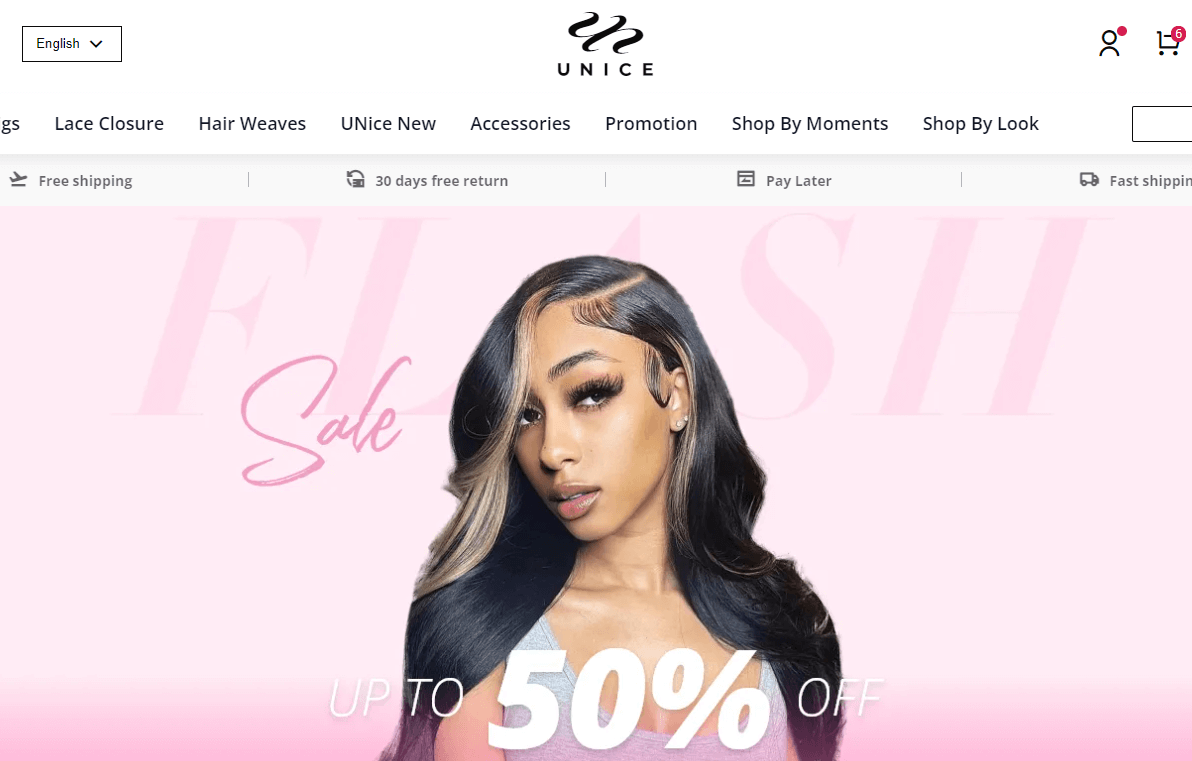 The store has a wonderful selection of 100% human hair and the overall use of the site is quite easy to navigate.
Wigs, weaves, and closures are available. The hair comes in a vast amount of both textures and colors.
There is a way to set up payment installments to get the product now and pay later. They support many payment methods, like Klarna, Afterpay, Paypal, Sezzle, Stripe, Zip, etc.
Plus, I found many praises for its installment payment option. So if you have a tight budget, this brand might be a good choice.
UNice hair company offers not only installment plans but also accepts a variety of payments. Compared to other competitors, that's one of its biggest advantages.
This company owns its factory, which allows them to pass on the savings to end-users.
To shorten delivery time and provide buyers with better service, they have built their local warehouses and opened retail stores in the United States.
Yup, that's pretty cool.
Overall, Unice hair has a high name to live up to. In today's hair industry, it can even be said that the brand is China's first brand on the Internet.
Other than that, Luvme is also a very popular brand. These two brands are the leaders of China in the hair industry.
So yeah, let's take a look at Unice Hair.
It looks well. Right?
With that, now that you know the main things about it, it's time to analyze it more closer.
---
Authenticity (9.1 out of 10)
---
Their company claims that its hair bundles are made of 100% original human hair.
Is that true?
To be honest, their hair does feel soft and silky. When I received my hair, I tested it in various ways. As it turns out, it is NOT mixed with animal or synthetic fibers.
In this regard, I can attest to their claim.
But the hair bundle is NOT from a single donor. This can be problematic. You can end up with a bundle that has hair from three different people.
In reality, more than 95% of hair companies are selling hair that tends to have multiple donors.
In my opinion, it doesn't matter whether the hair bundle is from a single donor or multiple donors. Of course, you may think otherwise.
If you are an experienced hair extension user, you'll know that Brazilian Hair is trendy.
The question is:
Have you ever wondered if your hair weave really comes from India? Or Brazil? Or Peru? Or Malaysia?
Well, sorry to break it to you, but most likely it does not.
For human hair vendors to remain competitive, hair companies market hair as Brazilian, Malaysian, Peruvian, or Cambodian hair. This is a clever marketing tactic that makes the hair appear more exotic and desirable.
According to The Truth About the Human Hair Industry by Alix Moore, Brazilians do not sell their hair, nor do they cut it for profit or religion.
In fact, UNice hair company makes a fake claim of importing hair from these countries, including Brazil, Peru, and Malaysia.
Now, To be clear:
It's ONLY a clever marketing ploy.
---
Hair Quality(9.3 out of 10)
---
I'll cover the details of the product in the chapter.
As a policy, I don't accept freebies or sponsors. That way, my reviews (like this one) remain unbiased.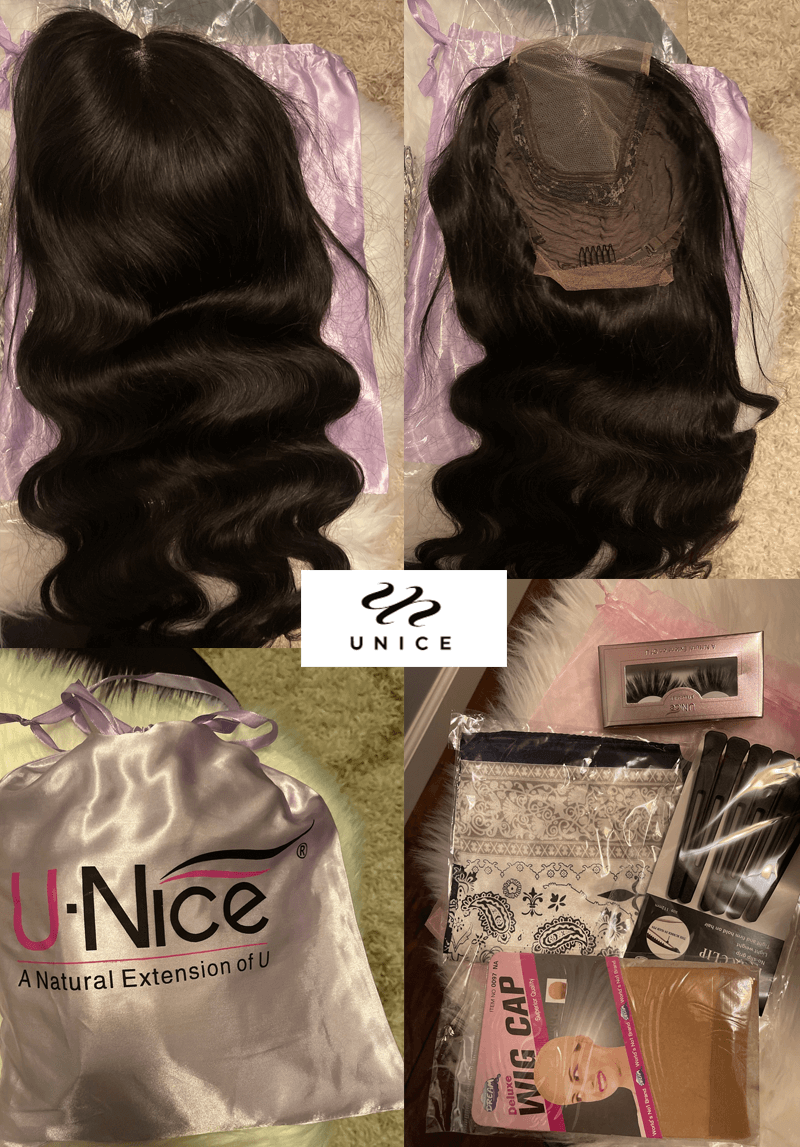 Hair Strand
Some companies show us pictures of beautiful, natural, shiny, full hair. Their goal is to get customers with attractive images.
Honestly, those pictures extremely lured us for the first few minutes.
In reality, when you receive them, they aren't the same product at all, color, style, etc.
Unlike other companies, Unice hair company has pictures of its actual products on its website, and they show you their real products so that you can make quick decisions.
This hair is 100% human hair and when you run your fingers through it you can tell how soft the strands are. The curl pattern is great.
The hair was purchased in the color natural black, it was consistent throughout which makes the hair look high quality.
Another good thing was the texture. The hair was purchased in a body wave. Prior to being combed out the hair looks beautiful, afterward, almost the same.
While they were natural black, it has grey or red hair. In terms of appearance, this's a little breakdown.
Hairline
This unit was marketed as having a realistic hairline. In fact, they were so close to succeeding with this title.
The wig came with a 4×4 lace front closure. The lace material wasn't specified but it seemed of good quality.
The hairline was pre-plucked, and the unit comes with baby hairs. For the price of the unit, it's an advantage that both of those could have been included.
Overall, this wig came with a natural hairline. Both the knots and the lace work together to form a natural-looking base.
One thing to note about these knots weren't bleached.
Density
This hair was purchased in a 180% density, 20" length. The hair is thick throughout and doesn't get thinner at the ends of the hair.
They offer two different density choices – 150%, and 180%. You can choose according to your needs.
The hair was $170 which is expensive, but even with a smaller density, the hair is worth the price.
Construction
This lace takes up the front middle part of the unit. And the cap perfectly matched up with the 4×4 closure.
The closure blended into the cap nicely. There were a few loose strings, specifically around the attachment of combs.
There wasn't an option to select cap sizes, but the unit came in the medium which is quite average. The material of the cap was extremely flexible making it fit just about anyone.
Plus, the wig also came with 4 combs to help secure the unit to your natural hair.
As a result, the unit was made very well.
---
Tangling & Shedding(9.4 out of 10)
---
Many hair extensions available on the market today have one issue in common: Tangling.
Well, there could be a few reasons why your hair is tangling. Your hair is more likely to tangle if:
Your extension's quality is extremely TERRIBLE
It is super curly and thick
It is very damaged and dry
You don't brush your hair throughout the day
You sleep with your hair down
Maintaining beautiful hair requires proper care. It's no secret. For more care and tips on how to avoid tangling with both your hair and extensions, that's another story.
But first, it's time for me to show you whether Unice hair company's products are easy to be tangling.
The issue of tangling was not much of a problem with Unice hair extensions. Just like your natural hair, their products do tangle very minimally or not at all. That is completely negligible and manageable.
Which meant the manufacturer had used good grade hair in its products.
Specifically, they use high-quality, original Remy human hair to manufacture hair products.
As it turns out, the hair didn't shed much which is a positive.
Remember:
You can minimize shedding and tangling, by maintaining your hair extensions with utmost care.
---
Longevity(9.4 out of 10)
---
The lifespan of wigs will depend on what products you use on them, how often you wear them, and how well you take care of them.
With proper care and regular wear, Unice Hair lasts anywhere from 3 months up to 6 months or even longer.
All good right?
Well… Check out the latest video about UNice hair factory:
We can see that they have implemented a strict and complete quality control system, which ensures that each product can meet the quality requirements of customers.
---
Processing(9.4 out of 10)
---
The hair products are not chemically processed, meaning that you can dye and style them with ease.
According to lots of our research, I found that Unice hair easily catches color and the process of hair manufacturing makes no use of colors or silicone.
Unfortunately, some hair companies go for chemical treatments to make their products look good/shiny. There are a few reasons why we think so:
They use poor quality, rejected, or unauthentic hair in their products.
As a result, hair extensions that receive chemical treatment perform poorly when you try to dye them.  It is important to mention here that chemically processed hair extensions are not good for your scalp either.
Normally, the wigs that are chemically treated will give a really pungent smell. And the smell doesn't go away even after shampooing the hair a dozen times.
And what's worse is, the products that chemically processed may create itching or irritation.
So all you need to do is choose the perfect hair for your scalp.
In terms of processing, Unice hair company does an exceptional job. The smell was one advantage to the purchase along with the price of the product.
---
Delivery Time(9.6 out of 10)
---
The time in which you receive your order will depend on many factors such as the shipping method as well as the location of the shipping address.
Fortunately, this company has overseas warehouses in the United States. And it ended up being free.
Normally, you can receive the package within 3-6 days! Keep in mind order processing can take an additional 1-2 days on top of the delivery time.
Besides, this carrier does not accept P.O. boxes as a deliverable address. If done, the company will contact you to choose an alternative shipping address.
International orders are shipped from the warehouse in China. Shipping is also free and the services used are DHL, UPS, and TNT.
The key point I want to say is about the physical retail store of Unice hair company.
The company has over 4 physical stores located throughout the US. It's a huge advantage.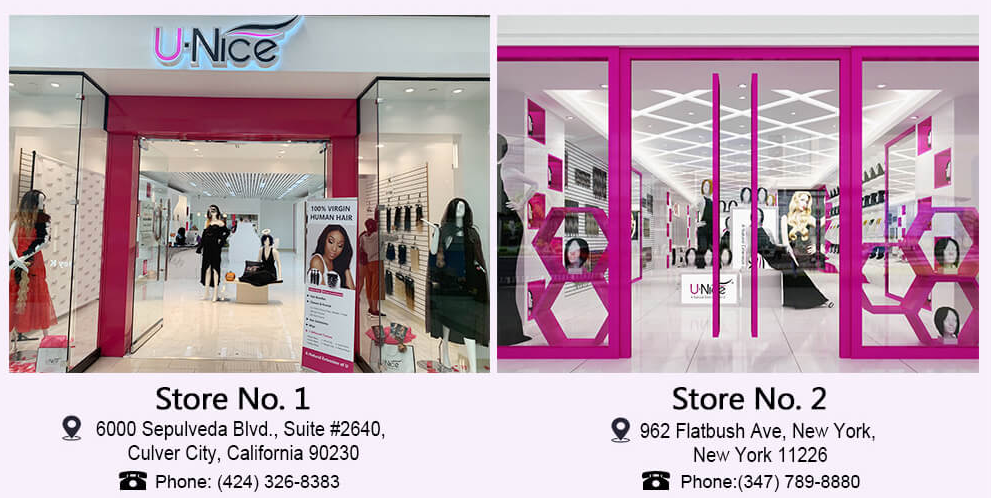 (Unice hair: physical retail store)
So if you're in the area you can evaluate the hair before a purchase.
---
Customer Support(9.6 out of 10)
---
When the order was placed, I was contacted via email from the company. They provided an order number and details of the order.
While the messages appeared to be auto generated, they still proved to be helpful.
In addition to email service, they also respond via phone along with Whatsapp numbers.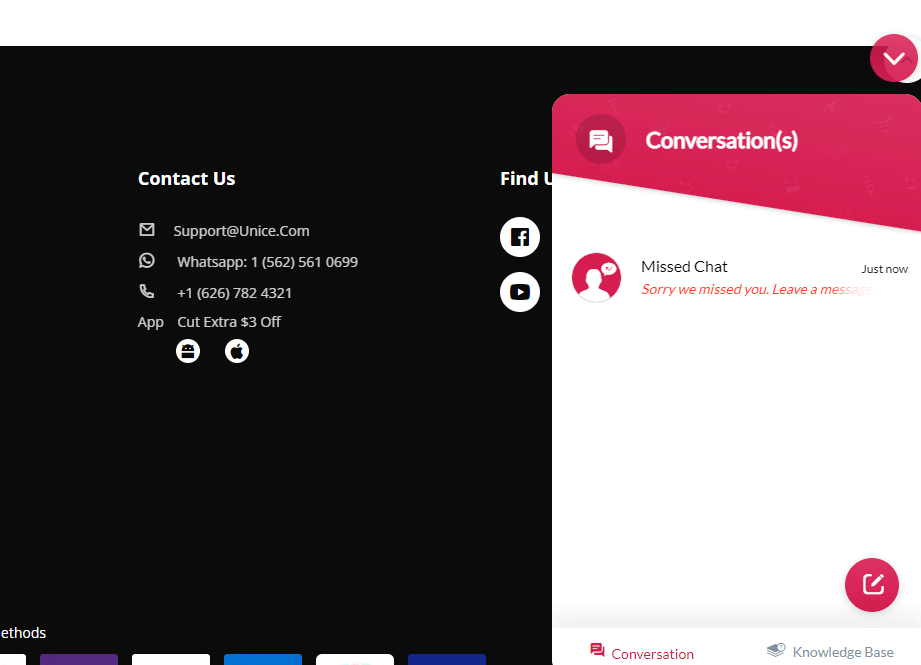 One feature of customer support they provide is a live chat. This feature is easy to use and often the fastest for a customer to receive an answer.
Plus, they have stated their company has a customer support team operating 7 days a week 24 hours a day. Nice.
In fact, their social media accounts also proved to be helpful in answering any additional details about the hair that is provided.
My personal experience with customer support was pleasant.
---
Other Opinions(9.4 out of 10)
---
As you know – I usually avoid the reviews on its official website, because they tend to be biased.
And fortunately, I found plenty of real opinions.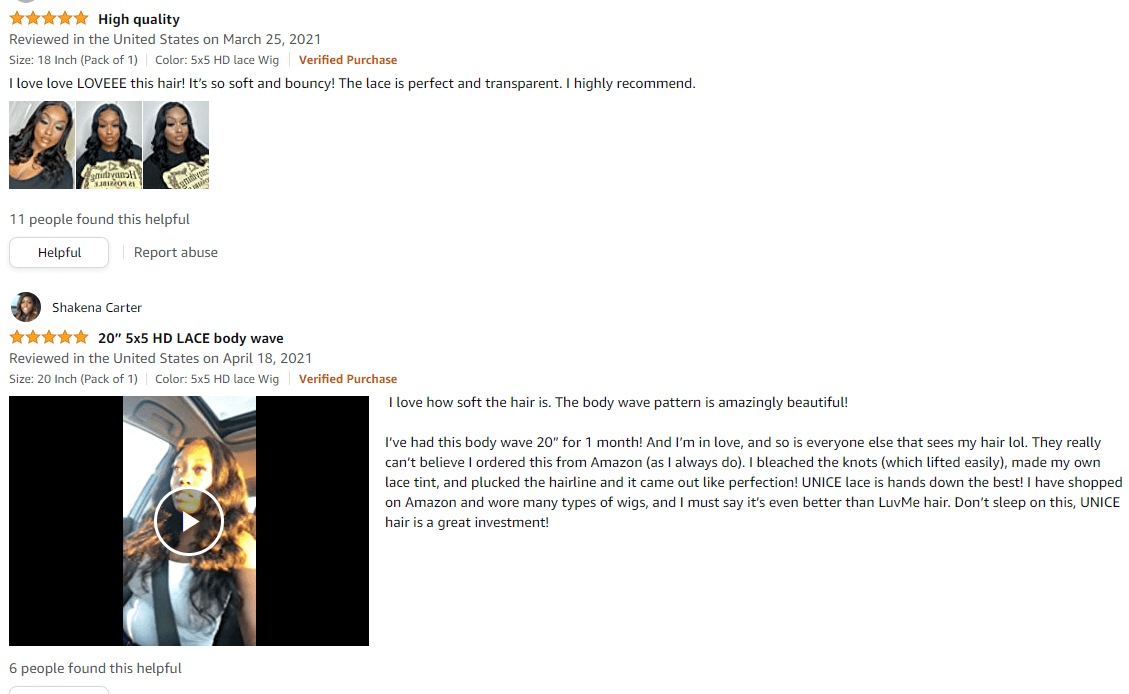 Many customers were very happy with Unice hair.
However, there are also a few customers who complain about their products.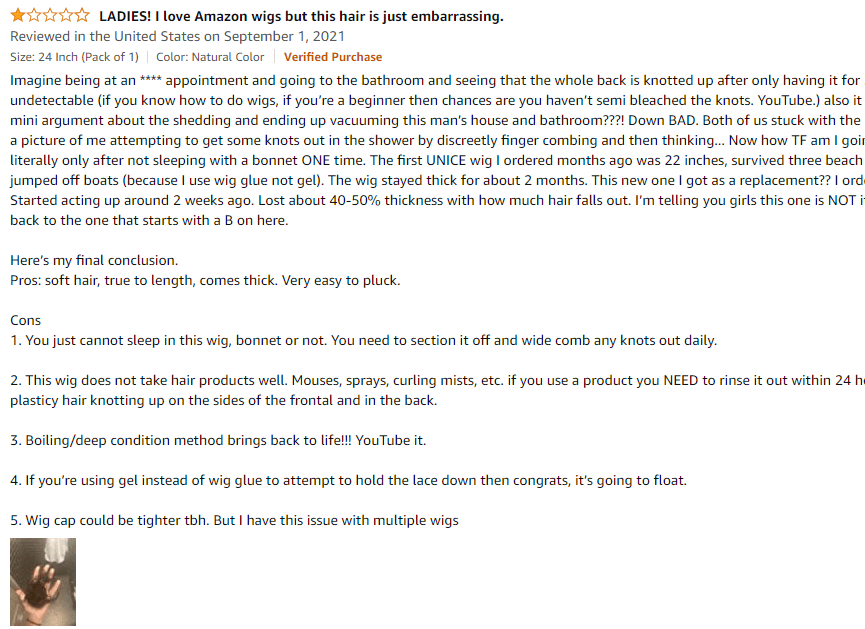 This customer was not too happy with the hair that was purchased. The hair had a serious shedding problem.
So as you might expect – opinions are quite mixed up (which is completely normal).
But other than that – there are over 70% positive reviews on Unice Hair.
So it's pretty clear that it's not a scam, but a good brand.
---
Pricing(9.3 out of 10)
---
From this point of view – Unice looks better than its competitors.
In terms of price, I consider it reasonable.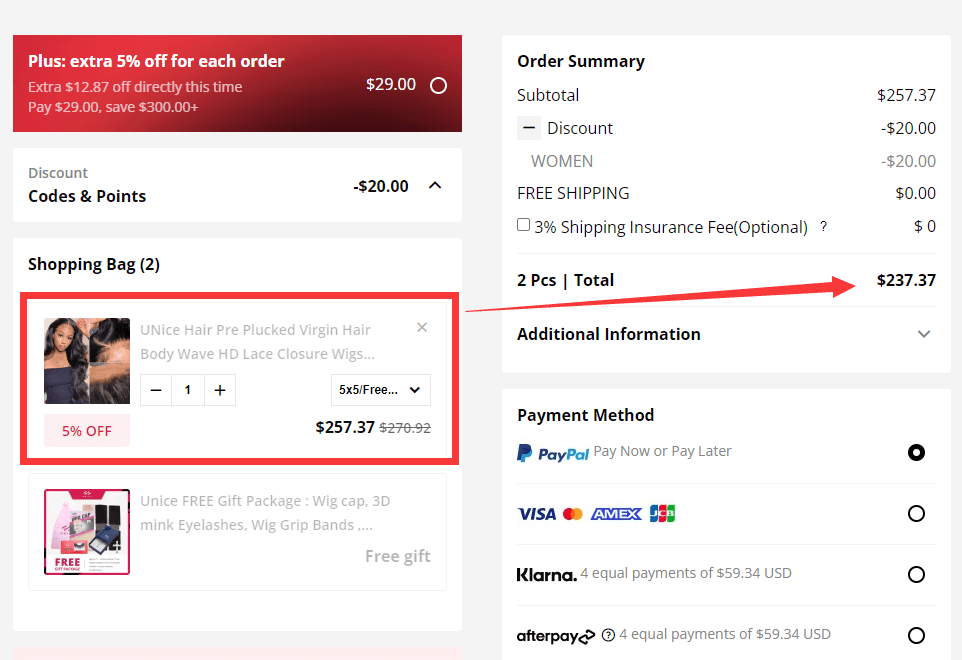 So when it comes to price, I have nothing to criticize about Unice Hair.
I also compared Unice hair with its competitors, like Luvme, Alipearl, Myfirstwig, Hairvivi.
Basically – Unice Hair is cheaper than other competitors.
So I personally would advise you to pay so much for it.
---
Where To Find It(9.6 out of 10)
---
Fortunately, Unice hair is available to buy from several platforms.
Amazon
Its official website
AliExpress
So if you really want to purchase these products – the official website is the best choice.
They always offer discount codes. And you even can get a free gift with your purchase.
Besides that, there are more fashionable hairstyles on its official website. Unice hair company also provides an app to shop for their products. By downloading this app you receive an additional discount on your purchase.
---
Pros and Cons
---
Pros
100% real human hair
The hair is of high quality and inexpensive(affordable).
VIP – They allow customers to earn extra incentives just by shopping.
Rewards program and Affiliate
Diversified payment methods and support installment payment
Great customer service and free 30-day return policy.
They have physical retail stores and overseas warehouses in the United States.
Cons
They ONLY use a clever marketing ploy, like Brazilian, Malaysian, Peruvian hair. FAKE!
Hair quality is not uniform.
The reviews on the official site are extremely positive.
---
Should I Buy Unice Hair?
---
The wig I received was great and worth the so-called affordable price.
Although Unice hair is NOT the best hair regarding quality, it's still an excellent hair brand with high-quality and well-made.
When you compare the price, Unice hair is also a lot cheaper than other competitors such as Mayvenn, Queen Hair, Diamond Dynasty, Indique, and Her Imports.
Therefore, Unice hair is a perfect choice. And there were many reviews that had a positive viewpoint.
If you are new to the hair industry, it would be a good option due to its well-known. Do your proper research and surely you will be pleased with the result.
Plus, there are free returns, so there is no risk. Overall, I would recommend this brand.
Conclusion
I believe shopping with Unice is a great option for buying your hair extensions, weave, or wigs. You may save some money in the process.
So I recommend you hop on over to the site and check out their hair products.
Now I'd like to hear from you:
Are you going to use Unice hair products?
Or maybe you want to say something about Unice hair satisfaction.
Either way, let me know by leaving a comment below right now.