If you're looking for real Ali Annabelle hair reviews, you've come to the right place.
Here's the deal:
Most Ali Annabelle reviews are completely biased.
We wanted to do things differently. Specifically, our team stepped inside their factory and learn more about how their products are made!
So let's get started.
Here's What We Did
Did extensive research on the company store and social media accounts
Read consumer reviews
Watched youtube videos
Visited their factory
Bought hair products from Ali Annabelle company
Put hair extensions to the test
To create our reviews model, we compiled 12 pieces of data for this hair vendor:
1.  About Ali Annabelle
2. Hair Material
3. Authenticity
4. Processing
5. Hair Appearance
6. Tangling
7. Shedding
8. Life Expectancy
9. Swimming With Ali Annabelle Hair
10. Shipping
11. Pros & Cons
12. The Cost
Next, we will talk more in-depth one by one.
What is the Ali Annabelle Hair Company?
Ali Annabelle is a relatively new hair extension brand, with its headquarters being in xuchang, Henan, China.
Ali Annabelle extensions are available 8 to 28 inches! You can choose from a variety of types and colors. And their products are sold on multiple platforms, such as AliExpress, Amazon, Wish, and more.
AliExpress Ali Annabelle hair store's store No. is 1752390. You can click the following link to visit it.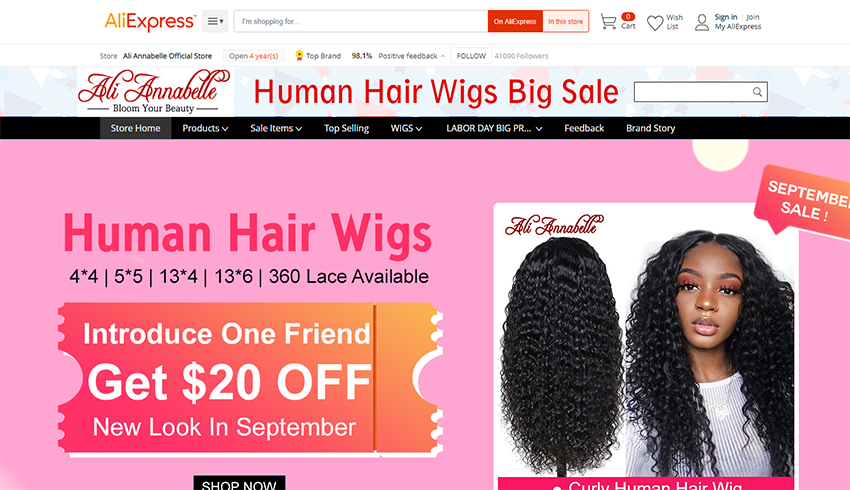 This brand became recognized and appreciated for the quality of its extensions and for the fact that they use just handpicked human hair for their extensions.
OK, let's slice and dice all-important parts of the hair.
Hair Material
Ali Annabelle Hair extensions are made entirely from Remy human hair. Remy hair is the high grade of human hair with the cuticles kept intact.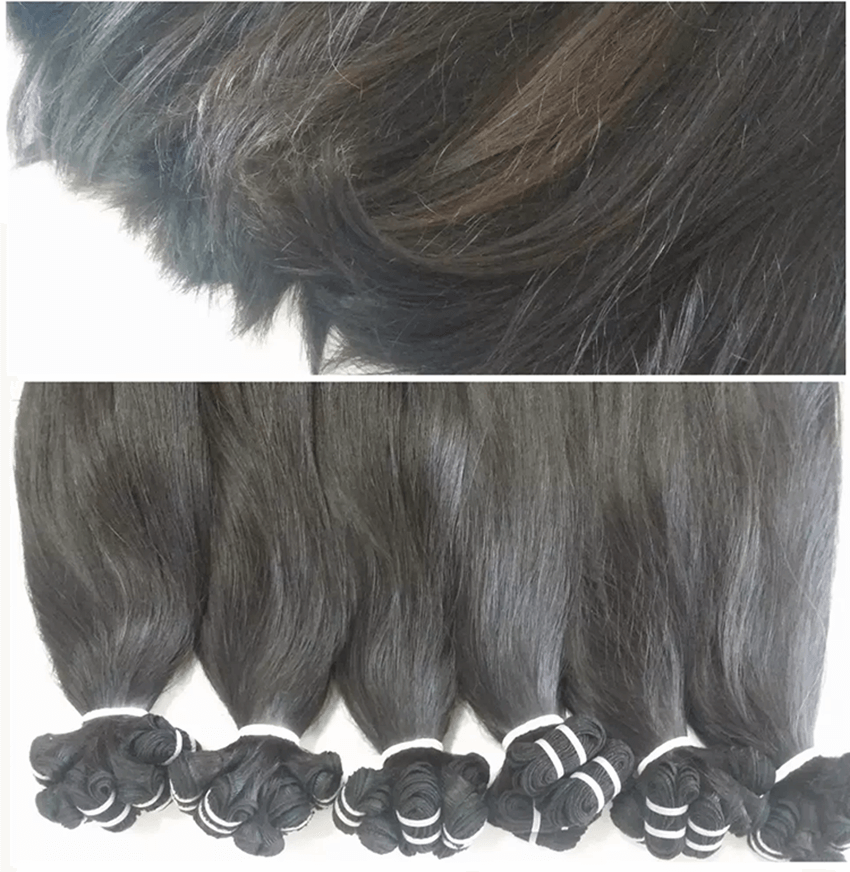 Now, you might be wondering:
How to check if the hair I bought online is real Remy human hair?
It's a simple. You can try the hair cuticle feel test and conduct a smoke test.
The Hair Cuticle Feel Test
To feel for the hair cuticle, hold the bottom of your hair, wet your fingers and run them up the strands.
You should feel a bit of resistance when you move your fingers. If you do feel resistance, then it means that a non-stripped cuticle is there.
And If it feels smooth going down and going up, that means the cuticles have been removed.
A Smoke Test
To perform this test, you need to cut a strand of hair. Then, put it on a burning flame.
If you notice that the hair burns with white smoke and turns into ash, then this is a sign that the hair is human and there are no synthetic fibers present.
Synthetic hair will melt slowly into a ball instead of burning, smells like rubber and produces black smoke. Then the hair will turn into a sticky texture which will harden when it cools down.
Authenticity of The Hair
Ali Annabelle company claims that its hair extensions have never been mixed, chemically processed or altered.
Honestly, their hair is NOT mixed with animal hair, synthetic hair, or Non-Remy hair in order to reduce the price.
What's more, there is absolutely no chemically process involved in the production.
But they do other forms of processing to get rid of dirty and disinfection.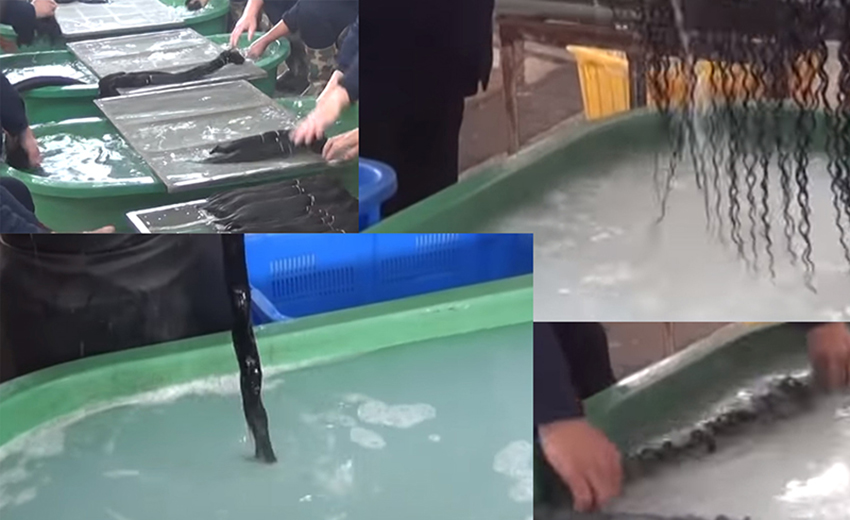 This process ensures that the hair remains ultra soft, shiny and silky throughout its lifetime.
Furthermore, they didn't coat the hair with silicone. There is no need for the processing because the company is using high-quality Remy human hair to manufacture its extensions.
If you visit their store, you will see exotic hair, such as Brazilian hair, Peruvian hair, Malaysian, etc.
Unfortunately, it is untrue. This is a clever marketing tactic that makes the hair appear more exotic and desirable.
Processing
We've known a few types of processing that hair can undergo including hair that has been color-treated, permed, relaxed, bleached or dyed.
This type of processing all falls under the umbrella of chemical processing.
Although extensions from Ali Annabelle company has never been chemically processed or altered, they did two processes worth mentioning in their production.
Let's talk about the first one.
During production, they mix lengths together to make the hair natural.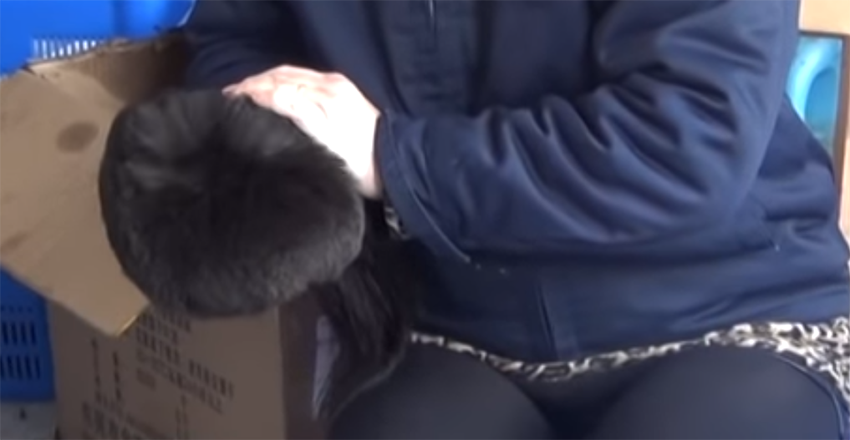 Simply, while the hair is being sold as 22" in length, they mix in shorter lengths on the weft or strand.
Going further, if we take a bundle of 22" straight hair extensions as an example, around 30% of the hairs are likely to measure approx 22", with the additional 70% comprising of a combination of lengths which are likely to be between 16-20'' in length.
This means that the hair will be thick at the tip of the bundle and then taper off slightly towards the end.
There is another type of processing that hair extensions undergo called steam processing which is much less harsh on the hair.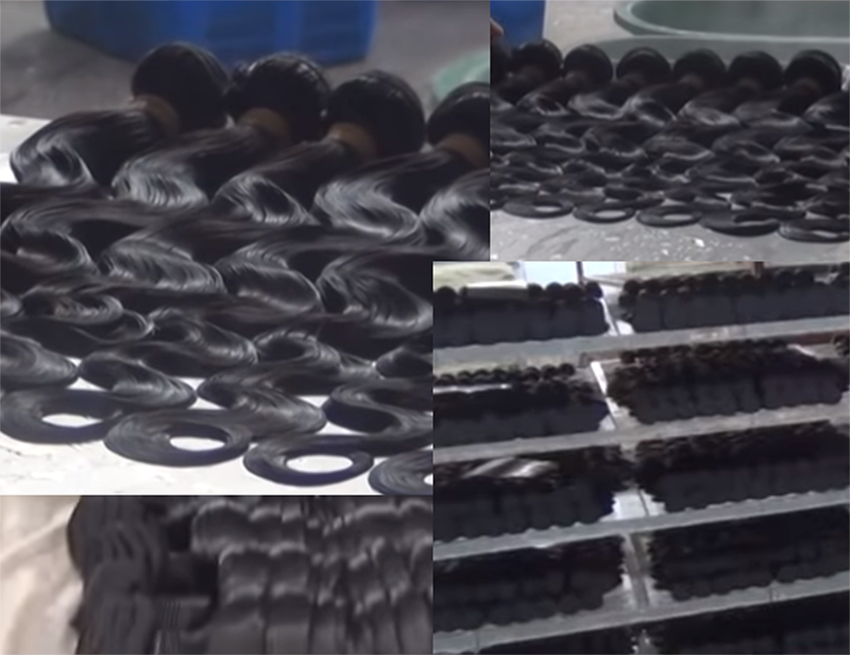 Steam processing or steaming allows for the creating of those hot exotic and unique styles like body wave, curly hair, deep wave, loose wave, water wave, natural wave and so much more.
Hair Appearance
Ali Annabelle has attractive pictures on its store so that you can make quick decisions.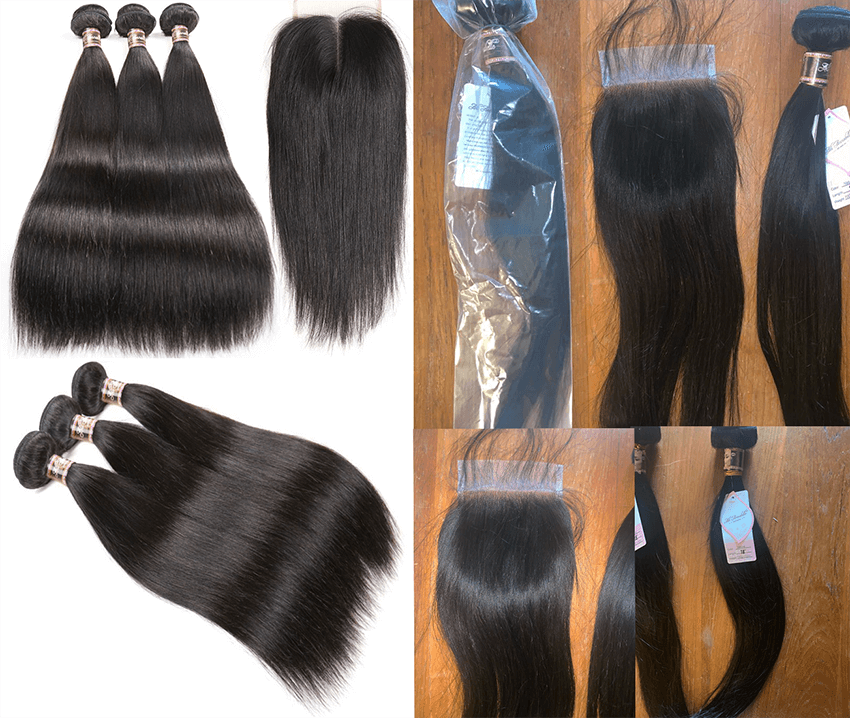 Pictures of store vs. Actual products
The good news is:
The hair products from Ali Annabelle are almost the same as those described in their store. And the hair looks really pretty, silky, nice, luster and full. When you touch it from root to end, it feels so soft and good.
If you check it carefully, the hair bundle has few strands gray hair inside. But it's not a big deal.
In fact, picking the gray hair out is a step in their production process. But this also DO NOT guarantee 100% no gray hair. If you do mind, I think you can pick the few strands out yourself.
Tangling
The issue of tangling was not much of a problem with Ali Annabelle hair extensions.
I'm biased, but I think it's pretty cool.
They use original human Remy hair in its extensions. Remy is hair collected and sorted from various sources with the root and tip traveling in the same direction to ensure the cuticle does not tangle or matte easily.
But remember:
No hair will be completely tangle-free. You should take care of them like your own hair, proper care is essential to minimize shedding.
Shedding
Just like your natural hair, extensions will shed. Shedding is a common occurrence with hair extensions.
There could be a few reasons why your hair is shedding, such as the quality of extensions, the style of hair, the way of nursing, etc.
Today, we focus on the quality of our hair extensions.
To solve the problem of hair shedding, Ali Annabelle company added three key processes to production.
Double Machine Weft
Hair Brushing Again and Again
Shedding test
The double-wefting process reduces shedding because it's thicker and sewn tighter.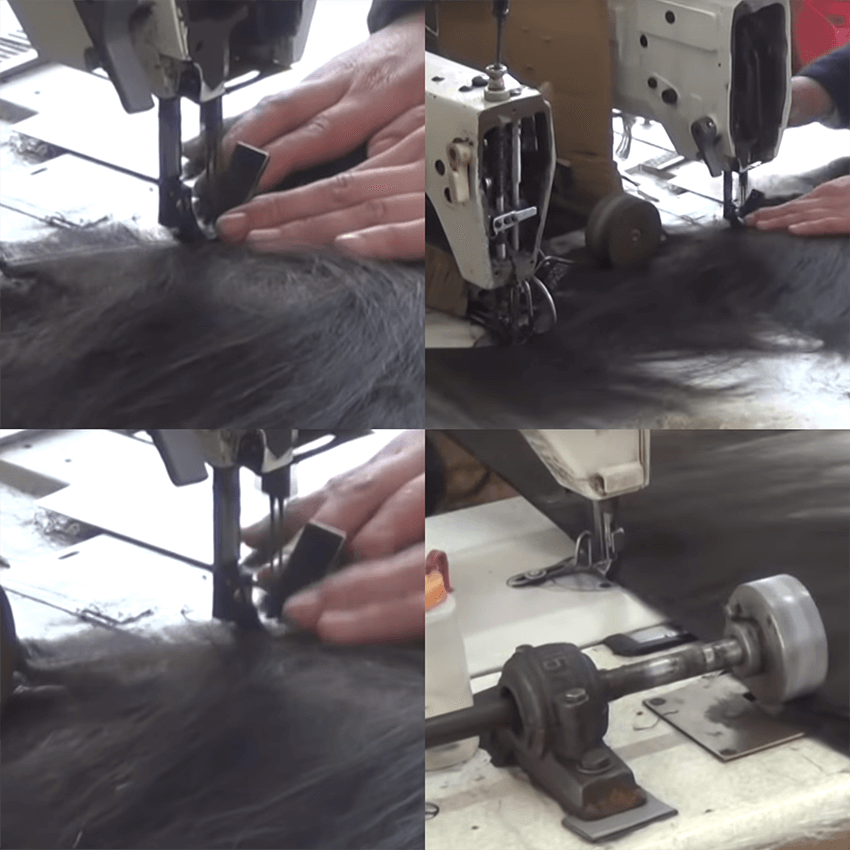 Repeated brushing and shedding tests can remove insecure hair that is sewn into the weft.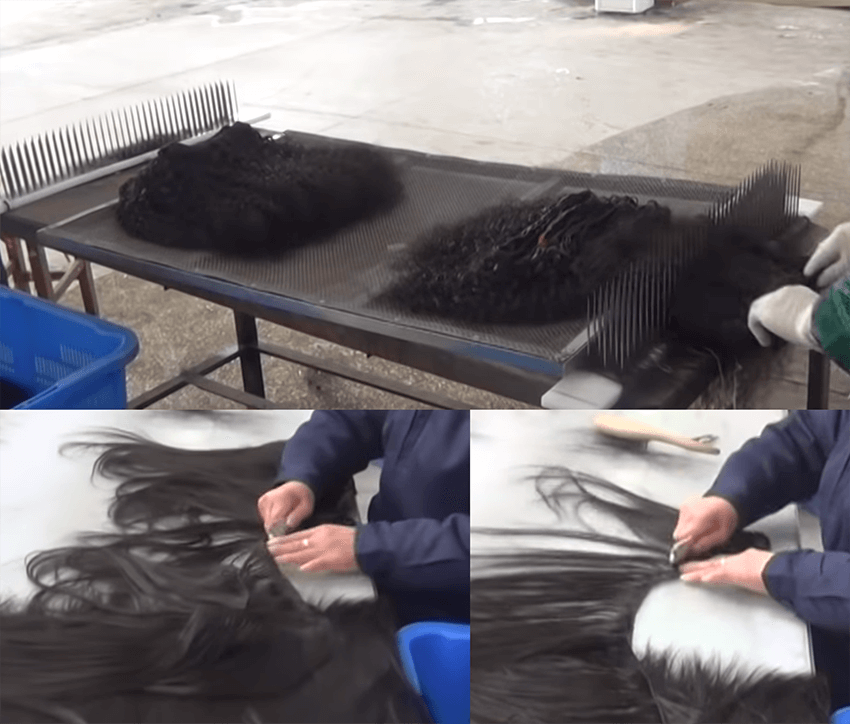 If you get a high-quality product, the next step is to create a good routine with your hair extensions from the start. This will help minimize the possibility of shedding.
Overall, shedding is not something you can complain about Ali Annabelle.
Life Expectancy
These is the most common types of customer concerns.
Unfortunately, I can't fully say a specific number.
Usually, the lifespan of Ali Annabelle hair can range anywhere between 3 to 6 months to a year or longer, depending on the general care they receive and how often they are worn.
The more you wash and heat style your extensions, the shorter their lifespan will be, so try to keep the washing and using products on your extensions to a minimum.
The important thing to remember is that your hair extensions don't have a natural hydration source like your own hair does, so keeping them moisturized and reducing dryness is crucial to prolonging their lifespan.
Swimming With Ali Annabelle Hair
Swimming is always a must-do activity when on holiday, even if you just want to lounge by the pool or on the beach to get a tan, a swimming pool/beach is a central attraction for any holiday.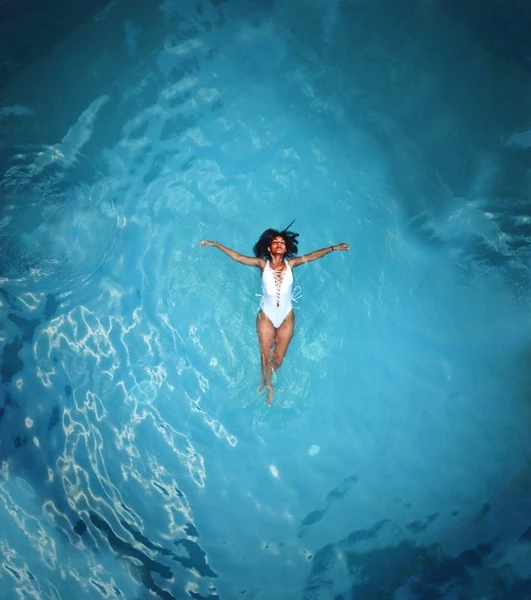 Picture this, you arrive on vacation looking fabulous and ready to relax while looking good doing it.
So the question is: Can I Swim With Ali Annabelle Hair Extensions?!
The answer is yes, of course, you can go swimming with hair extensions on. The only condition here is that you need to know what you are working with and how to take the best care of them.
To be frank, swimming will affect your hair extensions and your natural hair too.
In fact, no matter whether you're swimming in the ocean or in a chlorinated pool, both salt and chlorine will have a negative impact on your extensions causing them to become knotted and even worse matted.
This's because, chlorine and saltwater are that it's extremely harsh on natural hair, drying it out more than normal.
Consequently, you must do the necessary maintenance to preserve the health of their hair extensions.
Shipping
The best part about Ali Annabelle hair store is they SHIP from the United States. 3-5 working days and you will receive the hair. Honestly, it sounds incredible!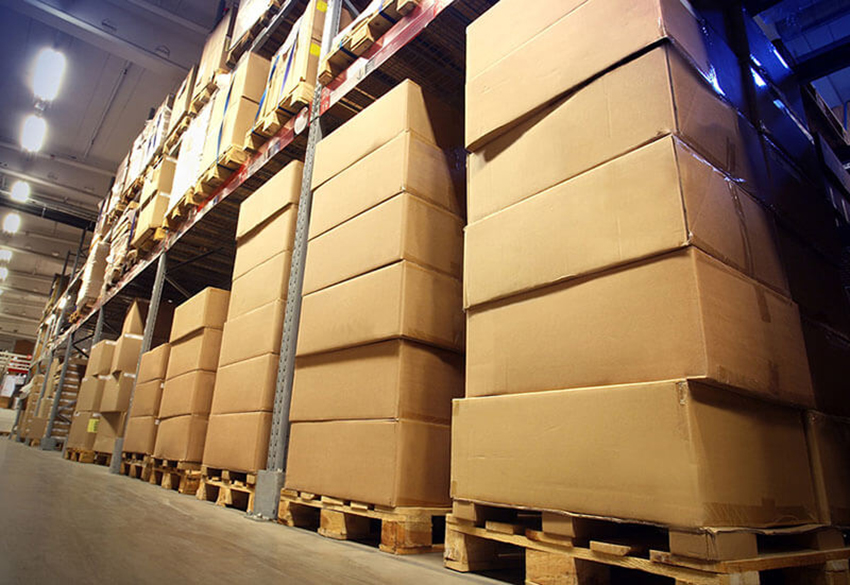 With their US warehouse launched, you can receive the orders much faster than now. What's more, this will save you custom tax for US buyers if your city practicing that.
Pros & Cons of Ali Annabelle
Pros
Their hair is 100% human hair that has never been mixed with synthetic or animal fiber.
A wide variety of hair products
Original human Remy hair in its extensions
No corn-chip chemical smell
No silicone process involved
Double Weft Hair
Can Be Styled, Flat Ironed, Bleached , Dyed, and Curled
Good prices with return and refund
15 Days No Reason Easy Return
USA Warehouse
Cons
Exotic hair is fake. 
A general proportion of longest hairs
Pro tips: Whenever they claim that their hair products come from a single donor, it is often untrue. And extensions from Ali Annabelle company tend to have multiple donors. But remember: you do get what you pay for.
The Cost
The part that everyone wants to know: How much does it cost?
The good news is:
The prices range from $70.00 – $300.00. Honestly, these bundles will absolutely be an investment.
The great thing that Ali Annabelle Hair Bundles does, is they make sure their prices cater to everyone's personal budget.
Do We Recommend It?
If you're looking for a reliable, proven hair brand for getting cost-effective Remy human hair products, I HIGHLY recommend giving Ali Annabelle a try.
In reality, it's one of my favorite Aliexpress hair vendors.
But if you want to get Virgin Remy double drawn hair extensions with fuller ends and less short hair, Ali Annabelle is NOT a fantastic choice.
So that's it for my Ali Annabelle hair review.
And now I'd like to turn it over to you:
What's your experience with Ali Annabelle?
Or maybe you have a question about something in my review.
Either way, let me know by leaving a comment below right now.