Are you searching for a list of the best AliExpress hair vendors? Look no further.
There are many hair vendors on the Aliexpress platform that come and go.
Each one is looking the same, sounding the same, promising to offer high-quality hair at affordable prices.
But how do you find the best AliExpress hair vendors?
With so many biased hair brands reviews filling the web, it can be difficult to select the trusted Aliexpress hair vendors.
So, to make it easier for you, we compiled a list of the best hair vendors you need to know.
While some of you might already know these brands, we feel like our community will benefit from this post.
And if you're on a tight budget, this list should also serve you well.
Let's get started.
What We Reviewed Hair Vendors Based On
Every day we go to Youtube for watching AliExpress hair review videos. And we read the black hair forums, Google information, and hair magazines.
Almost every month, our team visits some hair factories in China to find out the real truth of human hair vendors behind.
Here are the important factors of hair vendor that we've compared:
Open years of store
Customer feedbacks
Official store's orders and followers
REAL youtube reviews
See, touch, and even experience products(but not all)
Purchasing hair with our own money
Irregularly visit some factories
We do our best to ensure the AliExpress hair vendors we recommend are all reliable.
Here is what you need to know. In 2017, AliExpress made a bold innovation to the human hair category. Thousands of hair stores are shut down.
You may be wondering what happened.
AliExpress formulated a new hair industry-standard in 2017. And they are committed to preventing some vendors that sell poor quality to consumers all over the world for short-term benefits.
Currently, Alibaba Company has defined the quality by Virgin, Remy, and Non-Remy. So, there are three tiers of human hair vendors on today's AliExpress platform.
Despite that, the final result is not 100% accurate. But, it's already easy for clients to identify hair vendors.
Therefore, we grouped all these favorite AliExpress hair vendors into three categories: Virgin, Remy, Non-Remy..
And each one is divided into four kinds: Diamond-List, Platinum-List, Newly-Joined, Top Ten Last Month.
Diamond-List– This means our strongly recommended hair stores that have been built for years and with tons of positive customer feedback. Without hesitation, you can directly purchase from these hair vendors.
Platinum-List– The list refers to hair stores with positive feedbacks higher than 93%. If you choose this list, we recommend buying their best-selling hair products!
Newly-Joined– This list includes relatively new hair stores that joined AliExpress in 2017 and after. What's more, they offer quality hair products at reasonable prices. We will keep the list updating.
Top Ten Last Month– If you have a personal preference for purchasing products based on sales volume, this is probably your best option. We listed the AliExpress hair vendors who sell most in the prior month.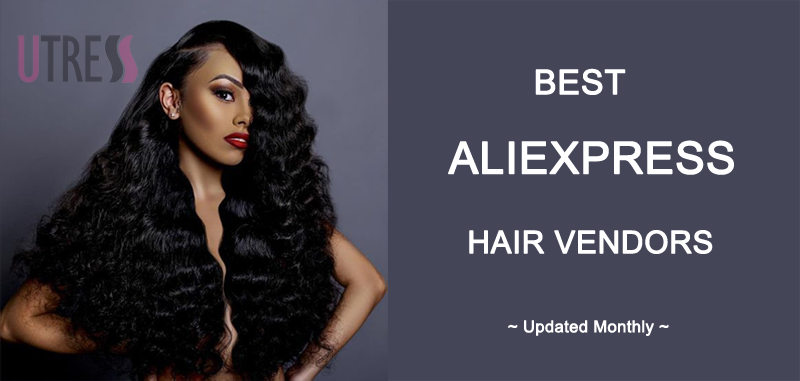 Table of Contents
Virgin Hair – The High-Grade Hair
Diamond-List AliExpress Virgin Hair Vendors (
BEST RECOMMENDED

)
Platinum-List (Virgin)
Newly-Joined (Virgin)
Top Ten Last Month (Virgin)
Remy Hair – The Middle-Grade Hair
Diamond-List AliExpress Remy Hair Vendors (
BEST RECOMMENDED

)
Platinum-List (Remy)
Newly-Joined (Remy)
Top Ten Last Month (Remy)
Non-Remy Hair – The Best "Cheap" Hair
Diamond-List AliExpress Non-Remy Hair Vendors (
BEST RECOMMENDED

)
Platinum-List (Non-Remy)
Newly-Joined (Non-Remy)
Top Ten Last Month (Non-Remy)
Know the Store You're Buying From
If you are looking for a reputable hair vendor, a little more research is an absolute must. Here are some things you need to know:
Orders and Reviews. You should try to only purchase hair from vendors that have completed at least 300 orders, have a high rating of 93% and above. The vendor must be with a great many positive feedback.
Opening years. See how long they've been in business.
Content and Service. Read the about pages, and see if they provide customer service whether by phone or email with quick communication. Generally, if a store has high-quality content and service, you can trust the vendor.
Return Policy. Having a return policy shows the vendor is confident in their products. If for some reason you're not satisfied, they allow you to return the hair for a full refund (minus shipping) as long as the hair hasn't been altered or tampered with.
Fast Shipping. Ask how soon will you receive the hair.
Outside the AliExpress. Check out their social media profiles, and read youtube REAL reviews.
Over To You
Now I'd like to hear from you:
What do you think of this hair vendors list?
Or
Maybe you have a question.
Either way, let me know by leaving a comment below right now.