It's time to review Maxglam Hair – because it looks like an interesting brand.
fashionable hairstyle
based on human hair
excellent price
So does this hair brand really work?
Is it any better than UNice? Or it's just a scam?
Well – I tried to dig deep into this brand so here's the truth behind it.
What Is Maxglam Hair? A Quick Overview
Maxglam is a China-based hair brand devoted to supplying women with more natural and comfortable hair products.
Like UNice, ISEE, or Alipearl, Maxglam also sells wigs, lace closure, hair weave. As a side note, they only offer human hair products.
But as you can see, the wig is their company's main sales direction. In other words: human hair wig is the overall best-selling category.
So I will focus on Maxglam's wig in this review.
It is worth mentioning that they "claim" the hair is from a single donor.
I'll break down this claim in A LOT more depth a little bit later on. But for now, I wanted to quickly show you the overall best-selling products before digging into the details.
Well, let's take a look at the list of our picks.
So now that you know the main things about Maxglam – it's time to analyze it more closely.
---
Authenticity(8.9 out of 10)
---
Maxglam hair company has a lot of claims to express how good their hair is.
And I would divide these main claims into 3 groups:
100% Human Hair
Real Virgin Hair
Single Donor Hair
So let's take a closer look at each.
100% Human Hair
After research and testing, I found that Maxglam hair is Never mixed with synthetic hair or animal hair.
Sure enough – Maxglam hair is 100% human hair.
If you want to do a test yourself to see whether it is real or fake, I recommend you use the burn test.
Specifically, cut a strand of hair and put it on fire. If you notice that the hair burns with white smoke and turns into ash, then this is a sign that the hair is human and there are no synthetic fibers present.
In this chapter, I was satisfied with Maxglam Hair.
Real Virgin Hair
Virgin hair is hair that has never been chemically processed. Chemically processed hair is hair that has been color-treated, permed, relaxed, bleached or dyed.
Simply, many hair companies use strong acids to process hair. That's why the hair cuticles are stripped. And the hair is easy to cause tangling.
Plus, some hair factories even dye their hair to make it look more natural and healthy.
This is the common method that hair factories use to process hair, which is called chemical processing.
With the increasing demand for virgin hair, real virgin hair in today's market is now defined as hair that has only been steamed processed.
Relatively, Maxglam hair is real virgin hair. But they also use stronger detergents – called weak acid.
Here's why:  The hair raw materials need to go through a more stringent cleaning process to remove impurities. This includes the use of stronger detergents to get rid of the dirt.
However, this is a common step in the hair production process.
To be honest, when it comes to this claim – I can't criticize Maxglam's hair.
Single Donor Hair
Single donor hair is a bundle of hair that is cut only from one donor.
In fact, it's difficult for most hair business companies to provide a full bundle of single-donor hair consistently.
That's because it could not possibly support the enormous commercial demand.
They claim their hair is 100% virgin hair from one donor. Unfortunately, this is often untrue.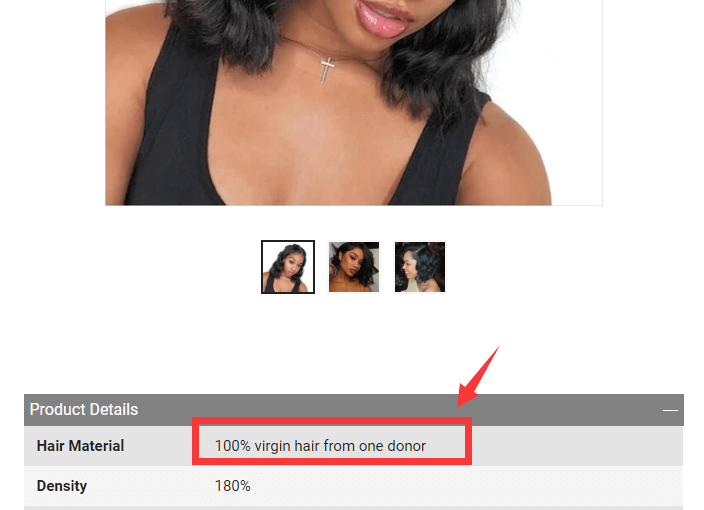 In my opinion, it is more of a marketing ploy to raise the price of hair products. As long as the quality is still great, it doesn't matter whether or not single or multiple donor hair.
In terms of hair material –Maxglam hair company is not honest with us.
---
Appearance(9.5 out of 10)
---
Like other companies, Maxglam has pictures of its actual products on its website, and they show you their real products so that you can make quick decisions.
Now, you may be wondering:
Does their real hair look exactly like the description?
So in this Maxglam hair review, I want to show you exactly how their hair is.
The first thing you'll see is a product like this: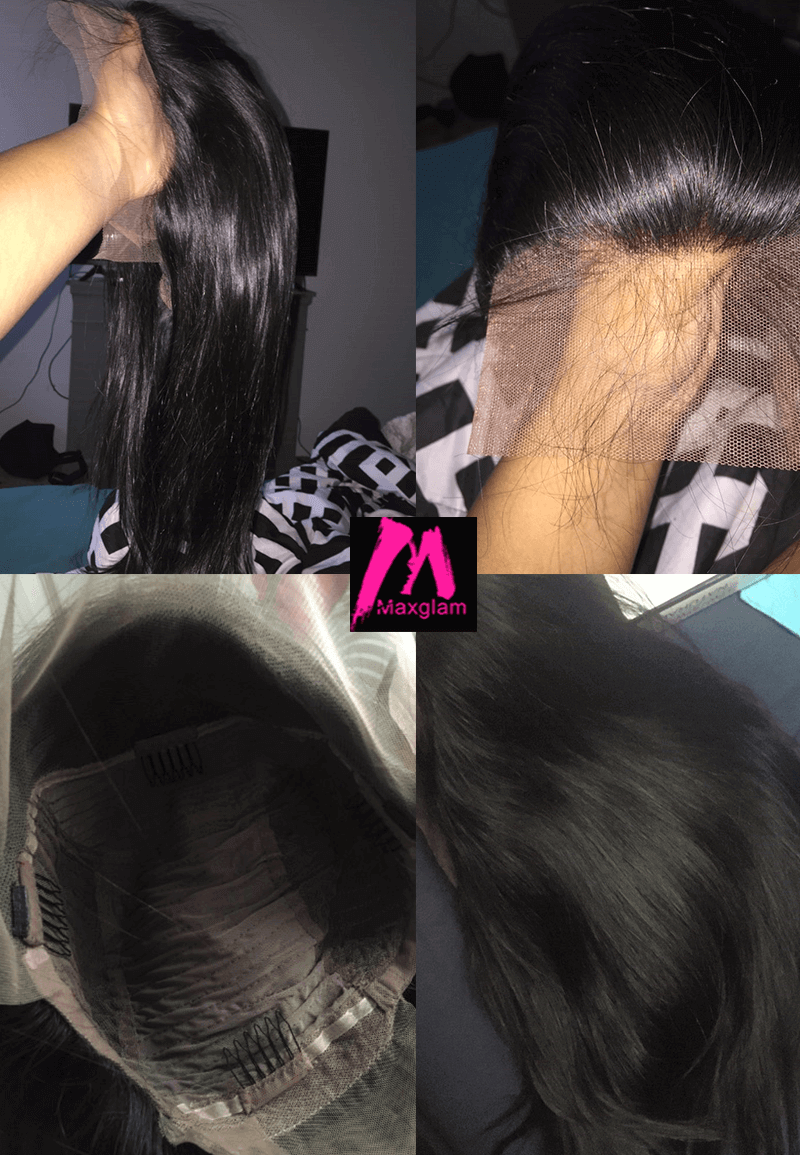 According to the above, today I will review the wig of Maxglam. So yeah, it's time to break down "Appearance".
The hair is very soft, shiny, and silky. And the wig doesn't have a funny/bad smell.
If you never used any of them before – here's a quick overview.
Density: 150%, 180% Available
Lace color: Medium Brown
Wig Parting: Free Parting
Pre-plucked hairline with baby hair
Elastic Net
Adjustable straps
Built-in wig combs
Double Bleached Knots
Another thing I noticed is that there is almost no grey or other color hair in their hair wig.
Overall, Maxglam's hair is exactly as the description in the pictures.
---
Tangling& Shedding(9.3 out of 10)
---
When buying human hair products, you pay more attention to whether the hair is tangling or shedding or not.
Here's what you should know:
Maxglam hair company uses high-quality Remy human hair material to manufacture its hair products. Remy hair has cuticles flowing in the same direction. This can't easily cause tangling and quality issues if processed properly.
Plus, they also have great hand-tied and machine-made techniques.
What I can say is that shedding is not an issue for Maxglam hair.
So yeah, in terms of shedding and tangling, I wasn't disappointed.
---
Life Expectancy(9.3 out of 10)
---
Next, I wanted to evaluate Maxglam Hair's life of its use.
Honestly, I can't give you a definite number. That's because the lifespan of Maxglam hair products will depend on how you take care of them.
With proper care and regular wear, their hair can last anywhere from 3-6 months or even longer.
Either way, proper care is essential to increase the life of any human hair products, so treat your wig or bundles like you do your own hair.
---
Maxglam Hair Support(8.4 out of 10)
---
It was time to see how Maxglam's support stacked up.
Well, I decided to run a little experiment to find out.
They don't have a little chat icon in the lower right corner of the screen. I need to hit the "Contact Us" link in the site navigation.
And I went directly to a contact form. And, I asked them a question about their "Exotic" hair.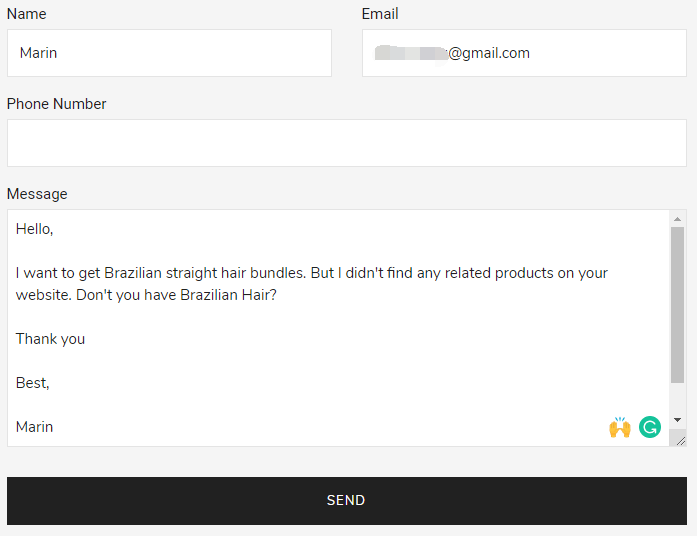 A few hours later, here's exactly what they responded:

Then I asked them:

And their response:

In general, I got a reply quickly (good). But I'm not satisfied with their response(bad). Obviously, I didn't get honest.
"Exotic" Hair is ONLY a pretty common marketing strategy in today's hair industry.
In fact, these hair does not originate from the countries and areas they are named after.
Overall, I'd rate their support as a solid D-.
---
Other Opinions(9.3 out of 10)
---
In order to create an unbiased review – I wanted to check its results by looking at other people's opinions on it.
Note: I only considered authentic reviews, not promotional ones.
1. What People Say
First of all – I had a hard time finding real reviews on Maxglam:
it doesn't have an Amazon page
many of the other reviews it has are rather promotional
Now – the reviews I found were on its official website and AliExpress.
However, I tried to avoid its official website (reviews posted on official websites tend to be biased).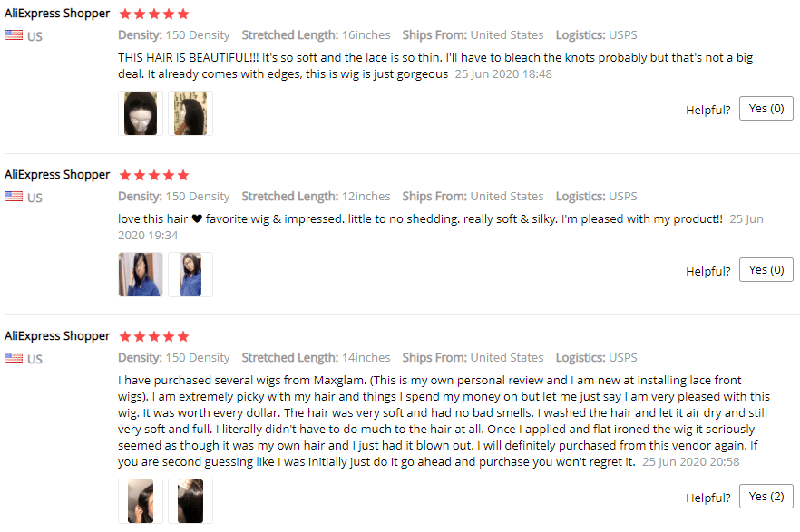 Instead – here's what AliExpress buyers say about the products of this brand:
Some people claim their hair is very soft definitely a great buy for the price.
Others say the products fit their whole description.
Many say they washed the hair and let it air dry and still very soft and full.
Most reviews I found were positive
As you can see, there are enough satisfied customers with this brand.
So overall – there are thousands of reviews from buyers and over 80% positive reviews on Maxglam.
These numbers are pretty good if you ask me.
So in case, you wondered if Maxglam was a scam – these reviews are enough to see that it's not.
Biggest Complaints
AliExpress has a few 1-star reviews on Maxglam's products.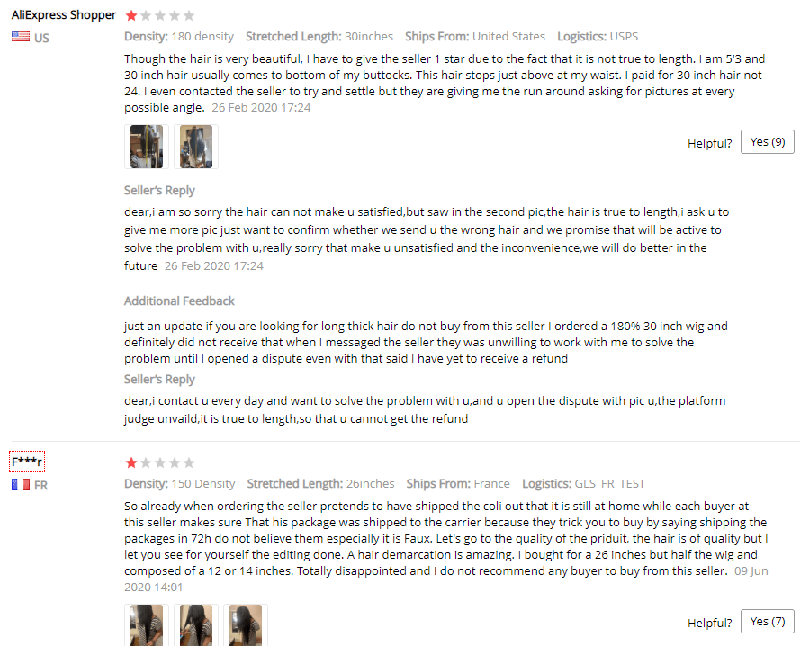 Most are related to:
It's not true to length
Not the density of hair they paid for
Shipping/delivery issues
Now – it's perfectly normal that a product also has negative reviews. A brand can't satisfy 100% of users.
Besides, regarding company and delivery problems, they are quite usual with every brand.
Someone will receive a wrong order at one point, another one will not receive the order, and so on.
However, these situations are under 2%.
So yeah, in my opinion, Maxglam is worth trying.
---
Pricing(8.8 out of 10)
---
I wanted to quickly compare Maxglam's wig to five Maxglam hair alternatives: UNice, ALI GRACE, ROSA BEAUTY, ISEE, and MEGALOOK.
For this quick comparison, I took the human hair wig product with the same style, size, color, density, and weight as an example.
Here are the results: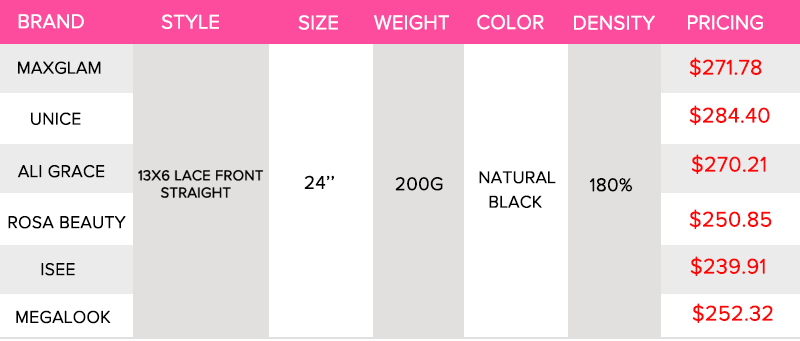 Obviously, the price of Maxglam isn't the lowest. These prices aren't amazing, but they're not huge either.
But considering this is ONLY a rough comparison, you need to refer to other factors to decide whether to buy this brand.
If you haven't a large budget and want to look for cheaper alternatives, I would recommend this brand – ISEE HAIR.
So overall – it's totally up to you.
---
Where To Find It(9.0 out of 10)
---
This human hair product of Maxglam is quite easy to find, which is a big advantage.
It's mostly available in 2 sellers:
AliExpress
Its official website
However – I couldn't find it on Amazon(my top pick), so it's most likely unavailable there.
Plus, the price isn't the same on AliExpress and Maxglam Hair's official website.
After research, I found that AliExpress remains the cheapest place to buy it:
More abundant products available
Standard cost is lower.
Shipping fees are also included.
They claim to have a money-back guarantee too.
There are also free gifts.
The shipping address can be selected from these three countries, including China, France, and the United States.
Another point worth mentioning is that there are more styles for the wig on its official website.
So if you want the very best price – AliExpress remains the best choice.
---
Maxglam Hair: Things I like
---
First, let me cover some of the highlights that I found during this Maxglam review.
100% Human Hair: There is nothing better than human hair products if you are looking for a completely natural appearance. The hair feels soft and real as a result of it's definitely real. In other words, you'll be able to treat it very much like you'd definitely have your own hair.
Virgin Remy Hair: Chemically unprocessed Remy hair has an intact cuticle layer. This means the cuticle is all going in the same direction. If taken care of well, their hair can't easily cause tangling and can last longer.
High-Quality Hair at Affordable Price: Even if they are not the cheapest, their prices are acceptable compared with other competitors, such as Diamond Virgin Hair, Yummy Extensions, HER IMPORTS, Kendra's Boutique, and so on.
The Diversified Product Lines: They offer a variety of popular human hair products. From straight, wavy, curl, and even blonde wigs, Maxglam hair has it all when it comes to human hair products.
Return and Refund: This means that if you are satisfied with their hair, you can enjoy the policy. So there is no risk. But the returned goods must be complete or the appearance is NOT damaged.
Fast Shipping(Overseas Warehouses): They can ship from the US. No additional charges if are to ship out from the States. This will probably save you custom tax. For customers in Europe, shipment needs ONLY to take as fast as 1 week to the major cities.
---
Maxglam Hair: Things I Didn't Like
---
Even though I think Maxglam is an overall great hair brand, there are a few things I didn't like:
Fake Single Donor Hair: They claim that their hair is 100% virgin hair from one donor. Unfortunately, It's fake.
Inconsistent Customer Support: At least based on my personal experience, their support looks to be responsive. But they were not honest with me.
---
My Overall Maxglam Review
---
Overall, Maxglam is a great hair brand. Their hair is of good quality. And it's competitively priced compared to its main competitors.
They can irregularly offer some unique, new, popular human hair wig products, which is a big advantage.
If you're looking for cutting edge products, I think that Maxglam is worth a try.
But if you just want to get some regular wigs at lower prices, I would recommend similar alternatives: Celie, Tinashe, Megalook, Nadula.
Plus, if you want to buy human hair bundles and have a tight budget, you'd be better off choosing other brands like Julia, Baisi, Beauty Forever Hair.
So whether Maxglam is a good fit for you depends on who you are.
Now It's Your Turn
So that's it for my review of Maxglam Hair.
Now I'd like to hear from you:
Have you tried Maxglam before?
If so, what was your experience with it? Good? Bad? Somewhere in between?
Either way, let me know by leaving a comment below right now.