This is my complete review of the human hair brand, Tinashe Hair.
In this up-to-date review I'll break down:
Things that I liked
Things that I didn't like
A review of their support
How Tinashe compares to other hair brands (like Hermosa, Curlyme, and Ashimary)
Whether or not I recommend it
Lots more
So if you're considering purchasing Tinashe's hair, this review should help you with your decision.
Let's get started.
Note: This post was not sponsored by Tinashe hair company nor was I compensated for writing this article. All opinions expressed in this post are my own. Is Tinashe Legit? My thoughts below.
What Is Tinashe Hair?
Tinashe Hair is a reputable brand that specializes in providing high-quality human hair at an affordable price. With a variety of different textures, colors, and styles, they are becoming more and more popular in the hair industry. While Tinashe hair company got its start on Aliexpress, they were able to open its own website many years ago.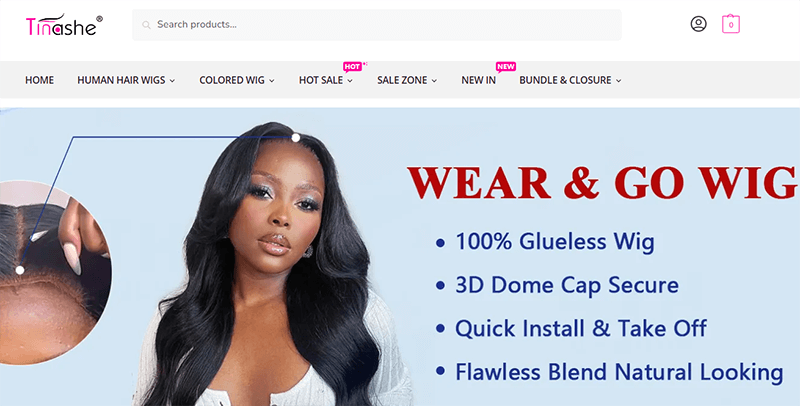 Tinashe Hair is a company based in China that has been around for years. They've had their own factory. The company aims to provide a consistently better shopping experience for its customers.
This company offers a wide range of products and although it is known for its lace wigs, there are many other products and styles that you can also try. All of the hair sold is 100% human. Their hair comes in a range of densities, lengths, and colors, which makes this brand stand out. They even offer up to 40 inches of hair in length. Honestly, their product line almost can meet your needs.
The company offers a wide range of methods to get in contacts, such as phone, email, and Whatsapp. Fortunately, they also provide live chat which proved to be the easiest option. You even can DM them on social media platforms if you had any questions or concerns. I found their customer service to be extremely helpful.
Tinashe hair provides free standard shipping on all orders. You are expected to receive the hair in 2-7 business days. Relatively, their delivery is not bad. One area of improvement could have been on their packaging. For a unit of around $200, you might expect a little more. The company also offers a 30-day guarantee to ensure you are completely satisfied.
Finding reviews on this brand was extremely easy which is definitely a good sign. You can find tons of positive reviews on social media, including Tiktok, Youtube, and Instagram. But one thing worth mentioning is that the company often markets its products to influencers who send them free hair to review in paid advertisements. In other words, some positive reviews about Tinashe Hair on the internet are biased(sponsored posts). This is one of the reasons why this brand has become popular. However, almost every hair company uses this marketing strategy.
So now that you know the main things about Tinashe, let's analyze it more closely.
Hair Quality
First, I decided to show the details of the 13×4 body wave HD lace wig from Tinashe.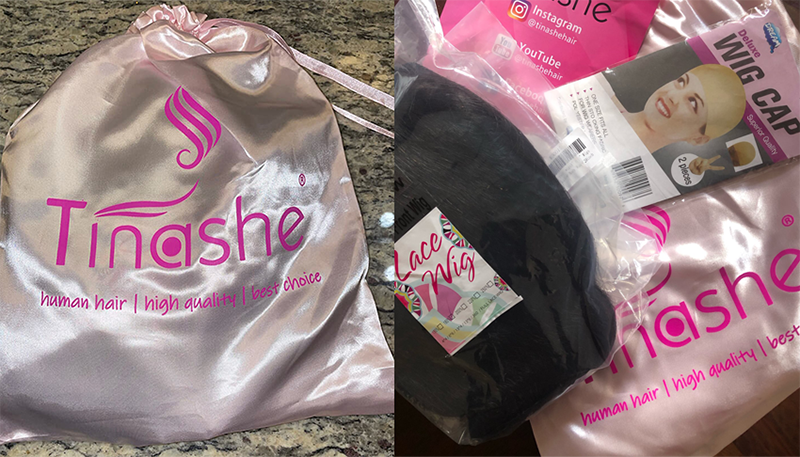 Hair Strand
When I take the unit out of the packaging, it has NO strong chemical smell. The texture of this wig was beautiful and the subtle wave effortlessly bounced and kept its shape even when brushed out.
The ends of the hair were not as full as the rest of the hair, but it looks natural. This hair is 100% Remy human hair and when you run your fingers through it you can tell how soft the strands are. Another big plus with the hair is the lack of shedding. Running your fingers through the hair and brushing it several times, no tangling also occurred.
The hair was purchased in the color natural black and it lives up to that description. This wig was 20" in length. In fact, the hair is true to the length. Overall, the shine the hair gives off has a very healthy look.
Lace Material
The hair was purchased in HD lace. They have claimed that this wig is made with undetectable HD lace, and I can confirm those are accurate descriptions.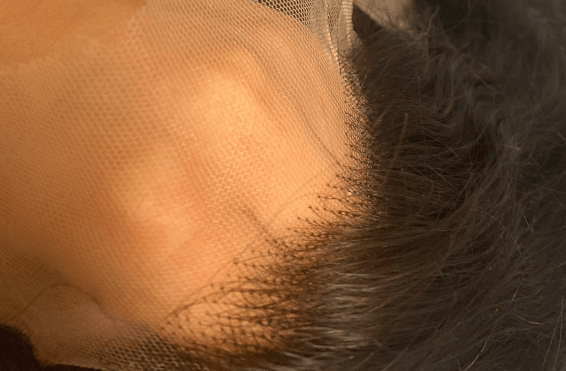 Obviously, Tinashe hair company used real HD lace to construct their wig. The above pictures show that the hair blends perfectly with the skin.
Hairline
A natural-looking pre-plucked hairline is key to the ultimate natural look. The unit came with a 13×4 lace frontal. The hair is advertised as pre-plucked and having baby hair.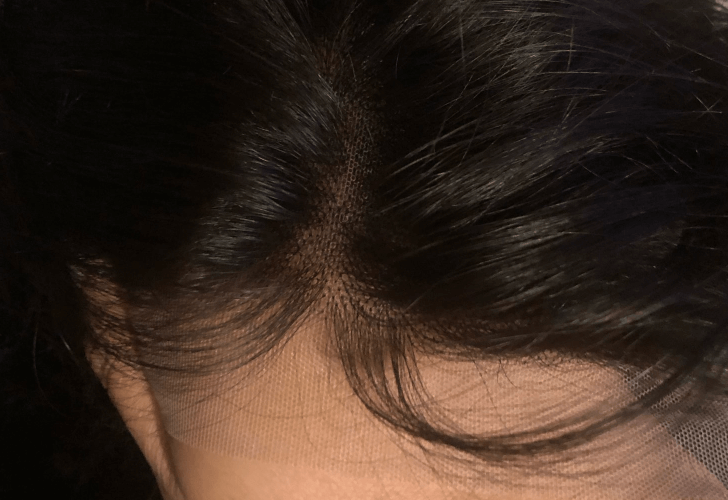 The lace blends well but the knots are a bit obvious. The knots don't appear to be bleached but do look single-knotted. This means the base of the knot is thinner and blends into the lace easier.
As you can see, they have done a great job at creating a natural-looking pre-plucked hairline. This unit also came with baby hairs. It's almost always needed when styling a wig as it will look more natural.
Density
The hair was purchased in a 180% density and you didn't have the option to change it. Even though the hair was 20 inches, this wig didn't feel too thin. Considering the price of the hair, I think this density is okay.
Construction
This wig is made with a 13×4 HD invisible lace frontal. This super-fine invisible lace takes up the front middle part of the unit. The remainder of the unit is composed of a cap. It's made from a  material that has a good amount of stretch which allows it to seamlessly adjust to the size of your head.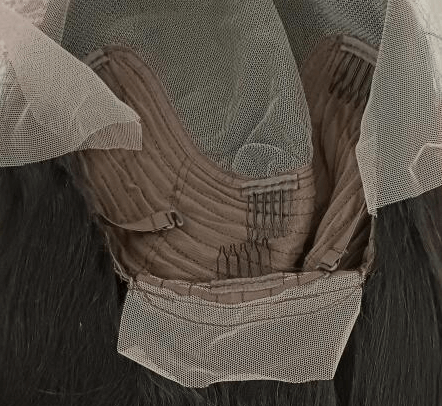 The unit came with a cap size medium(22.5"). There was not an option to choose from, but by offering an average size, it will fit most people. Even if you have a lot of hair, the cap is stretchy enough to account for it.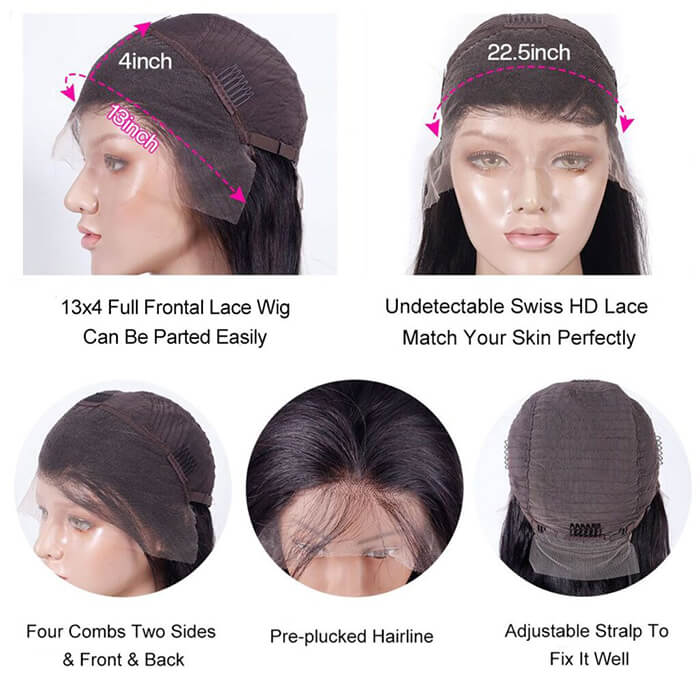 This wig also had an adjustable strap that allows the hair piece to fit perfectly on the head. This allows for maximum comfort when wearing the unit. The wig came with 4 combs pre-installed, which included two on each of the sides, one in the front, and one in the back. Honestly, this attachment is always a plus because it means less work for the user. They can quickly secure the unit to their head without worrying whether it will fall off.
Overall, this unit was constructed well. The hair is sewn well, the lines are straight, and no access string. If you want to achieve glueless installation, this wig is also a great option.
Customer Support
Support can make or break my experience with a hair brand. Great support will help me to make a purchase decision. And bad support can lead to abandoning a brand. And wondering what happened next.
Fortunately, Tinashe's website has a chat option. Which means that I didn't have to go fishing around for a support email. I want to know more about the details of their wig, so I asked them about it: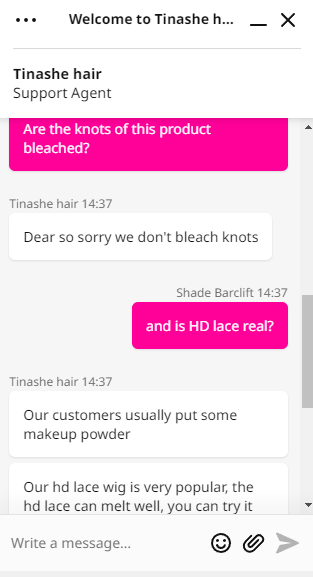 And about two minutes later, I got a helpful reply. So yeah, live chat is always a bonus. Overall, their support looks to be responsive and helpful.
Apart from live chat, this company provided other sources of service, including email, WhatsApp, and phone. They also have various forms of social media that they can use to get in contact with potential customers as well as existing ones.
In terms of customer support, I have nothing to complain about.
Delivery Time
Tinashe hair company mostly used DHL and FedEx to ship their orders. Most counties take 3-7 business days to process. So far, their orders are shipped from the warehouse in China. Although most of the company's customers are from America, they haven't a warehouse in the United States. Compared with its other competitors, it's one of the disadvantages.
A tracking number will be provided as soon as the order has shipped. Then you can track the shipping details. The delivery specifics for the United States are 3-5 business days. Honestly, it's not bad. After all, there is a $0 shipping fee.
The package arrived in tack and all the products undamaged. As mentioned above, the hair comes in little bags. The good news is, they also give away some free gifts.
One important thing to note is they do not ship to P.O. boxes, you need a physical street address to shop with the company.
Return Policy
The company does accept returns and exchanges. However, the products need to be untampered with and in their original packaging. They provide a 30-day return window which is a long amount of time to know whether the hair will work for you.
If the returned product has anything wrong, quality-wise, the company will pay for the return shipping. In all other cases, the buyer is responsible for shipping fees.
Pricing
To make it clearer for you, I will take a 180% density 13×4 HD lace frontal wig as an example.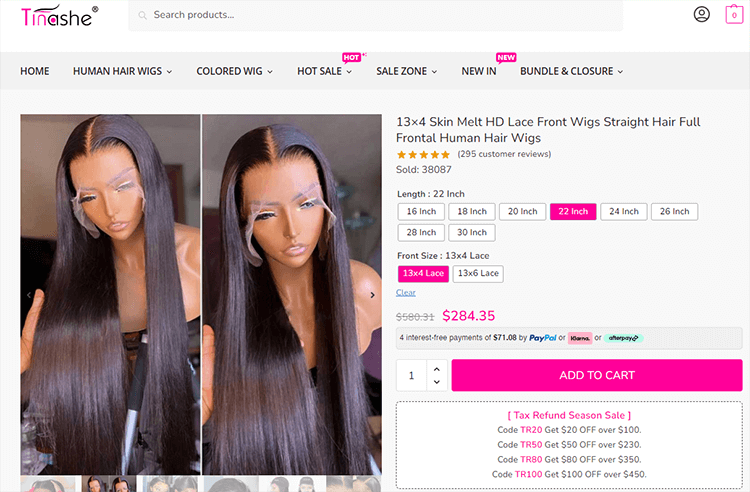 As you can see, the price of this 22" natural color straight HD frontal lace wig is $284.35. But you can get a $50 discount. And the shipping is free. So this unit costs $234.35.
Honestly, this price is relatively affordable. How does Tinashe's pricing compare to other hair brands, like UNice, Klaiyi, Yolissa, Hermosa, Curlyme, and Ashimary?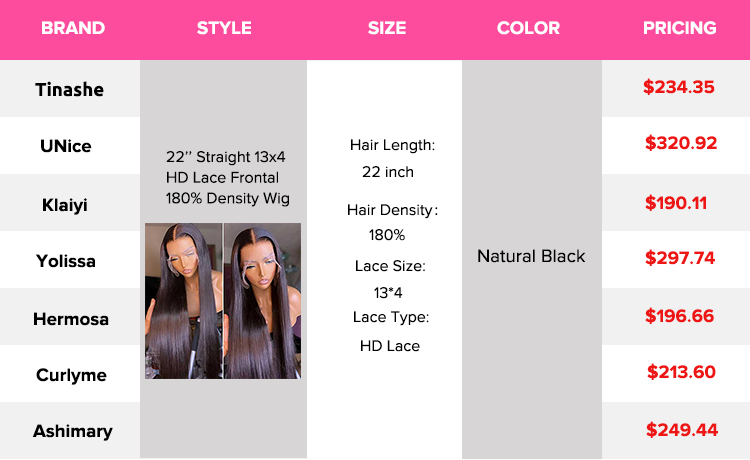 Image Last Updated: 2023-03-19
From the table above it is obvious that the price of this Tinashe wig is not the highest, but not the lowest. If you're on a tight budget, Hermosa and Klaiyi are great alternatives with close quality.
One thing to note is that this is just a simple price comparison. Even with similar products, the quality from different companies may not be the same. In terms of hair quality, there is no uniform standard.
Where To Find It
Fortunately – Tinashe's products are too easy to find:
Sold on AliExpress
The official website is the main seller.
Some are also available on Amazon.
Now – if you want to get any product from Tinashe Hair, I definitely recommend going for the official website.
It's pretty safe and ships worldwide. One unique feature of their site was that it offered the option to buy now and pay later. Specifically, the company does work with installment services, including Paypal, Afterpay, and Klarna.
Plus, they also gave customers the opportunity to join a rewards program. You can easily sign up by creating an account and start earning points in easy ways. After you earn points, you are able to redeem them on the checkout page.
Their site was very appealing to look at, the layout made complete sense and did a good job in highlighting different collections. And the company has a wide range of available products, ranging from wigs to weaves, and closures.
So if you're really interested in buying Tinashe – I consider the official website as the best option right now.
Other Opinions
In order to judge fairly, I wanted to check out some other (authentic) reviews of previous customers.
In this way, you could see the whole picture (not just my opinion).
What People Say
You can find many reviews on Hair Tinashe's official website:
95% offer 5 stars out of five
only praises the products
Obviously, those reviews are fake positives. So they're surely not worth considering.
Although Tinashe also sells on Amazon, they only offer some ponytail products. Fortunately, I also found some reviews on Trustpilot, which was my #3 to go website for real opinions..
Here's what most people say about it:
Some people claim this is by far the BEST hair company.
Others say their customer service is great.
Many say their hair is very soft and true to length.
Some others praise their hair has very minimal shedding and being easy to install.
A few say the hair they received is certainly not what is described.
Some complaint about the hair ends(very thin).
But overall, Tinashe has an average of 4.5 stars on Trustpilot(out of 2,457 reviews). In other words, there are more than 80% satisfied customers, which tells a lot.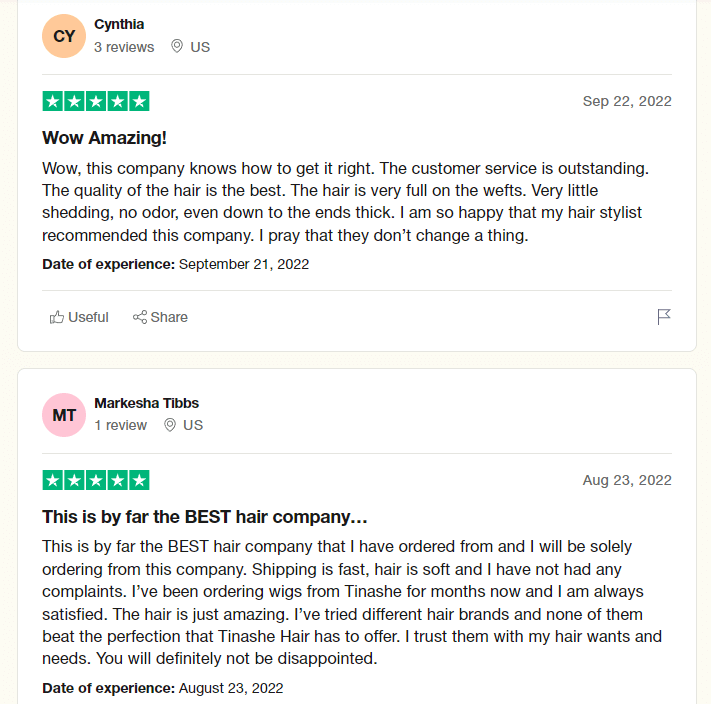 So judging after that, Tinashe's hair is surely not a scam. However, there's also a less pleasant side.
Biggest Complaints
There were quite a few negative reviews on Tinashe– but most were about 2 things:
Their hair wasn't like the picture.
The hair is thin.
These two problems are also relatively common problems. Most hair companies had various eye-catching product photos on their website. But the real product customer received is different from what they expected. So you need to see the real video and pictures of the product before buying.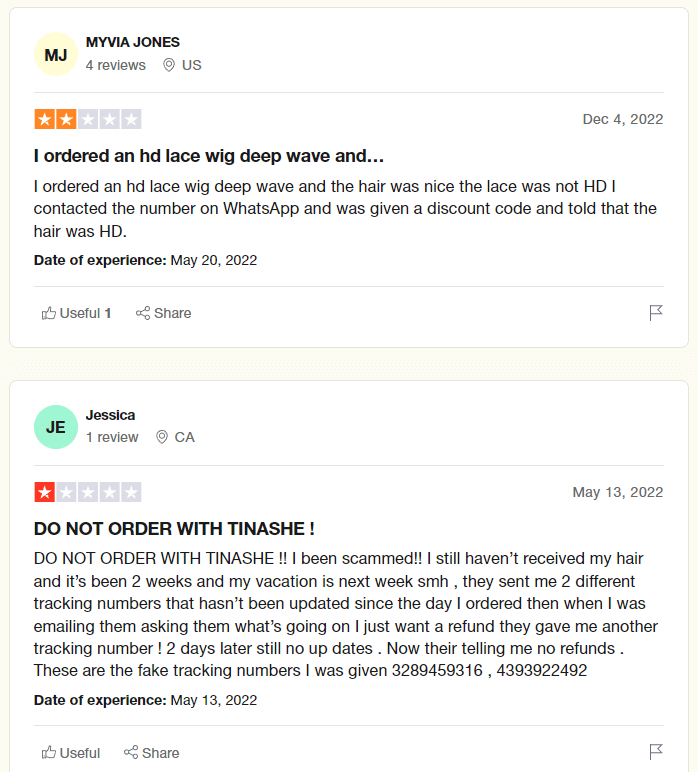 Overall, I personally believe it's worth the money.
Pros & Cons
Here are some of the things that I really liked and didn't like about Tinashe Hair.
Pros
Their hair is made with 100% human hair.
The hair is affordable even at longer lengths.
This company provides a wide range of colors, lengths, and hair textures.
Another benefit of Tinashe was its fast and free shipping.
They offer a 30-day guarantee to ensure you are completely satisfied.
The company offers installment services.
There are enough many positive reviews about this brand online.
Cons
The company claimed that their hair is from one single donor, it's untrue(fake).
Relatively, the ends of Tinashe's hair are a little thin.
FAQ
Is Tinashe Hair a legit company?
Yes, this company is a professional hair supplier that specializes in high-quality human hair products. They are based out of China and have been in business for over 8 years. So this is a trustworthy company.
How Long Does Tinashe Hair Last?
With proper care, the hair from Tinashe hair company is expected to last up to 6 months or longer. Creating a good routine with your hair from the start will help prolong their lifespan. If you don't look after your hair, you can expect to replace them every 2-3 months or shorter. The more you look after them, the longer they last.
Is Tinashe's Hair good?
Honestly, their hair quality of Tinashe is definitely not the best. However, their hair is very cost-effective. That said, you definitely get what you pay for.
Where does Tinashe Hair ship from?
As I mentioned above, Tinashe's hair is shipped from a warehouse in China. It will take 24-48 hours to process the order. They ship to many countries and provide free shipping. But their free standard shipping takes 3-7 business days. Relatively, it's not bad.
Tinashe Hair Review: Is This Brand Worth It?
Compared with some well-known brands(like UNice and Luvme), Tinashe Hair may not be as popular, but they are also a reputable company. One of their advantages is the price.
Overall, I think that Tinashe Hair is worth a try. It's definitely not perfect. They provide high-quality human hair for a reasonable price and you're likely to find a discount code.
Plus, they even allow you to buy now and pay later. In my opinion, if you do want to give Tinashe Hair a shot, I don't think you'll walk away disappointed.
What Do You Think?
There you have it: my Tinashe hair review.
Now I'd like to see what you have to say.
Did you like it? Not like it? Think it was just ok?
Let me know in the comments section below.