As Luvme continues to grow in popularity, many shoppers cannot help but ask if Luvme hair is legit due to its affordable prices and wide range of styles and colors.
If so, you're in the right place.
Because in today's post I'll cover:
Is Luvme hair legit?
Is Luvme hair a black-owned company?
How Luvme compares to UNice Hair
Whether or not it's worth the price tag
A whole lot more
So without further ado, let's get into the review.
Note: This post is my honest review of Luvme and is not sponsored.
What Is Luvme Hair?
Luvme Hair is an online hair company based in China and is known for its human hair wigs focusing on women. They are a well-known brand that offers high-quality hair. This brand has a large following on platforms such as Youtube, Instagram, Facebook, and Tik Tok, among others. In terms of popularity, you can hardly beat it.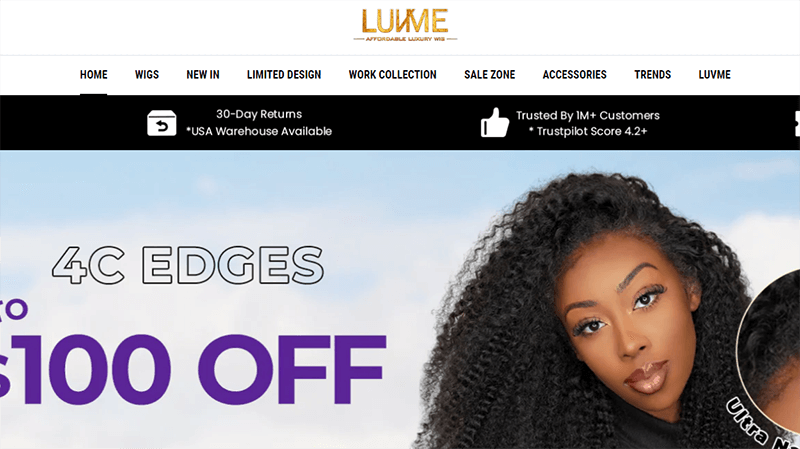 So like UNice, Alipearl, or Nadula Hair, Luvme is all about human hair products. It's 100% focused on human hair.
Here's an amazing search statistic on Google Search Engine. This brand has more than 250,000 monthly searches on Google. In the hair industry, it's pretty incredible. You can imagine how popular Luvme is.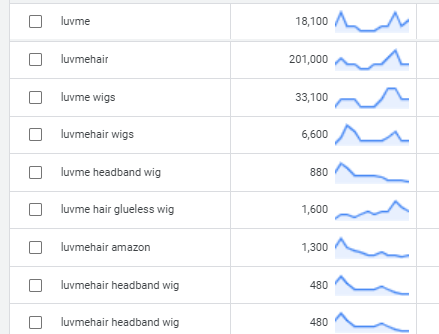 Data from the google keyword planner tool
Luvme Hair is known for its wig deals. They also offer other products at a reasonable price, such as weave bundles, lace frontal & closure, and accessories. Overall, this company has a rich product line that meets almost anyone's needs. They offer on-trend items, classic items, and a variety of different sought-after hair products.
One of the most appealing things about this company is its installment services. Specifically, they work with ZIP(Quadpay), Afterpay, Sezzle, and Paypal. This service allows you to buy now and pay later. Through 4 interest-free payments, you can purchase the desired hair of your choice.
Relatively, their customer service is helpful and easy. They offer customer support by email, Whatsapp, live chat, text, and social media. And the live chat proved to be the easiest option. In my experience, their support team replies relatively quickly.
Luvme hair provides free standard shipping on all orders over $50. You are expected to receive the hair in 3-5 days for the USA. The hair from Luvme comes in a very luxurious box. Along with the main box each product is individually wrapped accordingly. For this price, the packaging match.
Another big plus of this company is the highlighting of their quality guarantee. They offer risk-free exchanges and easy returns if you are not happy. The company provides a 30-day return window which is a long amount of time to know whether the hair will work for you. It is proven that more than 1,000,000 customers trust Luvme. It's cool and amazing.
The best part is that you can easily find real reviews about Luvme on the internet. And the majority of the reviews for Luvme hair were extremely positive which is a good sign. Honestly, it seems an extremely encouraging thing to see when looking for a reputable company.
If you aren't new to the hair world, you've likely heard UNice. Before digging into Luvme, let's compare these two hair brands.
Luvme VS UNice Hair
If you're looking for a DEEP comparison of these two popular hair brands, you've come to the right place.
While comparing Luvme VS UNice, I will consider 11 major aspects:
Popularity
Website
Product Quality
Prices
Product Line
Physical Store
Hairstylists
Customer Service
Return Policy
Delivery Time
Payment Method
Within each of these 11 chapters, I will also pick the winner.
In the end, I will give you an answer about which brand is better and which is more worth buying.
Popularity
As I mentioned above, you can hardly beat Luvme in terms of popularity. They have huge followings on social media. And the monthly search volume of Luvme is also more than UNice on Google.
Overall, Luvme comes out on top. But UNice is also very well-known and popular. Honestly, both Luvme and UNice have influence that no other brand has. It can be said that they are the industry leaders in today's hair industry.
Website
While accessing the online store of Luvme, my first thought was how professional it looked. Their website was overall easy to navigate. They professionally showcased the products and provided relevant information. The pictures of the product are attractive and professional.
Compared to Luvme, the site of UNice is full of a stronger marketing atmosphere. They're advertising and flashing many products. The unique thing about UNice is that they showcase products with short videos which appeal to the eye.
When it comes to the online official website, Luvme and UNice are tied. The site of Luvme is relative simplicity. And the functionality of UNice's site is very well-rounded. As for which one you like, it's a matter of preference.
Product Quality
As you run your fingers through the hair from two companies, you could immediately feel the soft and silky texture of the strands. Relatively, the ends of the hair felt not thin. The unit was constructed extremely well. Their hair hadn't a shedding and tangling problem. The hair can last longer when given proper care. Another thing to note is the hair didn't have an odd smell.
Overall, the hair from Luvme comes with better details. Of course, the quality of UNice is also very great. Therefore, I have to say that Luvme wins this battle by a hair.
Prices
Both Luvme and UNice are great places to shop for hair. One of the biggest reasons is due to the fact that their units are constructed in a very high-quality way yet still affordable.
Compared to Luvme, the products of UNice are cheaper. Obviously, when it comes to price, UNice wins. However, the style and details of the product will also affect the price.
Product Line
Both brands offer a wide range of products. From straight, wavy, curly, and even 613 blonde hair, they have it all when it comes to human hair. Their hair comes in a range of densities, lengths, and colors, which makes the two brands stand out.
Overall, UNice beats out Luvme in this chapter. UNice has a wider range of available products, ranging from wigs to weaves, and closures. When it comes to human hair wigs, UNice even can match the needs of different groups of people. Multiply different colors, styles, textures, lengths, and densities are available.
Physical Store
Not only does UNice have its own factories and online stores, but they also have 5 physical stores throughout the US that can help the customer figure out the quality. This is an advantage for shoppers. You can even see the hair in real life before purchasing their products.
Obviously, UNice is the overall winner in terms of physical stores. So this is one area Luvme hair company could improve on.
Hairstylists
Compared with other China-based brands, Luvme saw the importance of working with stylists. They have cooperated with many local hair stylists in the United States. The company works with tons of stylists to promote its products. This may be one of the reasons why this brand is trusted and popular.
When it comes to professional stylists, Luvme wins.
Customer Service
Customer support provided by UNice was one of the company's specialties. They offer 24/7 service which proves to be helpful to their customers. UNice has 3 main forms of communication: email, live chat, and Whatsapp. It's easy to get a quick response from UNice hair company. I have to say that the customer service from UNice is excellent and outstanding.
When it comes to customer service, UNice wins this battle by a hair. In fact, Luvme also provides fantastic support. But they don't provide a little chat button that is easy to find at the bottom of the page like other sites.
Return Policy
Both companies offer a 100% satisfaction guarantee that offers the ability for customers to return products if they are not happy. They refund within 30 days of you receiving your delivery. Honestly, it's pretty great. However, all items must be in their original factory-made condition. Any damaged items are ineligible for return.
Overall, Luvme and UNice are tied. Both brands provide fantastic after-sales service.
Delivery Time
The delivery was one of the biggest upsides of shopping with both companies. Since most of the company's customers are from America, Luvme and UNice have a warehouse in the United States. The delivery specifics for the United States are 2-5 business days. Plus, shipping is free and fast. For other international orders, the products will be shipped from a warehouse in China. It takes 5-7 working days. The services used are DHL, UPS, and TNT.
When it comes to delivery time, Luvme and UNice have tied again. Once your order has been processed you should receive tracking information.
Payment Method
Both companies accept most credit and debit cards. Plus, Luvme and UNice also accept installment services. This allows you to buy now and pay later. UNice works with companies such as Afterpay, Klarna, Sezzle, Paypal, and Zip. However, Luvme only accepts ZIP and Afterpay.
I have to say UNice is the overall winner in this chapter. UNice is one of the most comprehensive when it comes to payments.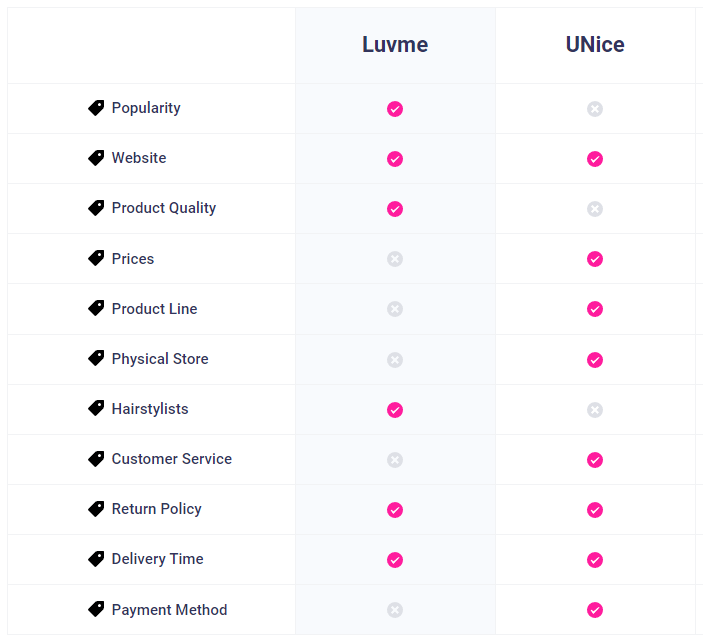 So to come up with a winner, I took 11 factors into account above. But if you had to make me pick ONE hair brand to use, I'd have to go with UNice.
UNice Hair company has multiple brick-and-mortar stores in the U.S. and will build more in the future. So they are a reputable company that you can trust. The main reason is that the hair from UNice has better cost performance. The price of UNice is more advantageous than Luvme.
However, Luvme is also well worth a try. Compared to other hair brands, many of the only unique styles they release are more attractive. In terms of quality, Luvme hair comes with better details. Their products also have an advantage in density. Overall, Luvme seems to be a more high-end brand.
This was a REALLY hard call to make. I honestly think you can't go wrong with either brand.
Firstly, let's take a quick look at the products of Luvme.
So now that you know the main things about Luvme Hair, it's time to analyze it in more detail.
Product Quality
This section will review the different aspects of the 5×5 lace closure wig from Luvme Hair.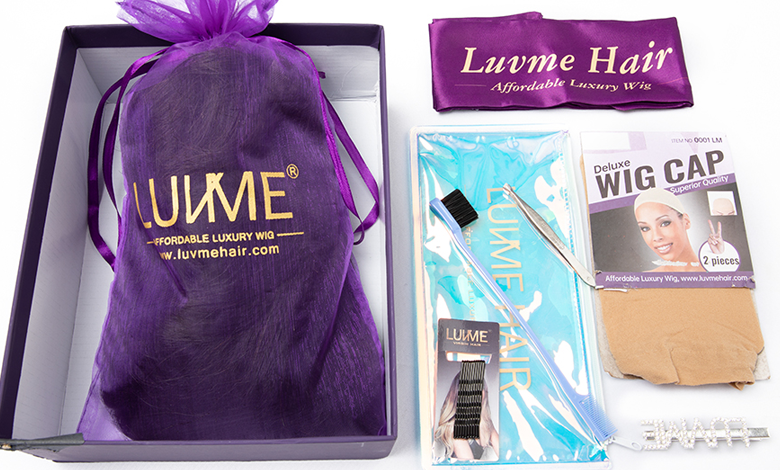 Hair Strand
This natural black straight lace wig is very high quality. The hair is made from 100% human hair, which is soft, silky, and smooth to the touch. You will never find synthetic or animal fiber mixed in their hair. Plus, it is also tangled-free and does not shed easily.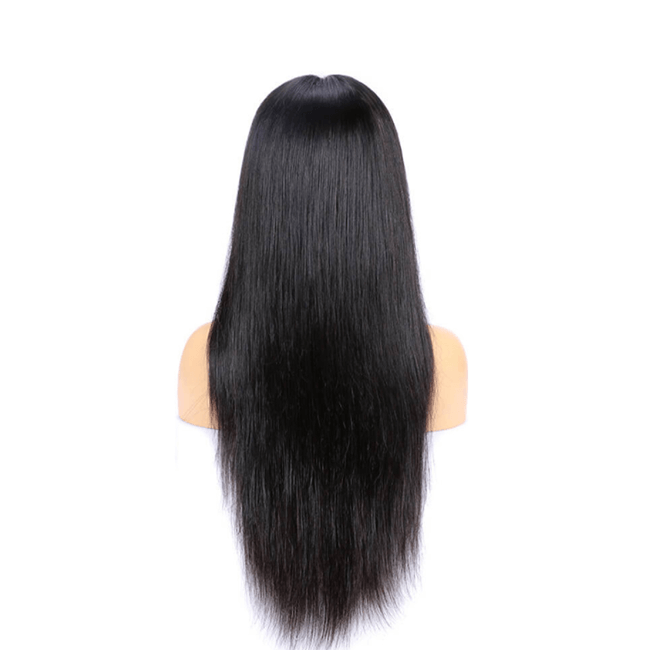 If you look closely at this wig, you can hardly see the gray or red hair. Even though the hair is straight the tips aren't thin. Having a straight texture really shows off the fluidness of the hair. In terms of appearance, that's very nice.
However, Luvme hair company claimed that the hair was collected from one single donor. Obviously, it is often untrue(fake). This is no longer a secret in today's hair industry. But Luvme's wig is true to length. Overall, I can confirm their hair is basically accurate descriptions.
Hairline
This unit has a lace closure that is 5×5 in size. It allows for free part styling. The closure is made from top swiss lace called HD lace, a very popular material for lace wigs. This type of lace tends to be quite transparent and suitable for glueless installation.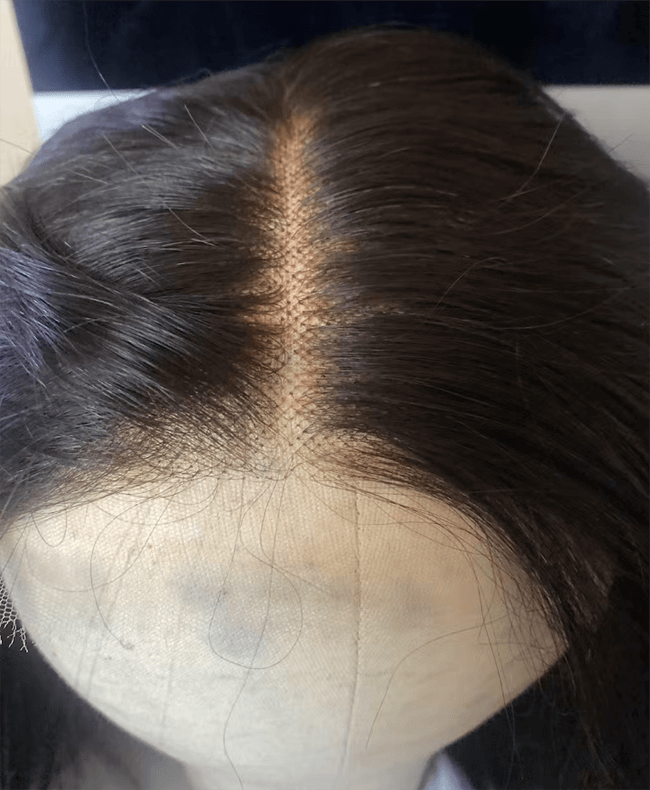 The unit came with a pre-plucked hairline and baby hairs. Luvme has done a great job at creating a natural-looking hairline. They have used undetectable real HD lace to construct their wigs. It seems to be flawless melt with the scalp, and you can't even notice that it is a wig with naked eyes after installation.
Density
This unit came in a 180% density which is above average. The length of the hair was 24 inches. The above pictures show that this wig is exceptionally thick. There is very few shorter lengths of hair in this wig.
Due to the fact that the hair texture is straight the 180% density is perfect. It has a thickness that is very natural. This product had ONLY one density choice. Their site doesn't allow you to change the density.
The wig was over $300 which, for a relatively high-density HD lace, seems reasonable. If you had the chance to switch up the length and density, I think this unit would have more success.
Construction
The HD lace closure is seamlessly blended into the cap. Since lace can be the most fragile part of a wig, having one that is well-constructed is a good thing to look for. The knots appear single-knotted yet durable. The hair strands won't fall out when you brush this wig.
Similar to other company wigs, the cap size of this wig was average(22.5 inches). It's a universal cap size that is made to fit most people. They didn't have the option to customize this area of the unit. The cap is made from a very durable material that is both stretchy and breathable. This allows for maximum comfort when wearing the unit.
The cap is equipped with 3 combs, 2 on each side and 1 at the nape of the unit. There is also an adjustable strap on the lower side of the unit to further secure the wig. Overall, the wig was constructed very well and almost flawlessly, as expected for the price.
Life Expectancy
The description claims this hair can last for one more year. Obviously, you need to know how to properly take care of the unit.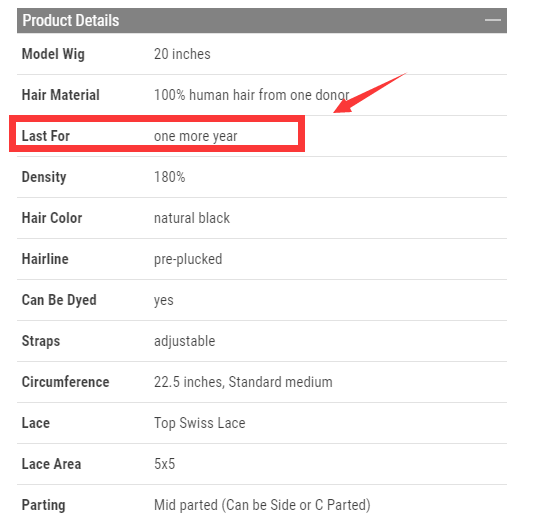 Luvme hair company uses high-quality Remy human hair in their products. So the lifespan of their hair can range anywhere between 3 to 6 months to a year or longer, depending on the general care the wig receive and how often the hair is worn.
Customer Support
This company mainly communicates with customers by email. They also use WhatsApp to contact customers. Like many other hair sites, Luvme even has a live chat. Honestly, these are helpful especially during pre-orders. The customer care team operates from 5 am to 5 pm(PST Time). This gives you a good amount of time to work with when trying to get in contact.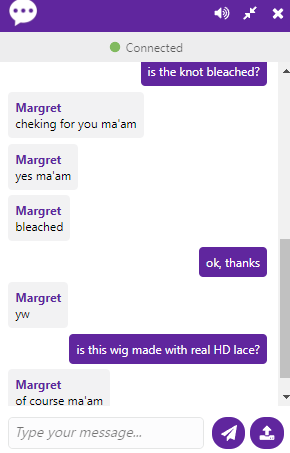 At least according to this test, their support looks to be responsive and friendly. And fast.
Delivery Time
Luvme offers free shipping on all orders over $50 and states to deliver in 3-7 business days. I think this is very reasonable. After all, shipping was free. Normally, orders that are in stock typically ship within 24 hours of payment being complete. Once your order has shipped you will receive a tracking number.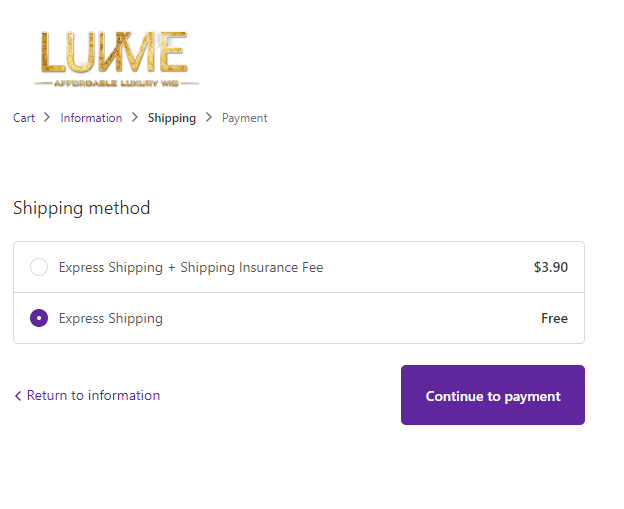 Because they have overseas warehouses in the United States, the delivery specifics for the United States is 2-5 business days, so the order was right on track. International orders are shipped from the warehouse in China. Shipping is also free and the services used are DHL, UPS, or TNT. It takes 4-7 days if done with express shipping.
The one upside to this brand was the packaging. The product came in a luxurious box. Honestly, the packaging was also quite pleasing to look at. Not only they provided discount codes, but all hair orders come with free gifts.
One important thing to note is Luvme does not ship to P.O. boxes, you need a physical street address to shop with this company. If done, their company will contact you to choose an alternative shipping address. Overall, the delivery was quite fast. The hair arrived damage-free within a week.
Other Opinions
I tried to check out some other reviews on Luvme– so that I could give an unbiased review.
Fortunately, there are plenty of real reviews on the internet.
Note: I only considered authentic reviews, not general ones.
What People Say
Fortunately – Luvme has lots of opinions online, such as BBB, TrustPilot, Youtube, Facebook, Tiktok, and similar review websites.
However, I tried to avoid its official website (reviews posted on official websites tend to be biased). So they're surely not worth considering.
Luvme also sold hair products on Amazon, which was my #1 go-to website for real opinions.
So here's what people think about it:
Some people say the hair is soft and nice.
Some people praised its quality and texture.
Others said it can be washed and reused a few times.
Some say the hair is one of their favorite wigs thus far.
A few mentioned the cap is too small.
Some say it doesn't look like the picture at all.
Now – it's quite normal that opinions are mixed up.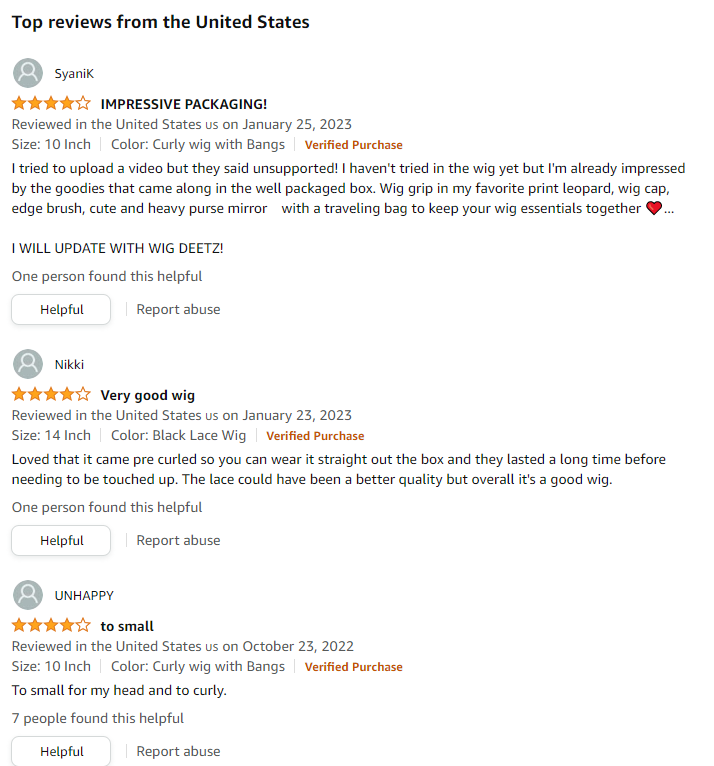 Overall, more than 70% of customers are satisfied – which means the product is relatively great. One interesting thing is that many people praise the packaging of Luvme. Honestly, I definitely agree with this point.
Biggest Complaints
Amazon has quite a few 1-star reviews on Luvme hair.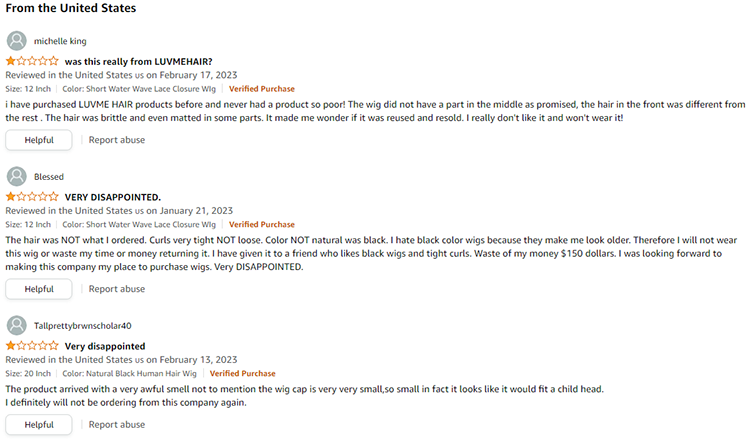 Most are related to:
Amazon's hair quality of Luvme is not as good as those of their official website.
The hair had an odd smell to it.
The hair was super thin and not worth the money.
It's obvious that no product will work for everyone.
After all, Luvme has enough positive reviews – so it's surely not a scam.
Luvme is a very reputable company and this alone is a great reason to shop with them. Their hair is affordable and a great go-to option for someone who is expecting a reliable hair product.
Where To Find It?
As I mentioned above, this company also sells on Amazon. But they offer a very limited product range.
Luvme hair company even provides an app to shop for their hair products. By downloading this app you receive an additional discount on your purchase.
Overall, I personally recommend buying Luvme's products from their official website. Even so, it's totally up to you.
Pricing 
Honestly, Luvme's pricing is not an advantage compared to similar brands. Below I will compare Luvme with its main competitors, including UNice, Alipearl, Klaiyi, Nadula, ISEE, and Megalook.
Well, I take a 180% density 5×5 HD lace closure wig as an example.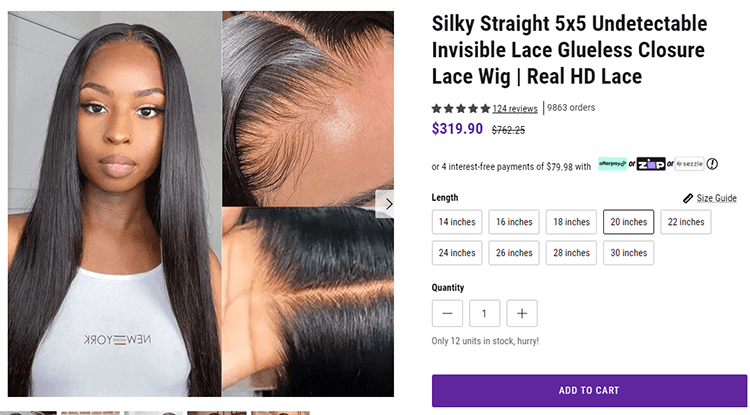 As you can see, the price of this 20'' natural color straight HD closure wig is $319.90. However, you can get an $80 discount. And the shipping is free. So this HD wig costs almost $239.90.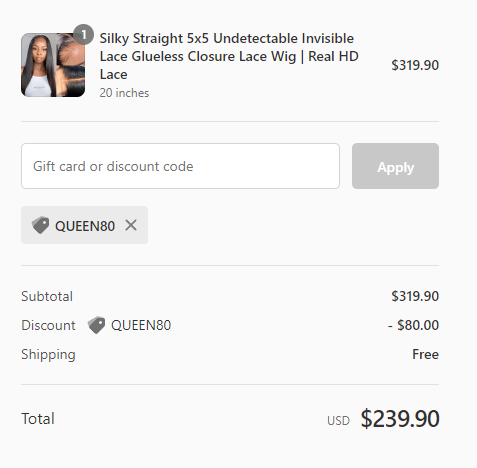 Honestly, the price is relatively affordable. How does Luvme's pricing compare to other hair brands?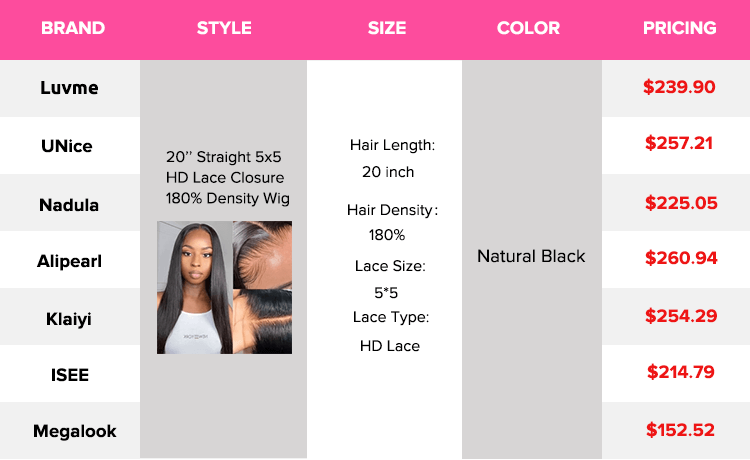 Image Last Updated: 2023-03-06
From the table above it is obvious that the price of this Luvme wig is not the highest, even cheaper than its major competitor, UNice.
One thing to note is that there is no "Universal Standard" for wig density. Simply, each company has different hair density standards. The 180% density hair of one company may be thicker than the 200% or even 250% density hair of another company.
Overall, Luvme is also on the affordable side.
Pros & Cons
Here are the main things that I didn't like and like about Luvme.
Pros
Luvme has an outstanding reputation.
This brand is trusted by 1M+ customers.
The company offers high-quality human hair at an affordable price.
Their site is clean and easy to navigate.
Luvme hair is always available in trendy hairstyles.
The company has strong product development capabilities.
They offer a 30-day guarantee.
Customer service with Luvme proved to be helpful and easy.
This company does work with installment services, specifically ZIP, Afterpay, and Sezzle.
Cons
They claim their hair was from one single donor, it's fake.
FAQ
Is Luvme Hair legit?
Yes, Luvme is a reputable company that you can trust. It's very popular. Most customers are generally satisfied with their purchase and the company has a high customer return rating. Overall, Luvme is a trustworthy brand.
Is Luvme hair a black-owned company?
No! Luvme is actually based in China. The CEO of the company is Wendan Li whose goal is to provide quality yet affordable human hair products to their clients. The company has grown quite rapidly. In terms of popularity, they are the industry leader in today's hair market.
Is Luvme Hair from China?
Yes, this company is known to be one of the most popular brands in all of China. They ensure all of the products are 100% human hair. Luvme has a high reputation.
Does Luvme Hair have Afterpay?
Yes, the site accepts Afterpay as a valid form of payment. They offer not only a variety of payments but also accept installment plans. This service allows you to buy now and pay later. Specifically, they work with companies such as Afterpay, Paypal, and Zip. They even accept Sezzle.
Is Luvme Hair good quality?
Luvme hair can be good quality for the price but they are generally not the highest quality pieces. In terms of quality, they are probably not as good as these brands, such as Hairvivi and Rpgshow. However, some units are close to their high-end competitors.
Does Luvme Hair have a return or exchange policy?
Yes, this company offers a 100% satisfaction guarantee that offers the ability for customers to return products if they are not happy. However, the products need to be untampered with and in their original packaging. A return request needs to be submitted within 30 days of the original delivery.
Does Luvme offer a rewards program?
Yes, they have a rewards program. You can easily sign up by creating an account and start earning points in easy ways. These points can be redeemed for free gifts or extra discounts.
How to use a discount code on the Luvme site?
Firstly, you need to start the checkout process on their online website. You can enter your coupon code in the area designated for discount codes. Then by clicking the "Apply" button, your products will be automatically discounted.
Luvme Hair Review: The Bottom Line
Luvme has become one of the most popular and trusted hair brands on the market. They have over $7,000,000 in sales per month. It's amazing! Obviously, Luvme's hair is highly sought after. And definitely worth using.
As said above, this brand was well-known, the product was good, the delivery was fast, and the price was relatively reasonable. That's why I really advise you to give it a try. If Luvme is not worth choosing, I don't know what else will.
If you like bob wigs, Luvme is definitely one of the best options. The bob style from Luvme is the one of best-selling categories on their site. They had a wide variety of both hair colors and textures.
Plus, if you're on a tight budget, they even offer installment services. This service allows you to buy now and pay later. Honestly, it's a great option.
But if you are looking for a cheaper alternative, you'd be better off using other hair brands like ISEE, Megalook, and Tinashe.
Overall, Luvme is a hair brand that's 100% worth trying. So I would recommend giving Luvme a shot whether you're a beginner or not.
Now I'd Like to Hear From You
So that's it for my Luvme hair review.
Now I want to hear about your experience with Luvme.
Have you used Luvme hair before?
If so, what are your overall impressions? Good? Bad? Somewhere in between?
What do you think they need to improve?
Let me know by leaving a comment below right now.