It's time for my Nadula hair review – because at this point, it's one of the best hair brands I ever tried:
High-quality hair products
Cheap price
Diversified Payment – Afterpay, Klarna, Stripe, PayPal
Lots more
In this post, let me show you why I say this (based on my experience with it).
Let's dive right into today's post.
Note: We don't have companies sending the products for free or sponsoring positive posts. This allows for an unbiased review.
So Let's Get To The Review
---
Versions: They offer 4 different categories of products:
Hair Weave
Closure&Frontal
Wigs
Hair Extensions
Nowadays, the wig is the overall best-selling category. Plus, they only sell 100% human hair products!
Cheapest Place To Buy: Nadula's official website(Amazon has much higher prices)
My Rating: 9.6 out of 10
Worth Buying?: Definitely – it's one of the best hair brands I tried.
---
How To Buy It Cheaper
---
You can actually get Nadula for cheaper price. Here's the strategy I use:
Choose to buy hair products during major festivals
Use the official coupon code
Join an affiliate project they offer
I'll take an example to explain. Here's a tutorial on how to do it.
First of all, you need to join Nadula's affiliate program from below. Put simply, all you need to do is sign up.
If approved, you will get your personal link.
The second step is to wait for a major festival. Promotional period, you can open your exclusive referral link in Safari or Chrome.
After coming to their official website, you can use a campaign coupon code to complete the payment.
As a Nadula affiliate, you will earn a 5% commission. If you make the calculations, this means you get another 5% off on your order.
But you need to reach 3 eligible referrals that are pending payout, your commissions will be payable at the end of the next calendar month. Plus, you will need to send them an invoice in order to get paid.
That's how I manage to save lots of money buying Nadula.
Last Edit: their official website reduced the commission rate from 8% to 5%.
What I Liked About It
Great quality hair
Real Remy human hair
No Shedding, Tangle Free(Relatively)
Really affordable pricing that fits everyone's budget
Excellent customer service
Customer support via 24/7 live chat for any related issues
Fast shipping(US warehouse)
Many satisfied customers and positive opinions
Perfect after-sales service
30 days return/refund guarantee
Available on several retailers
Support Quadpay Payment(split your entire order into 4 equal payments over 6 weeks)
What I Didn't Like About It
Pre-colored extensions are limited
Longest hair proportion < 20%
---
Why It's My Favorite Product
---
Throughout the years, I tested over 100 hair brands. Unfortunately, not all could deliver on their promises:
some companies' products have gray strands in the hair
The biggest issue of other brands' products was with the length and volume
a few others worked great, but they are too expensive (which I couldn't afford)
However – Nadula was totally different. Here's why I say this.
#1. Low Price
That's the main reason why it's my pick.
Not all of us afford to spend $600 for a lace wig(24" 13*6 lace front straight hair wig). Nadula only costs me nearly $300 – so it's a much better deal.
Despite all this, the price is a bit high for someone, but you can choose from popular and inexpensive alternatives in today's market – U/V Part Wig.
#2. Good Quality Hair
The hair was so pretty and soft. And it has a soft natural luster.
This is a common issue that there are a few gray strands in the bundles. But the hair I bought hasn't a few strands of gray hair inside. So Nadula is above average.
And I didn't smell the corn-chip chemical odor, which is a plus. The hair is all over the length I paid for, but the bundles are thin towards the ends.
Ever heard the phrase "you get what you pay for"? Well, I can't ask for anything more.
Overall, everything is almost the same as in the description.
#3. Shipping Really Fast
In general, 3-6 working days and you will receive your order.
The good news is that Nadula hair company has built warehouses in the US. If you're located in the United States, your order can directly be shipped from the United States. 2-4 working days and you will receive the goods.
It's not too bad.
#4. Excellent Customer Service Team
You may easily contact them by email, online chat, telephone.
The Nadula Hair support team operates 7 days a week, 24 hours a day. They always guarantee a response within 24 hours.
#5. Exchange & Return Policy
If you are not satisfied with their products, they accept exchanges or returns within 30 days of purchase.
But, all customers are responsible for their own return shipping costs for any returns or exchanges. If you want to know more details, simply read the directions here.
Honestly, Nadula is made by a very trustworthy brand.
Other than that, to make it easier for you, I compiled a list of the 10 best-selling products you need to know.
So now that you know the main things about Nadula, it's time to analyze it closer.
---
#1 – Authenticity (9.4 out of 10)
---
All Nadula hair extensions are made of 100% Human Hair.
Yes, that's what their company claims. Fortunately, the claim is pretty accurate.
Nadula hair is pure, 100% human hair that has never been mixed. You will never find a synthetic or animal fiber mixed in their hair.
So they look, feel, and act just like your own hair.
In order for hair companies to remain competitive, many vendors market hair as Brazilian, Malaysian, or Peruvian hair.
But in reality, most manufacturers make a fake claim about importing hair from these countries.  This is a clever marketing tactic that makes the hair appear more exotic and desirable.
If visiting their official website, you will see many so-called "exotic " hair products. However, Nadula hair company didn't make a claim that all the "Exotic" hair originates from the countries and areas they are named after.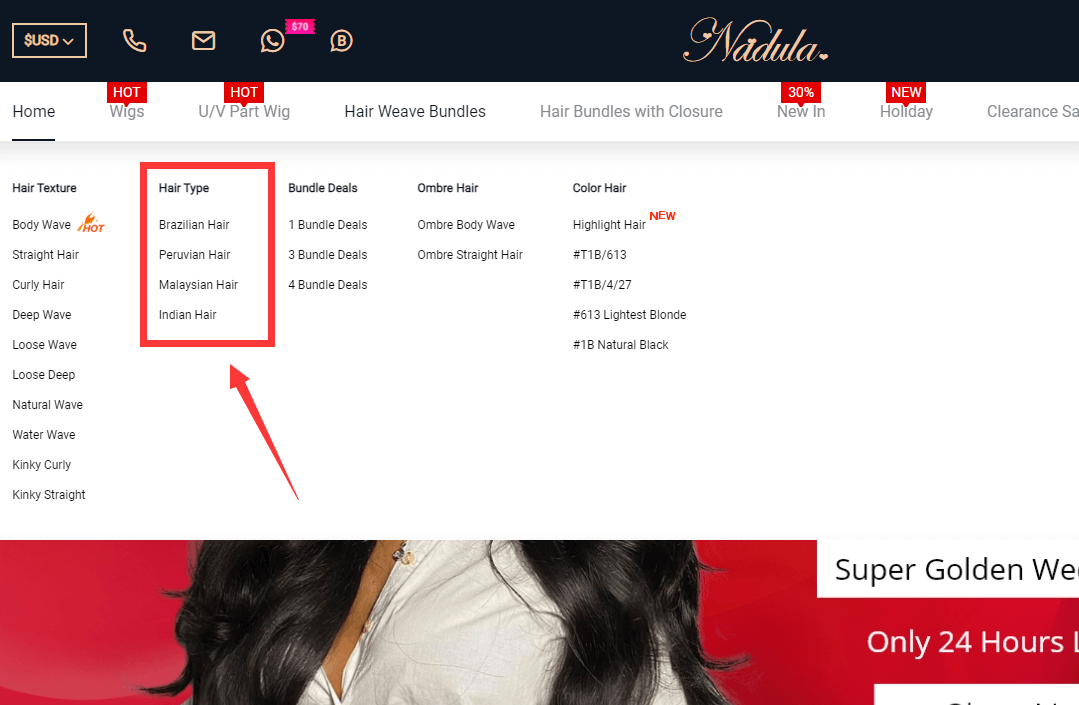 They only use an "exotic" name to cater to the demands of people. This is a common strategy used by most hair companies.
Plus, you should keep in mind whenever they claim one donor's hair, it is often untrue.
Overall – there's nothing to criticize about it.
---
#2 – Appearance(9.7 out of 10)
---
Like most companies, Nadula has pictures of attractive products on its website so that you can make quick decisions.
There are websites out there that have beautiful pictures of their hair products and when you receive them, they aren't the same product…at all, color, style, etc.
To be honest – The hair came in as described.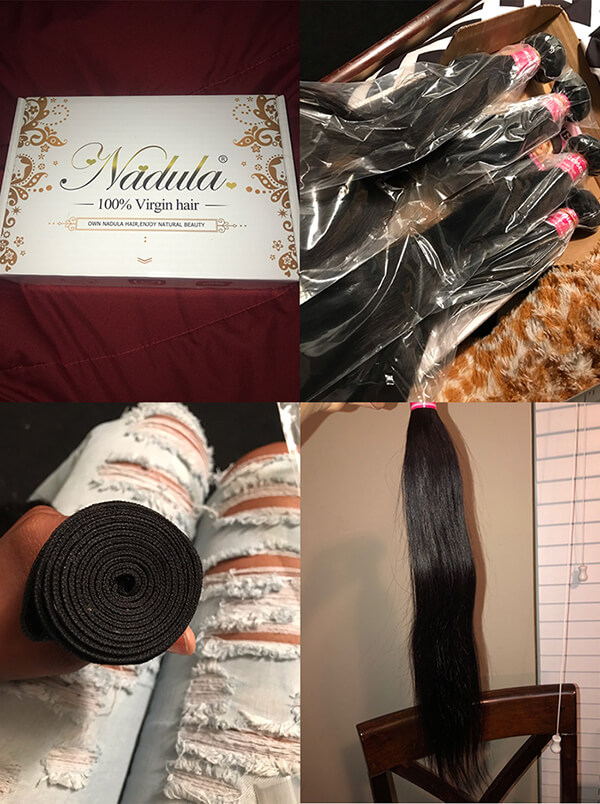 The hair came packaged very well. Straight out the box, I saw so many beautiful hair bundles. It was very soft, thick, and gorgeous. The color was really pretty as well, a natural black/1B color.
Better yet, the hair had no smell and was true to length. Speaking of the closure, the knots were unbleached.
So in terms of appearance, Nadula is surely a brand I would recommend.
---
#3 – Processing(9.3 out of 10)
---
Nadula claims that it does not chemically process its hair (much like Beauty Forever Hair does).
Just about every hair company claims to carry virgin hair and if not educated properly you can get scammed.
Virgin hair is a term for hair that has never been chemically processed. Chemically processed hair is hair that has been color-treated, permed, bleached, or dyed.
To be frank, there is almost no 100% chemically processed hair in the hair industry. Now you may be surprised, but it's true.
This is because the raw hair materials collected are very dirty. First of all, hair manufacturers must pretreat these materials.
Fortunately, Nadula's hair products have been slightly processed – while less than 30% of the hair products from the market do.
There are a few types of processing that hair can undergo. Nadula hair company uses another chemical-free Steam Perming process that gives you the dreamy curls, waves, and natural waves you love…
---
#4 – Hair Shedding(9.6 out of 10)
---
There are plenty of completely normal reasons why your hair extensions are shedding. But today we only talk about hair shed caused by hair quality.
In general, hair weave is prone to shedding because they are not sewn tight enough to the weft.
Here's what you should know about them:
Machine Double Weft
Shedding Test Repeatedly
Double-weft hair means two tracks of hair sewn together. The double-wefting process reduces shedding because it is thicker and sewn more securely.
Basically – Nadula's products have to undergo a series of rigorous quality control processes (which is a great advantage).
So in this chapter, they look excellent.
---
#5 – Hair Tangling(9.4 out of 10)
---
In this chapter, there's not much to complain about hair tangling.
Nadula hair company uses quality human Remy hair in its extensions. It can't easily tangle because the cuticles are all in one direction.
However, keep in mind that even the best hair will NOT be 100% tangling-free. So it is essential to learn about how to minimize tangling.
---
#6 – Hair Life Expectancy(9.4 out of 10)
---
Honestly, you can't get a perfect answer in this chapter.
That's because the lifespan of Nadula Hair is determined by how well they are taken care of, what products are used on them, and how often they are worn.
Usually, the lifespan of Nadula Hair is 3-6 months up to a year or longer, depending on their usage and how they are cared for and maintained.
So if you want to be able to reuse the hair multiple times, the hair extensions have to be treated like your natural hair.
Other than these, it's necessary to keep learning how to care for your extensions.
---
#7 – Results (9.6 out of 10)
---
As I already said – I have personal experience with this product.
However – I tried to find real other users' opinions and reviews.
In this way, you could see an unbiased perspective about Nadula's products.
Note: I only considered authentic reviews, not promotional ones.
1. What People Say
Nadula's website has a lot of customer reviews.
But as official websites tend to be biased and only show praises, I didn't include those ones here.
Instead – I checked Nadula's page on Amazon.
Here's what customers say about it:
Some say itis soft and the price is very reasonable!
A few others saythe hair didn't shed at all and after dying it jet black it remained silky soft.
Others claim itis not really thick at the bottom but it wasn't extremely thin either.
Some also saythere was a faint smell but once I co washed it, it went away.
Others say it was co-washed & no dye comes out.
Some complain it didn't come as described.
A few others say it's the best product they have used.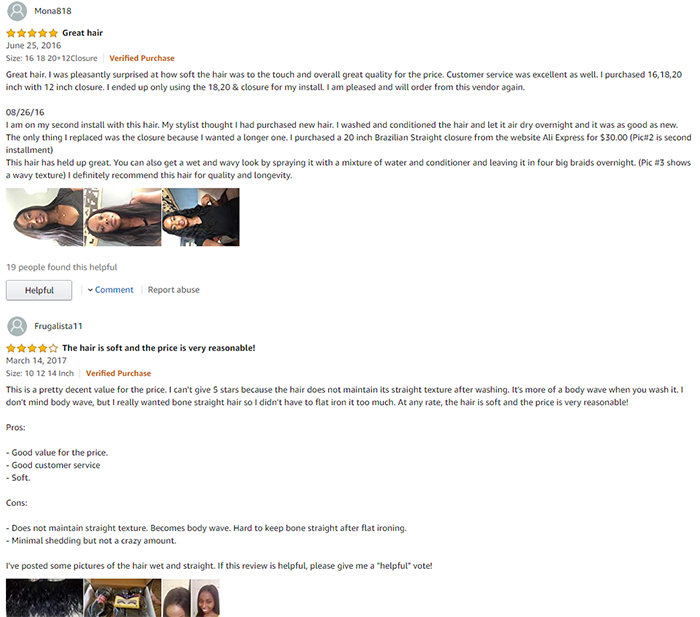 So Nadula has mixed opinions – but more than 80% are positive.
That's excellent proof that Nadula is a worthwhile investment.
2. Biggest Complaints
Let me give you some more details about these negative reviews.
Most people complained about:
The lifespan(didn't last long at all)
Hair ends(got thinner)
Since I have tried Nadula myself, it's not the best but great cost-effectiveness.
But there's one thing you should know.
Even the best hair will get bad reviews. It's just part of the industry, unfortunately.
So in this case, you wouldn't worry too much about these complaints.
Overall – Nadula is a great choice as a hair extension product (especially for the money).
---
#8 – Price (9.7 out of 10)
---
In my opinion – this is one of Nadula's strongest points.
They might not be the cheapest hair brand you can find.
But they're surely cheaper than most of the quality brands.
1. The Exact Price
In fact – they have the lowest prices on their official website.
A 3.5oz bundle starts around $27 and can go higher depending on the length.
Let me take 3 bundles of body wave hair as an example(20" 22" 24").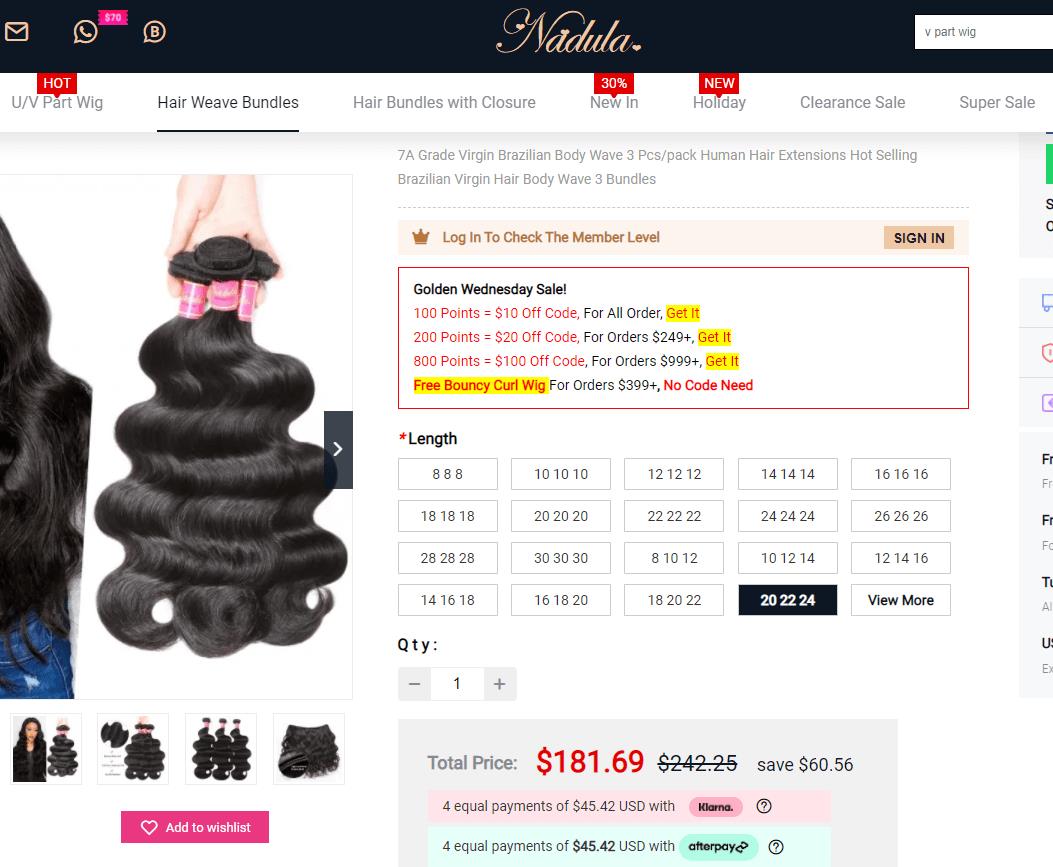 Basically – $181.69 for 3 bundles isn't that much.
If you follow the tips from above, you can get an extra 5% off.
So I will surely recommend Nadula for one major reason: its much lower price.
2. Competitors' Price 
I will only compare Nadula with another hair brand called Diamond Dynasty Virgin Hair.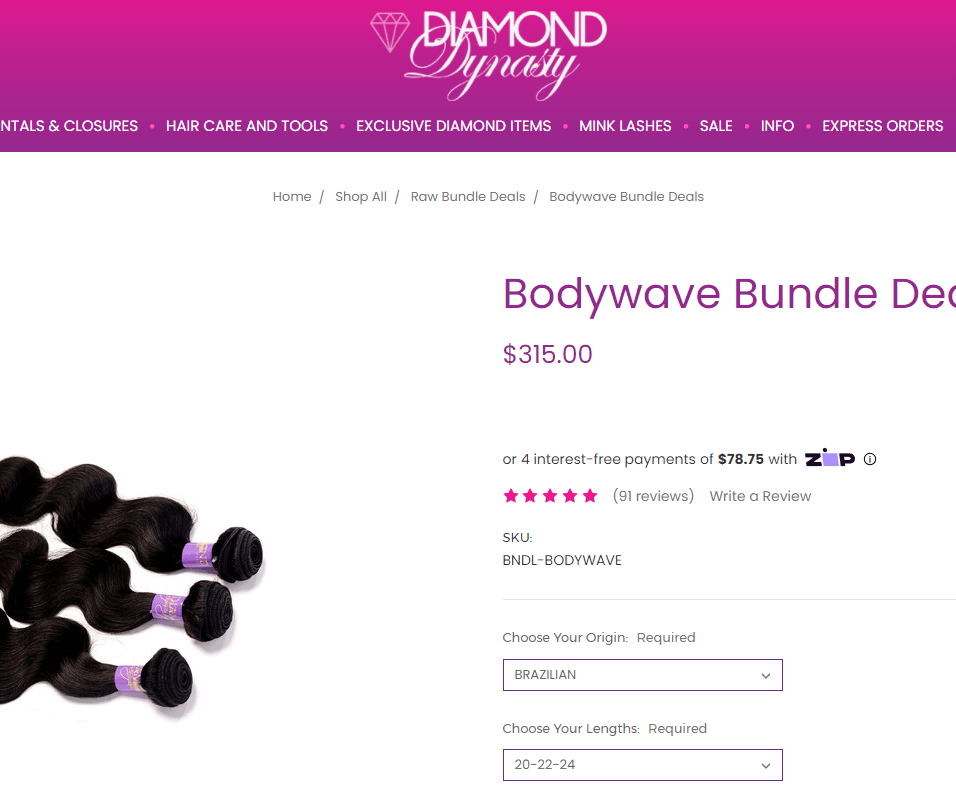 So let's take a quick look at Diamond Dynasty.
With the same length, color, and style, it costs $315. Plus, you have to pay an extra 10% sales tax.
So in terms of price,  I really recommend Nadula.
---
#9 – Where To Find It (9.8 out of 10)
---
As I already mentioned – Nadula's website has by far the lowest prices.
Other than that, you can also find it on:
However, my top recommendation remains its official website:
Lowest prices overall (with sales very often).
More products available than on other retailers.
You can get a free gift.
There's the Dropshipping, Affiliate program.
So if you want to get the best price, choose the official website.
It's a better choice in the long term.
---
My thoughts
---
Here's how I would sum up my opinion on Nadula:
---
My Verdict – Is Nadula Worth Buying?
---
Short answer: Definitely.
In fact, it's one of my favorite hair extensions brands.
If you're looking for a quality hair weave at an affordable price, I definitely advise you to give Nadula Hair a try.
So that's it for my Nadula hair reviews.
And now I'd like to turn it over to you:
What's your experience with Nadula Hair?
Or maybe you have a question about something in my review.
Either way, let me know by leaving a comment below right now.