With the variety of brands like UNice, Luvme, and Alipearl in the market, it'll be quite hard to find a great brand for your beauty.
Understanding this, I've reviewed ISEE Hair in this blog post very in-depth.
In fact, in this ISEE Hair review, I'll be walking you through the hair brand and helping you know whether the brand is worth the price or not.
So if you're considering buying for ISEE Hair, this review should help you with your decision.
Let's jump right in.
Note: I only do unbiased reviews, not promotional ones. In other words, I purchased my ISEE hair with my own money. This is an unbiased review.
ISEE Hair Overview: What Is This Brand All About?
Shortly – it's a brand focused on human hair products.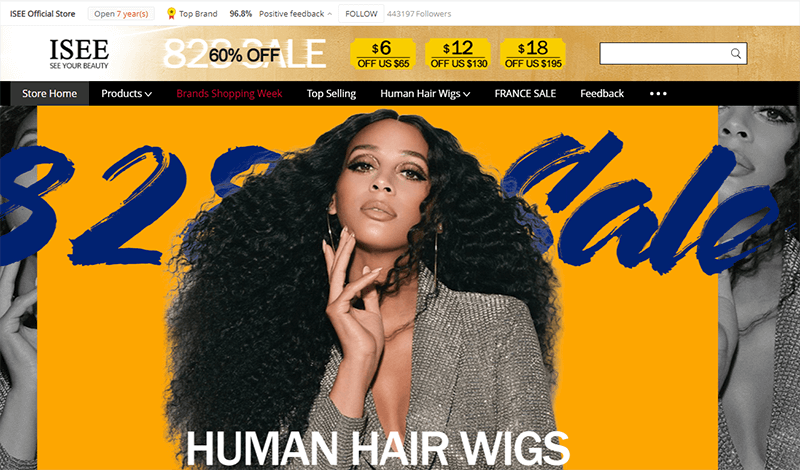 But how is this hair brand different from the rest?:
High-quality hair products at a lower price
Now, ISEE's #1 product (wig) is meant to give every lady their dream hair.
But that's not all – ISEE also offers some other products:
Hair Weave/Bundles
Closure & Frontal
To be honest, its products are really awesome.
Now you may be wondering :
Why do I praise this brand so much?
Here's my own experience.
---
Why It's My #2 Favorite Hair Brand
---
Throughout the years, our team visited over 80 hair factories, and I also tried over 100 hair brands. Unfortunately, not all is as good as it claims:
some are not real human hair
others only worked for 1-2 month
a few others are great, but they would be more expensive
However – ISEE was different. Here's why I say this.
1、Lower Price
In reality, that's the main reason why it's my top pick.
Not all of us afford to spend $500 for the weave set(20" 22" 24" bundles +18" closure). ISEE Hair only costs you nearly $210.
It is also worth mentioning that the longest hair proportion of their hair is about 10%. This means hair ends are thin.
That's why they are so cheap. You get what you pay for.
Honestly, this quality of hair is not the best. But their price is really good.
2、High-Quality Hair
ISEE hair is made of high-quality Remy human hair.
The hair is beautiful, soft, and silky to the touch. And their hair doesn't cause shedding and tangling easily.
Plus, the hair can be colored and styled as you wish.
If taken care of well, this hair usually will last up to 3 to 5 months or even longer.
3、Fast Shipping
Although their headquarter is located in Henan of China, 3-7 working days and you will receive your order.
For U.S. and European buyers, you may receive the goods more quickly.
Besides, you don't have to pay extra for the shipping fee.
4、Refund & Exchange
They offer 15 days no reason return policy. Which meant you can get a refund if you don't like it.
However, the items must be sent back to their company in their original condition.
Make sure you read their return policy in detail before you buy their hair products.
5、Top Brand
Top Brands are top-rated stores on AliExpress. That means that this brand has been recognized by the AliExpress Official Platform.
In other words, when you're shopping at their stores, you're either directly buying from the brand itself or from an authorized reseller.
To summarise, that's why I consider it my #2 favorite hair brand.
The ISEE Straight Hair Bundle is a 100% human hair weave that will give you a more natural look.
Many women purchase hair weaves to provide the head full of hair that they used to have or always wanted.
And a weave installed with a closure or frontal piece can also give you more benefits.
So yeah, let's take a look at ISEE Hair. If you like human hair wigs, you can also see them on this table.
So now that you know the main things about ISEE Hair – it's time to analyze it more closely.
---
Authenticity (8.8 out of 10)
---
ISEE's claims have main several points:
100 Human Hair
Virgin Remy Hair
Exotic hair
One Donor Hair
So yeah, let's take a closer look at each of them.
100% Human Hair
Just as ISEE's claim – their hair is exactly 100% human hair that has never been mixed with synthetic or animal fiber.
Now, you're probably wondering:
How can I test whether the hair I bought is real human hair?
Simply, the most effective way to determine if the hair is real or fake is to conduct a fiber burn test.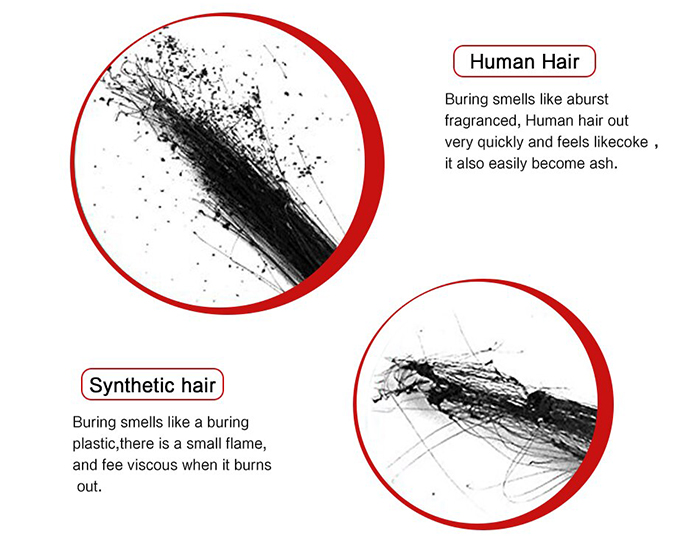 And of course, there are other ways to test it. For more tricks, click here.
Virgin Remy Hair
Virgin Remy is a very popular term in today's hair industry.
Remy is often used for marketing purposes that generally mislead the client into thinking they are getting the best grade of hair.
In fact, Remy Hair just means that the hair has cuticles that are running in the same direction from root to end.
Obviously, it's important to get a little educated before you make a choice.
Virgin hair is another popular term for hair that has never been chemically processed.
The truth is, almost all of the human hair has been chemically treated in one form or another. However, the hair of different qualities is treated differently.
Why?
Because the raw material of the collected hair is very dirty. Firstly, the hair factory will use detergent to clean this hair in order to disinfect and sterilize.
In general, Real virgin hair in today's market is now defined as hair that has been used weakly acid and steaming to processed.
Relatively speaking, ISEE Hair is real Virgin Remy hair. Their hair is above average.
Note: Detergents are divided into strong and weak acids.
Exotic hair
If you're not new to the hair industry, you should know that "Brazilian, Peruvian, Malaysian Hair" is on hot sale.
Unfortunately, these hairs are more so industry-created names that help to market hair.
In fact, the hair does not originate from the countries and areas they are named after. And this "Exotic" hair is some variation of Indian or Asian hair.
Overall, there's no difference among these "Exotic" hair. They just keep up with the current marketing boom in the market.
One Donor Hair
ISEE hair company claims their hair is single donor hair. The bad news: it is often untrue.
Let's take a look at what single donor hair is.
The single donor hair bundle is gathered and wefted from the same person.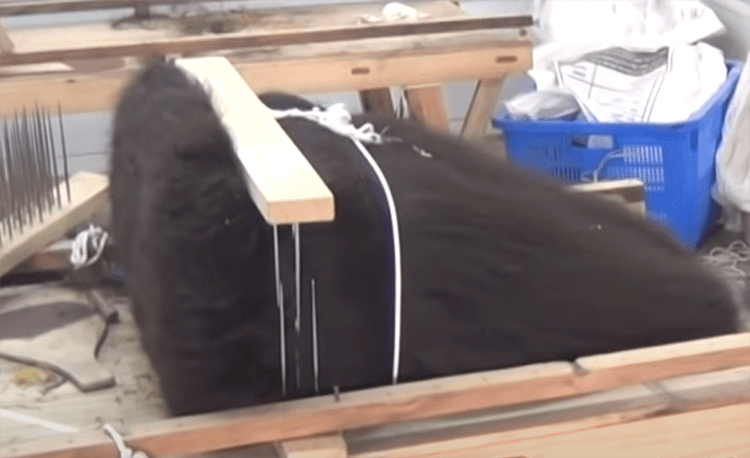 As you can see, this is a step in the hair production process. Now, do you still think that the hair you bought is single donor hair?
As it turns out, "Single Donor Hair" is more of a marketing ploy to raise the price of the bundles.
In my opinion, as long as the quality is great whether or not hair bundles are single donor hair. But you may have different opinions.
---
Initial Impression (9.3 out of 10)
---
When I received the package, I could see the bag was quite generic. It had the brand's name on it, but nothing special.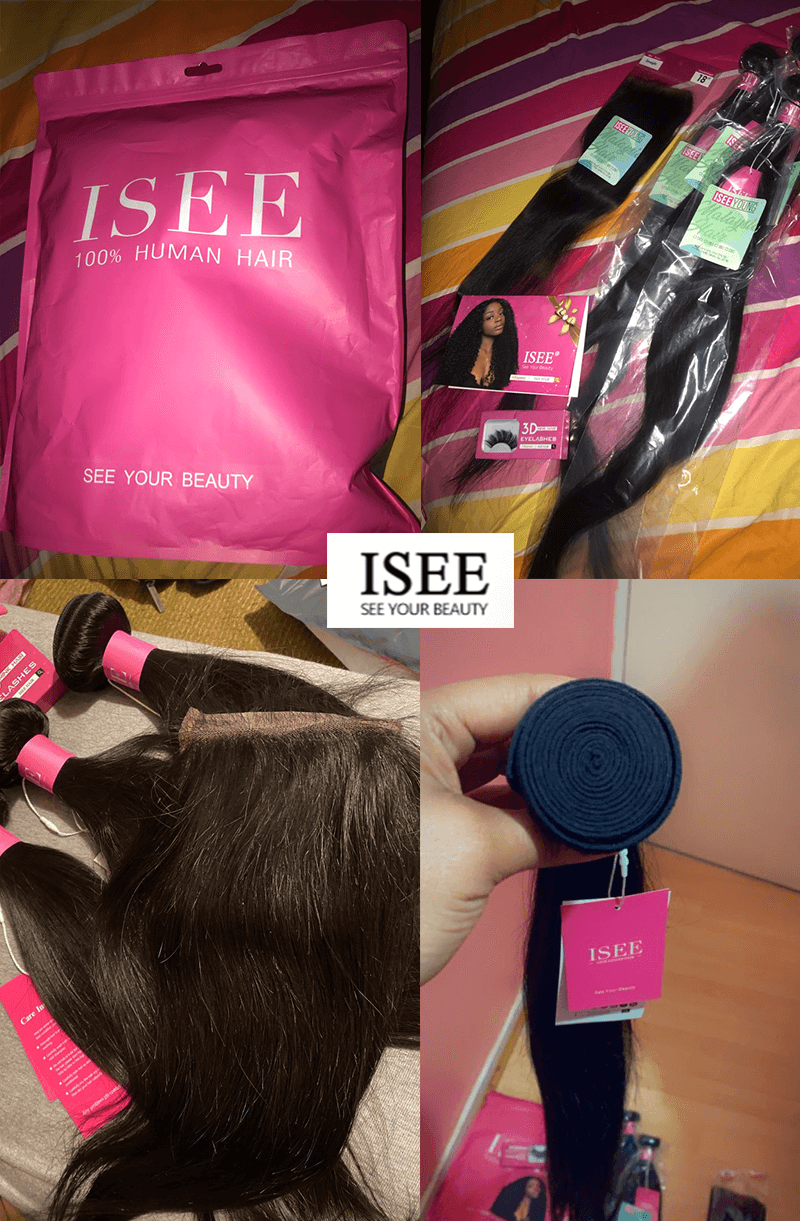 Then I opened the package, I saw my hair and the free gift(3d eyelashes) from their company.
The hair bundle was silky, soft, and smooth to the touch. In texture, they looked like real human hair. The hair color is natural and there is no trace of dye.
Besides, the hair also has NO smell on them. When I ran my fingers through the hair from top to bottom, there was no shedding.
And hair closures are made with human hair and a lace base. The color of the lace is brown, not transparent.
Another thing worth mentioning is that they don't have bleached knots.
On the downside though, the hair ends are thin. Considering the price, I think it's acceptable.
So, overall ISEE Hair offers great value.
---
Tangling& Shedding (9.1 out of 10)
---
In fact, tangling and shedding were not something I can complain about at all.
This may be because they use high-quality Remy human hair in their products.
The outermost layer of the Remy hair, known as cuticles, is not stripped, like in most other non-Remy hair. And the cuticles aligned in one direction.
This ensures that the hair remains super soft, silky, and relatively tangle-free throughout its lifetime.
For hair shedding, the main reason is that the manufacturing technology is not perfect.
Specifically, the hair bundles are not sewn tight enough to the weft and not tested in multiple processes.
The double machine weft technology makes it durable. Plus, double-weft hair can also create a fuller-looking install.
Remember:
When you install the hair, if you cut the wefts in pieces, it can easily cause hair shedding.
Overall, ISEE hair is relatively tangle-free and shedding-free.
Keep in mind that no hair will be absolutely shed-free and tangle-free, your hair bundles require more attention.
---
Life Expectancy (9.1 out of 10)
---
The lifespan of ISEE hair bundles will depend on how well you take care of them.
With proper care and regular wear, their hair will last anywhere from 3-4 months or even longer.
On the other hand, the best quality virgin hair weaves on the market will serve you for 8-24 months. However, they are relatively expensive than ISEE Hair.
Remember, you can increase the life of your weave by taking proper care of it, and by following the expert instructions.
In this chapter, ISEE Hair is surely not bad.
---
Customer Service (9.4 out of 10)
---
ISEE Hair scored really high in the customer service department.
They offer multiple ways to provide customer support, including email, phone, WhatsApp, live chat. To be honest, it's perfect.
Before buying hair products, I often use an online chat instead of an email. Because it's faster.
Fortunately, asking a question to their support is easy: they have a little Zendesk chat button at the bottom of every page.
When browsing through their official website, I saw that they offered 9A and 10A grade hair.
To test their professionalism, a question that I wanted to know the answer to what's the difference between 9A and 10A virgin hair weave?
So here's exactly what I asked: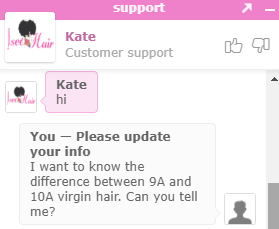 About two minutes later, Kate answered me.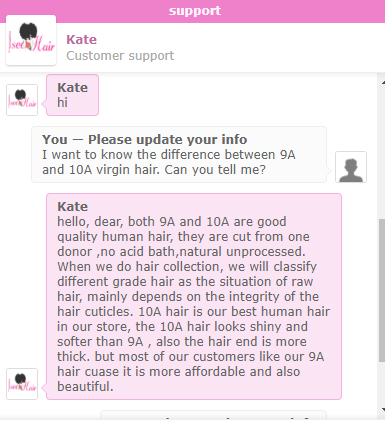 Honestly, the response was fast, solid, and helpful. Although this is obviously a template, they also want to be more efficient.
As you can see, Kate still said their hair bundles were cut from one donor. Unfortunately, she lied to me.
But the real deciding factor for me is the quality to price ratio.
So yeah, I placed the order successfully, and I received their email in my mailbox. Before the order was delivered to me, I also sent them an email. They responded to this email in a very short time.
In short, ISEE Hair's superior customer service and its helpful and receptive customer service representatives won me over. Overall, I'd rate their support as a solid A-.
---
Online Reviews (8.9 out of 10)
---
Whenever I am trying to decide whether or not to purchase a product from a company, I always make sure I read the reviews about it first.
Fortunately, it is so easy to find product or brand reviews about ISEE Hair.
Sure enough, I found lots of reviews online, including blog reviews, amazon reviews, AliExpress reviews, 3rd party review websites, and video reviews on YouTube.
However, tons of the reviews were only talking about the good parts of ISEE Hair. This led me to believe that these reviews were being published by affiliates or those who had been sponsored by the company.
For this reason – I tried to analyze to look for other real unbiased customers' opinions.
What People Say
I tried to avoid its official website (reviews posted on official websites tend to be biased).
Instead – here's what Amazon buyers say about this brand:
Some people say it's great quality and can be reused many times.
Others say it's one of the best products they tried.
Some claim they haven't experienced any shedding or tangling
Others say their hair is very soft, holds curl nicely.
A few others say the hair is great for the price.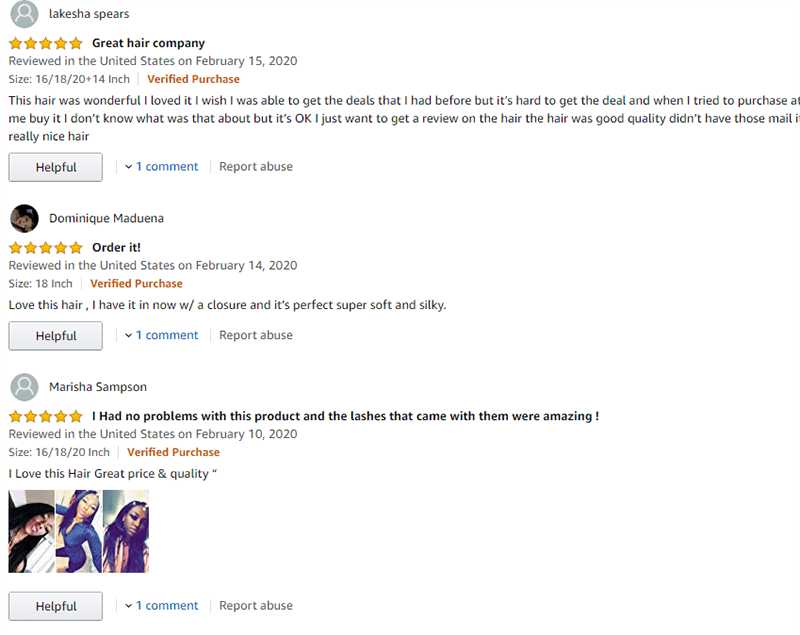 Now – it's quite normal that opinions are mixed up. Otherwise, the reviews might be fake.
Biggest Complaints
I found the main negative reviews regarding this issue:

This is the most common complaint. Obviously, I definitely agree with this claim.
Every company has bad reviews. ISEE Hair isn't much different. But in terms of price, I personally think this quality is not bad.
So it's pretty clear that ISEE Hair isn't effective for everyone. Especially for those who want to buy fuller and thicker hair.
---
Pricing (9.4 out of 10)
---
The price of ISEE hair has 1 major problem:
They have different prices with the same hair products on different platforms, such as Amazon, AliExpress, and its official website.
Here's the full breakdown of ISEE's current pricing: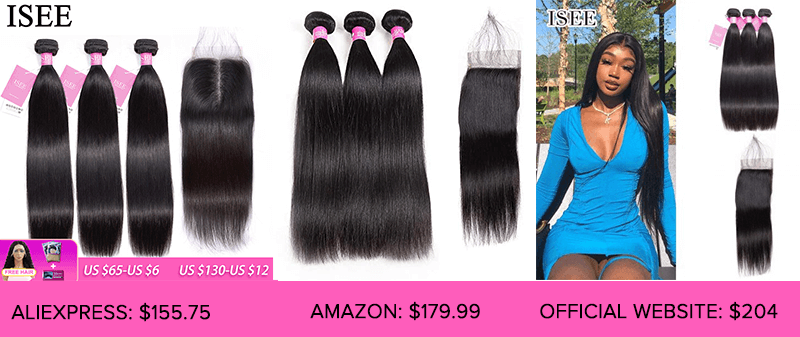 As you can see, the price of the hair product is the cheapest on AliExpress.
But it could also be their company's sales strategy. In other words, their company has different departments, and each sells different human hair products.
Although they look the same, the longest hair proportion of real products is different. That's why there are different prices.
Now, you may be wondering:
What's the longest hair proportion?
Well, I'll explain. In general, mixing hair is a step in the hair production process. This is a very common process in hair factories.
If you buy a 24" straight hair bundle, this bundle is NOT One Length(24"). In fact, around 20% of the hairs are likely to measure approx 24", with the additional 80% comprising of a combination of lengths which are likely to be between 16-22" in length.
So, the longest hair proportion of ISEE is 15% – 35%.
People in this industry are not unfamiliar with this term, but there is an interesting thing.
When I communicated with a staff of ISEE called Kate, she didn't understand this term, which surprised me.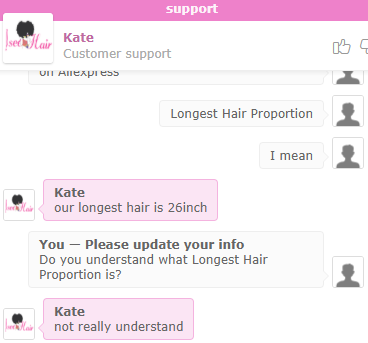 In this way, their professional level needs to be improved.
How does ISEE pricing compare to other hair brands?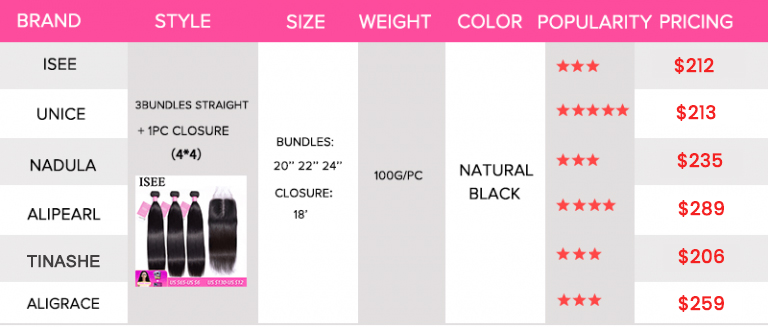 Image Last Updated: 2021-5-14
You may have noticed that the price of almost all hair brands has increased significantly. The main reason is the impact of the new coronavirus virus.
Relatively speaking, ISEE Hair is cheaper than other brands. That's why I think ISEE is totally worth it at this point.
---
Where To Find It? (9.4 out of 10)
---
Fortunately, ISEE hair is quite easy to find online.
And when it comes to online retailers, most are selling it:
Amazon
Its official website
AliExpress
eBay
Just like I told you before – surprisingly, the price is much better on AliExpress:
standard cost is lower
shipping is free
So here's what I advise you:
If you want to buy from a more trusted place, choose a retailer (probably Amazon).
If you want thicker hair ends, choose their website.
Also, for the best price choose AliExpress.
In my opinion, AliExpress is a better choice.
---
Pros & Cons
---
Here's how I would sum up what the pros and cons of ISEE hair are:
Pros
100% human hair
Lower prices than many competing brands
Offers quality virgin Remy hair
Broad product lines
Fast Shipping
15 Days No Reason Easy Return
Many positive reviews available online
Available on several retailers
Rated as the top brand by the AliExpress official platform
Cons
The hair end is thin. 
Single donor hair is fake.
---
My Verdict – Is ISEE Worth Buying?
---
Short answer
: Surely.
It's a good brand – it's simply worth it:
Cheaper price(compare to other competitors)
High-quality virgin Remy hair
Fast Shipping
Great popularity
The hair end is thin – that's the biggest drawback of ISEE Hair.
It's definitely not perfect. So if you want to buy a hair product with thicker ends, I would recommend these alternatives – "Banicoo" series of UNice and 15A Double Drawn Hair of Arabella.
If you're on a limited budget, or if you can accept the hair weave of 10%-15% longest hair proportion, ISEE is definitely good enough.
Human Hair Wigs have become more and more popular in recent years. ISEE Hair company also provides these products at a cheaper price. Although the quality of the hair is not the best, it is also on average.
If you want to buy a premium quality wig, I recommend another alternative – Dolago.
It's a bit on the pricier side when compared to most of the based-China brands, but it's certainly worth it. As the old saying goes: "you get what you pay for".
Now It's Your Turn
Hope you loved this ISEE Hair review. If you think this review has helped, kindly share it with your friends.
Now I'd like to hear about your experience with this brand.
Have you tried ISEE before? If so, how did you like it?
Or maybe you have a question about my review.
Either way, let me know by leaving a comment below.