Here is my complete review of Alipearl Hair.
Considering it's a really popular brand in today's market.
So is this brand any good?
At first sight – it looks quite promising actually:
Virgin Remy human hair at affordable price
Many satisfied customers
Alipearl Physical Store in New York
So is this brand too good to be true?
Well, I tried to dig deep into Alipearl Hair– so here are all the backstage details you need to know.
Since our team in China visited their factories and companies in the past – it wasn't too hard to research it.
Note: I only create an unbiased review, not a promotional one. In other words, this review has not been sponsored in any way. And the opinions expressed in it are based on my own experience with Alipearl Hair.
What Is Alipearl? A Quick Overview
Alipearl Hair is a hair brand that specializes in human hair products. Although this brand was founded in 2016, it has received a lot of recognition in many countries especially in the US.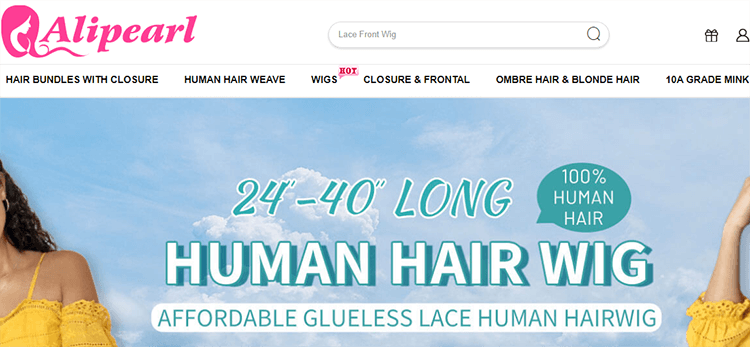 Visit Alipearl Official Website
What makes this brand so amazing?
They offer a good balance between affordability and quality.
Specifically, their company has a rich product line. They provide three main categories: Hair Weave, Wigs, Closures. Especially the front 2, each one includes a wide range of hairstyles, colors, sizes.
Plus, these products are handcrafted with 100% human hair.
The most important thing is that the prices of these quality products are fairly affordable.
So yeah, Alipearl has a ton of points that make it a direct competitor to UNice, including:
Product line
Professional Hair Factory
Price
Physical stores in the United States
Overseas warehouse
Now, Unice hair company has 4 physical stores throughout the US, Alipearl hair company has only 1 brick and mortar location in New York.
As you can probably find out, both two companies have somewhat similar developmental trajectories.
In fact, the two companies are based in the same city, Xuchang, China. Apart from that, here is the other "secret" information:
The marketing service provider of the two companies is the same(the initial stage of brand development).
The official website of both is built with Magento(not Shopify).
The marketing strategy is almost the same.
Their company's headquarters are very close.
Unice Hair became famous earlier than Alipearl.
In other words, Alipearl copy a lot of the marketing approaches that its competitors(Unice) are already used. Fortunately, Alipearl has made a good start.
So now that you know the main things about Alipearl, it's time to analyze it closer.
---
Why it's so popular
---
I personally think that they are widely recognized for two main reasons:
First, the quality of Alipearl is exactly great and the price is not expensive.
In other words, you don't have to spend more than $500 or $800 to buy from its competitor, including Diamond Virgin Hair, Her imports, Yummy Extensions, Kendra's Boutique.
For example, bundles with closure sets(24", 26", 28" + 18"), Alipearl only costs you about $300. Although this price may be higher than other China-based brands, the price of this quality is reasonable.
Second, their marketing strategy has achieved success on social media, such as Youtube, Instagram, Facebook.
Specifically, their company looked for a lot of influencers to work with. To be honest, this approach can be called sponsored reviews.
When these influencers received hair products and cash from their companies, you may doubt if they can form an unbiased opinion about Alipearl Hair on the basis of these reviews.
Honestly, this is a very common strategy. And as it's the case with almost every hair brand.
If an average customer buys hair from Alipearl, you receive exactly the same quality hair as these influencers, it's not bad.
However, by seeing many of these videos, I found that there are still a lot of video reviews that are credible.
After all, many influencers still have their own principles.
If you search for "Alipearl Hair" on Youtube, you will get an endless list. Like this: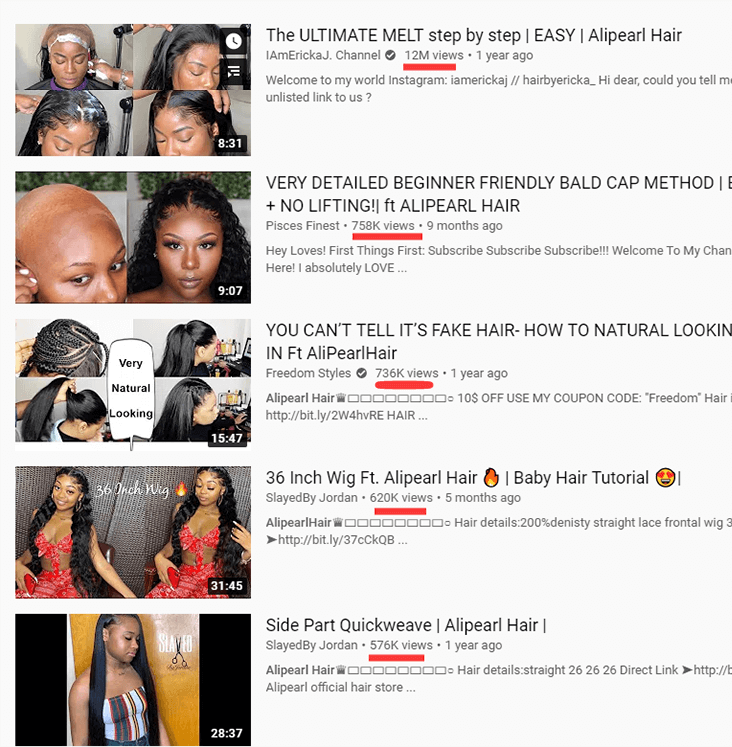 As you can see, there are dozens of information about this brand, and the views & likes of many videos are really incredible.
That way, it has played a very important role in the promotion of Alipearl Hair.
On Facebook and Instagram, their company frequently posts high-quality content, including pictures and videos.
As a result, their official media channel has a huge fan following.
Overall, Alipearl Hair is popular with more and more people now.
With that, let's dive into the details of this brand.
---
Authenticity(9.1 out of 10)
---
In this chapter, let's take a look at what Alipearl mainly claims.
100% Human Hair
The company claims that all hair products are made of 100% human hair.
After a series of tests, I found that their hair is not different from what they claimed.
In other words, you will never find a synthetic or animal fiber mixed in their hair.
In today's hair industry, a few hair companies often mixed with animal hair, synthetic hair, or non-Remy hair in order to reduce the price.
So, I was happy to see that it did not seem like that was the case with Alipearl Hair.
Virgin Hair
For those who might not know, virgin hair means that the hair wasn't processed or altered chemically in any way. Chemically processed hair is hair that has been color-treated, permed, relaxed, bleached or dyed.
Honestly, there isn't mostly 100% virgin hair. That's because the raw materials collected by hair factories need to be disinfected first.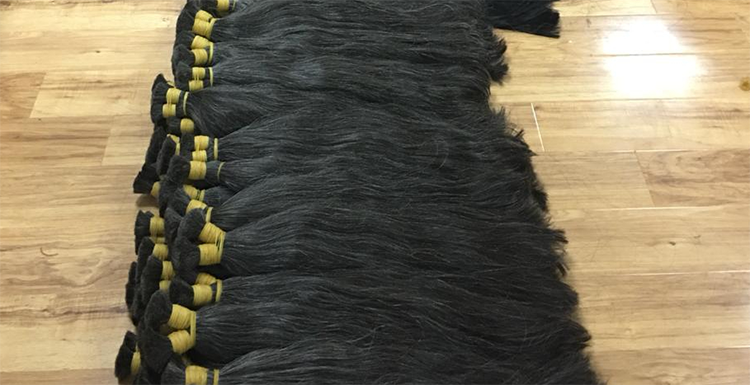 However, strong detergents used for disinfection are called weak acids. Technically, this detergent can also be called a chemical.
But it can protect the original state of raw materials to the maximum extent. At present, this is the way most hair factories use to process raw materials.
As technology advances, this approach may be replaced over the coming years.
In fact, steaming is also a step in their production process. This means their hair has undergone heat processing.
Besides, the AliExpress Platform only rated their raw material grade as Remy Hair.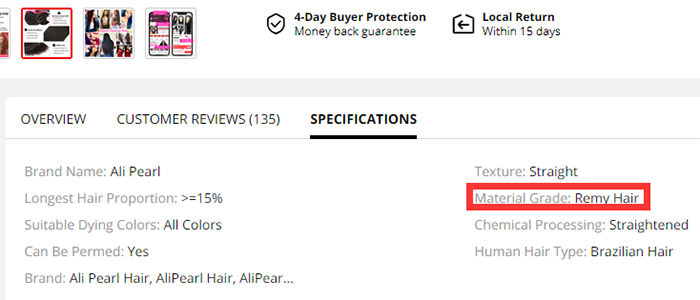 So yeah, Alipearl Hair is just relative virgin hair.
Exotic Hair
When you start browsing through Alipearl Hair's website, you will see that they offer Brazilian, Peruvian, Malaysian hair.

The truth is, there's no difference among these all of these so-called "exotic" hair types.
Fortunately, Alipearl Hair doesn't make a fake claim of importing hair from these countries.
But considering that most hair companies use this marketing trick, I will not complain about this.
---
Appearance(9.5 out of 10)
---
Some hair companies have beautiful pictures of hair on their website. But when you receive them, they aren't the same product.
Here's what the real product of Alipearl hair looks like.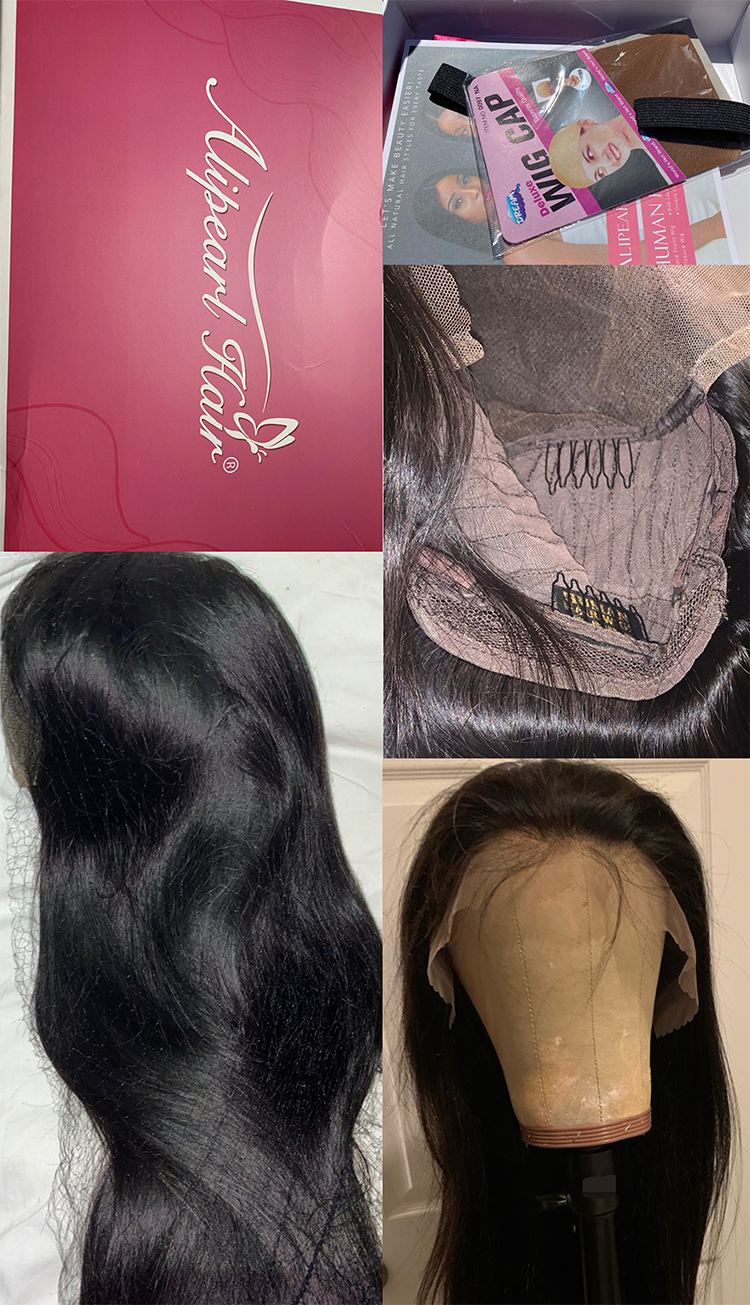 Lace Front Straight Human Hair Wigs from Alipealr Hair
As you can see, the hair products were packed in a pink box, which gave a good impression. It was a simple and minimalist designed packaging.
When you open the box, you'll see the hair you bought, wig caps, the silk bag, directions, and an elastic band.
The quality of the hair looked quite good at the first glance. The hair color was natural(1b), as our own hair.
Sure enough, the hair had never been dyed. And it had no weird/bad smells.
The wig was soft, silky, and smooth to the touch. And it had a lovely shine. In texture, the hair is real human hair.
So yeah, you can make hairstyles as you like. In other words, when you ended up bleaching and dying the hair and it still performs well.
Furthermore, the hair responded very well to heat. Applying heat is the actual test that determines whether or not the hair quality of the hair is superior.
The lace color is medium brown, not transparent. And the hairline is Pre-Plucked.
The inside of the wig is made of an elastic net, front lace part, 3 combs, and elastic straps. However, this is not much different from other companies' wigs.
Relatively, the length of this hair was accurate and true.
I browsed a lot of the reviews and opinions shared by different bloggers, buyers, and YouTubers.
And I found that the most controversial point is the density of hair.
Some say their hair is thin especially on the ends and inaccurate in density. Others said the hair was thick, full.
In my opinion, everyone has different expectations for the density of hair.
In terms of appearance, here's the biggest drawback of Alipearl Hair.
Their hair had very short hairs.
In fact, their regular products are NOT one length. That said, these hairs mixed with several lengths.
During production, they mix lengths together to make the hair cheaper.
Apart from that, there's a little bit of white and red, orange/red hair in their hair.
Overall, It is not the best quality in the market, but for the price you're paying, it's overall excellent value.
The bottom line:
If you talk about the quality of the hair, then the hair products from Alipearl Hair are of satisfactory quality. And the hair wig I received was almost the same as the one I was expecting to receive.
---
Shedding & Tangling(9.2 out of 10)
---
There could be a few reasons why your hair is constantly tangling and shedding.
hair quality
frequency of brushing
the healthiness of the hair
Lots more
In this review, I'll just talk about the first one.
Alipearl hair factory uses high-quality Remy human hair in their products.
Remy hair has cuticles that are running the same direction from root to end. It is sewn onto the weft or lace in the same direction your hair grows.
With good care, their hair doesn't cause tangling easily.
Plus, their factory has many years of rich experience and a perfect production line.
Specifically, they have great machine-made and hand-tied technology.
For hair bundles, they used double machine weft technology. This means the hairs are sewn tight enough to the weft.
Overall, Alipearl hair is relatively tangle-free and shedding-free.
That's because there isn't a magic formula on how to get rid of tangles and shedding forever. So you should do some things to minimize tangling and shedding – learning how to care for your hair.
---
Life Expectancy(9.1 out of 10)
---
Now it's time for the question that's probably on your mind:
"How long does Alipearl Hair last?"
Honestly, it's a tough question for sure.
The lifespan of Alipearl hair will depend on how you take care of them.
With proper care and regular wear, their hair can last anywhere from 4-6 months or even longer.
Like your own hair, proper care is essential to increase the life of any human hair products, so treat your hair wigs/weave like you do your own hair.
---
Alipearl Hair Support(9.4 out of 10)
---
For some people, the support that a piece of hair brand comes with is as important as any other characteristic.
Which is why I decided to put Alipearl's support to the test.
For this test I send the exact question to their support team:
Hey guys, I'm wondering what the percentage of the longest hair is in your 8A bundle?
This was a relatively simple question. But not something super basic like "What types of payment do you accept?".
Let's see how they performed.
To send my question to Alipearl, all I needed to do was click on a little chat button in the bottom right corner of the page.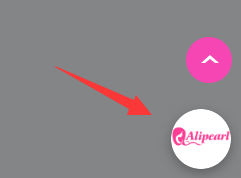 Easy peasy.
I was happy with the fact that it took about 6 seconds to actually ask a question.
(Something that, as you'll see in three minutes, is not the case with Alipearl).
And about 3 minutes later, I received this reply: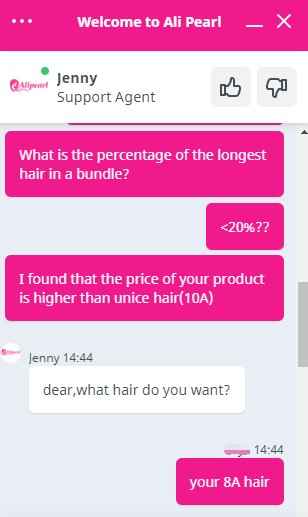 To be honest, this answer is not very helpful.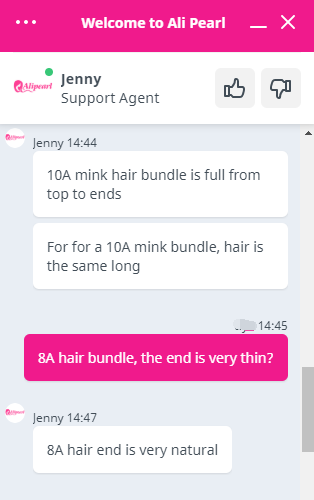 Maybe the customer service called Jenny doesn't know the specific answer to this question. Or maybe it's a bit tricky.
All in all, I got a response back a little bit fast.
On the upside, Alipearl Hair provides phone support. Apart from this, they also offer email support on their website for anyone who has a quick question or query.
Overall, they did a good job in terms of customer service. Usually, you can get a response in a very short time.
---
Return Policy(9.3 out of 10)
---
Alipearl Hair is trustworthy, returns are accepted, so they are not a "scam". It's a real company and you don't have to worry about being blatantly scammed.
If you find that the products you received aren't up to the mark or don't match your requirements, then you can get in touch with the company and request a refund.
The return policy is applicable to a 7-day period. In fact, this time period is on average.
Besides this, Alipearl Hair only allows you to return the products if the hair products are unused.
Another thing worth mentioning is that they will not pay for the shipping charges for returning the product. However, this is the case with most companies.
So yeah, do keep in mind that you should read their return policy in detail before you buy their products.
---
Shipping & Payment(9.5 out of 10)
---
Alipearl Hair is available in major retailers and it also has an official website.
This means that you can select your preferred payment method and check out.
They accept payments via PayPal, apart from the standard payment option of credit cards. I think this is one option that is a must in today's age.
As far as shipping is concerned, it's an advantage compared to other China-based hair brands.
That said, when you buy hair from their company, your order probably will be shipped from the US.
In fact, most of their orders ship directly from their US warehouse overseas while some of their orders ship from China.
If you are based in the USA, the shipping doesn't take as long, and you don't have to pay any additional duty taxes. That is a big plus.
Generally speaking, shipping took 2-7 days. Even if your order is shipped from China, you shouldn't have to wait for a rather long period(3-7 days).
Besides, it's really honest to advertise with the mention of "Free Shipping".
---
Online Reviews(9.4 out of 10)
---
To create an unbiased review, I tried to look for other opinions.
That's why I included some other customers' reviews in this section.
In this way – you could see the whole picture (not just my opinion).
Note: Keep in mind that many YouTube reviews are generally sponsored by the company being reviewed. Additionally, some online reviews posted on the seller's official website may be filtered as well.
What People Say
I mostly checked the reviews from Amazon – as they are almost 100% real.
Alipearl Hair has 4 stars out of 5 (from 1000+ reviews).
These numbers are pretty good – to be honest.
So here's what most people say about it:
Some claim the hair was soft and tangle-free
Others say it has sustained its volume, fullness
A few others claim it's definitely worth the money!
There are also many who were not satisfied.
Some say it made with synthetic fiber.
Others claim their hair is pretty thin.
Plus, a few others claim the hair has a bunch of little flyaways at the top of the lace(small hairs).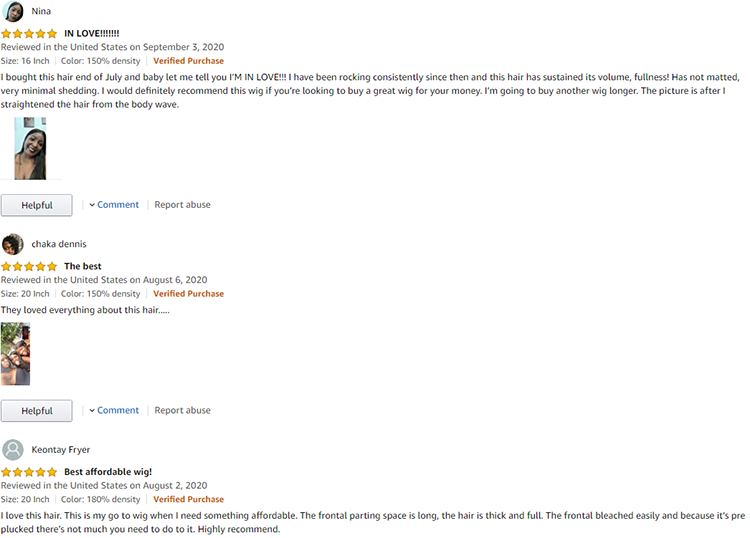 But overall – there are more satisfied users than unsatisfied ones.
So Alipearl is clearly not a scam, since it works for so many people.
Biggest Complaints
Most unsatisfied users complain about:
Not as full as expected(a little thin)
The lace on this wig is super thick
This is not 100% human hair
Hair is not hair density as the seller advertised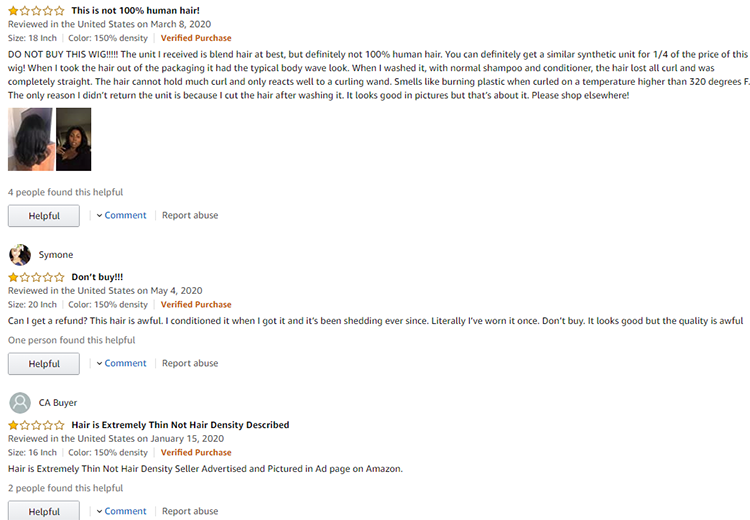 Now – I cannot say I agree with all these claims.
Even the best hair can't meet everyone's expectations.
Overall, Alipearl has enough satisfied customers.
However, it also has a few complaints.
Therefore, I can't guarantee this brand is right for you.
It was right for me – that's for sure. So it's your own choice.
---
Pricing(9.2 out of 10)
---
Alipearl has a good price overall – even though it's not necessarily cheap. Here's what I mean.
For a more intuitive display, I will compare Alipearl Hair to five of its competitors: Unice, Luvme, RPG Show, Ali Grace, ISEE
Here are the results: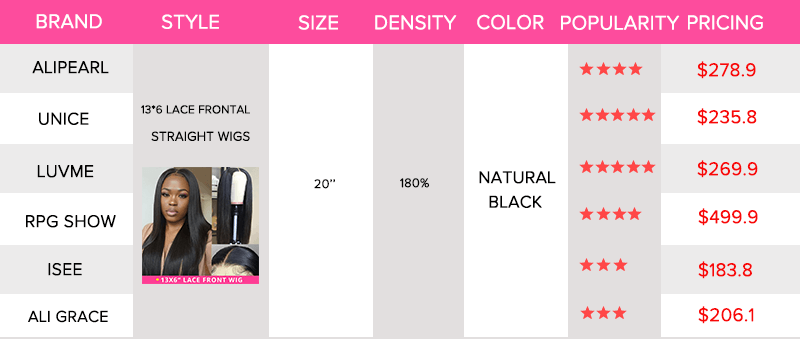 As you can see, Alipearl is a little more expensive than the other four competitors.
Obviously, the price of Alipearl isn't the biggest advantage.
So in terms of price – it's both worth and not worth it:
This brand is trustworthy, popular
costs more than many China-based hair brands
If you buy a product, only considering price and quality, Alipearl may not be the best choice.
---
Where To Find It(9.7 out of 10)
---
As I said before – Alipearl is really easy to find.
available on third-party platforms like Amazon, eBay, AliExpress, etc.
also available on the official website
Basically – their official website often offers discounts.
However, the discounted price from its official website is higher than the standard price from 3rd party platforms.
There were a few advantages of buying from Alipearl's official website too.
It provides plenty of hairstyles, colors, size, etc.
Uniqueness, diversity
For example, if you want to get one-length hair bundles that are full from top to end and long length hair products, you can only go to their official website.
Specifically, they offer 10A grade mink hair weave and 30"-40" hair weave/wigs.
Alipearl's 10A hair weave means that they draw out all the shorter length hairs from a bundle.
Obviously, this depends A LOT on what you need to buy.
---
Pros & Cons
---
Here's how I would sum up the good parts and bad parts of Alipearl.
Pros
High-quality Virgin Remy human hair
The top to bottom ratio of hair is better than average.
The affordable price
The company's website is good and secure.
Their products are diverse.
They offer long length hair(30"-40")
Excellent customer service
Fast Shipping
Overseas warehouses and physical stores in the US
Cons
They sponsor many YouTubers, buyers, into giving positive reviews
The price is higher than many competitors
Alipearl Hair Review: The Bottom Line
I think Alipearl is a great hair brand. In fact, it has become one of the most popular and trusted hair brands on the market.
Obviously, Alipearl isn't perfect. The price is a little high compared with its main competitors.
However, the quality of their hair is above average. Alipearl's top-to-bottom thickness ratio wasn't bad.
If you are looking for a hair company to start your hair business, I personally don't recommend this brand.
And if you're on a super tight budget, you'd be better off choosing something like ISEE.
But if you're looking for a trustworthy, well-known brand that offers high-quality human hair at a reasonable price, I would recommend Alipearl Hair.
Especially if you want to find a human hair brand with physical stores in the United States, I would recommend giving Alipearl a shot.
So I think it's a solid value for the money.
Now I'd Like to Hear From You
So that's it for my Alipearl Hair review.
And now I'd like to hear what you have to say.
Have you tried Alipearl Hair before?
Or you've already bought hair from their physical store in the United States.
If so, I'd love to hear your experience with it.
So let me know your thoughts by leaving a comment below right now.