This is my personal review of Ali Grace hair.
To be clear:
I didn't test out the brand for 72 minutes.
In fact, I spent two full weeks evaluating hair products that Ali Grace offers, including:
Authenticity
Appearance of the Hair
Shedding and Itching
And more
And now it's time for me to help you decide if Ali Grace is the right option for you.
Note: we only did unbiased reviews, not promotional ones.
Ali Grace Overview: What Is This Hair Brand All About?
Ali Grace is a hair brand designed to offer every woman the best quality 100% human hair products.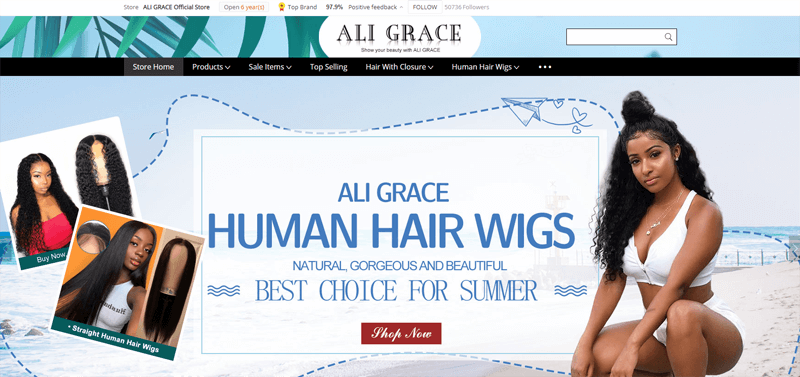 To do that, Ali Grace completes a lot of the steps involved with their production process, like:
Using a top-quality material in their hair
Removing grey hair
Washing and testing hair repeatedly
Lots more
Another selling point is:
You can buy a complete variety of weaves, closures, and wigs in one place.
Before I dig deeper into this brand, let's look at their products at first sight. Here are our picks:
And now it's time to break down each feature.
Pro tip: Ali Grace company is located in the Henan of China. All of their marketing campaigns, factory, and order processing are managed at this location.
---
Appearance(9.5 out of 10)
---
Ali Grace has pictures of its actual products on its website, and they show you its real products so that you can make quick decisions.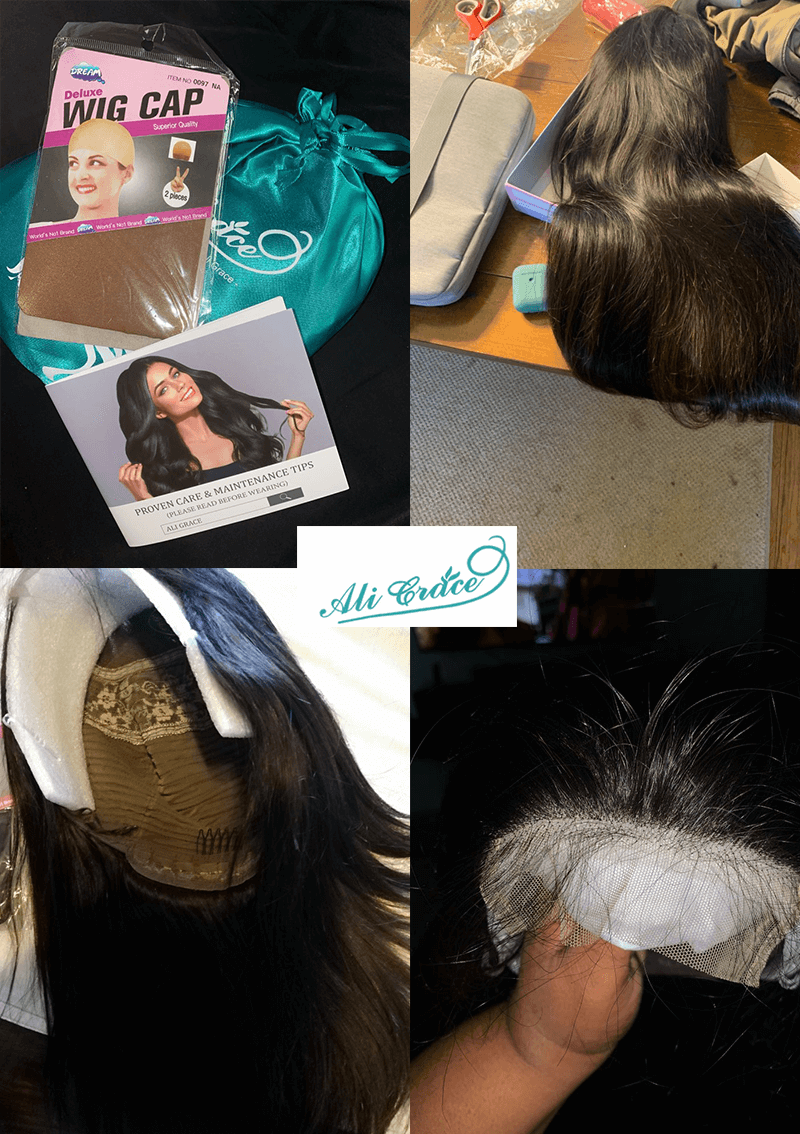 And when I say they show you their real products, I mean there are websites out there that have beautiful pictures of their products and when you receive them, they aren't the same product.
Fortunately, the hair from Ali Grace is really pretty, soft, and silky. It was as silky as the company claimed it to be.
The silky hair perfectly blended with your natural hair and there was zero detection. And the hair looked completely natural.
What's more, it's worth mentioning that there are a few gray strands or any other color of hair. It's great.
This is what I said above, picking gray hair out is a step in their hair production.
Overall, I have nothing to complain about Ali Grace in this chapter.
---
Authenticity(9.2 out of 10)
---
Ali Grace company claimed that its hair extensions use 100% unprocessed virgin hair, well it's hard to tell honestly. The hair quality is good but I can't agree with this claim entirely.
The truth is, 97% of all human hair out there has been chemically treated in one form or another. The one fundamental key you need to know is if and how it's being processed and untreated.
After research, I found that their factory does not use strong acids to process hair.
That's why the cuticles are kept as much as possible.
We consider hair coming from foreign countries like Brazil and Peru to be striking and genuine, but in reality, most manufacturers make a fake claim of importing hair from these countries.
This is a clever marketing tactic that makes the hair appear more exotic and desirable.
The good news is:
Unlike other cheap hair extensions on the market today, Ali Grace does not mix animal or synthetic fibers with human hair to make extensions.
Relatively, Ali Grace hair is real virgin hair. But please be aware that their "Exotic " hair does not originate from the countries and areas they are named after.
---
Processing(9.0 out of 10)
---
Some suppliers use Non-remy hair in production. This means they strip the cuticle by soaking the hair in acid, chemically processing it for texture, and coloring it with dyes.
And they also apply a silicone coating to your hair, which makes it temporarily shiny, silky, and lustrous, but the silicone washes off quickly and the hair soon becomes dry, stiff, and matted.
The bad news is:
This hair can often cause severe skin irritation and scalp allergies.
Relatively, Ali Grace hair is unprocessed, clean, and natural. And there is absolutely no silicone process involved.
---
Tangling(9.2 out of 10)
---
It's no secret that many hair extensions available on the market today have one issue in common: Tangling.
But when it comes to Ali Grace hair, tangling is not an issue.
They use quality Remy human hair material in its extensions. Remy hair has cuticles that are running in the same direction from root to end. It is sewn onto the weft or bonded with keratin in the same direction your hair grows, so it falls effortlessly.

Remy hair is high-grade human hair with cuticles kept intact to prevent tangling and prolong the lifespan of your extensions.
Plus, their factory has perfected multiple processes to create the best Remy hair extensions you can rely on.
So the strands do not get tangled easily. You can wear the extensions of Ali Grace with confidence.
---
Shedding(9.3 out of 10)
---
Shedding is also a standard issue in the world of hair extensions.
And extensions are prone to shedding because they are made of human hair, and are not sewn tight enough to the weft.
Hair can be double-wefted or single-wefted.
Double-weft hair means two tracks of hair sewn together. The double-wefting process reduces shedding because it is thicker and sewn more securely.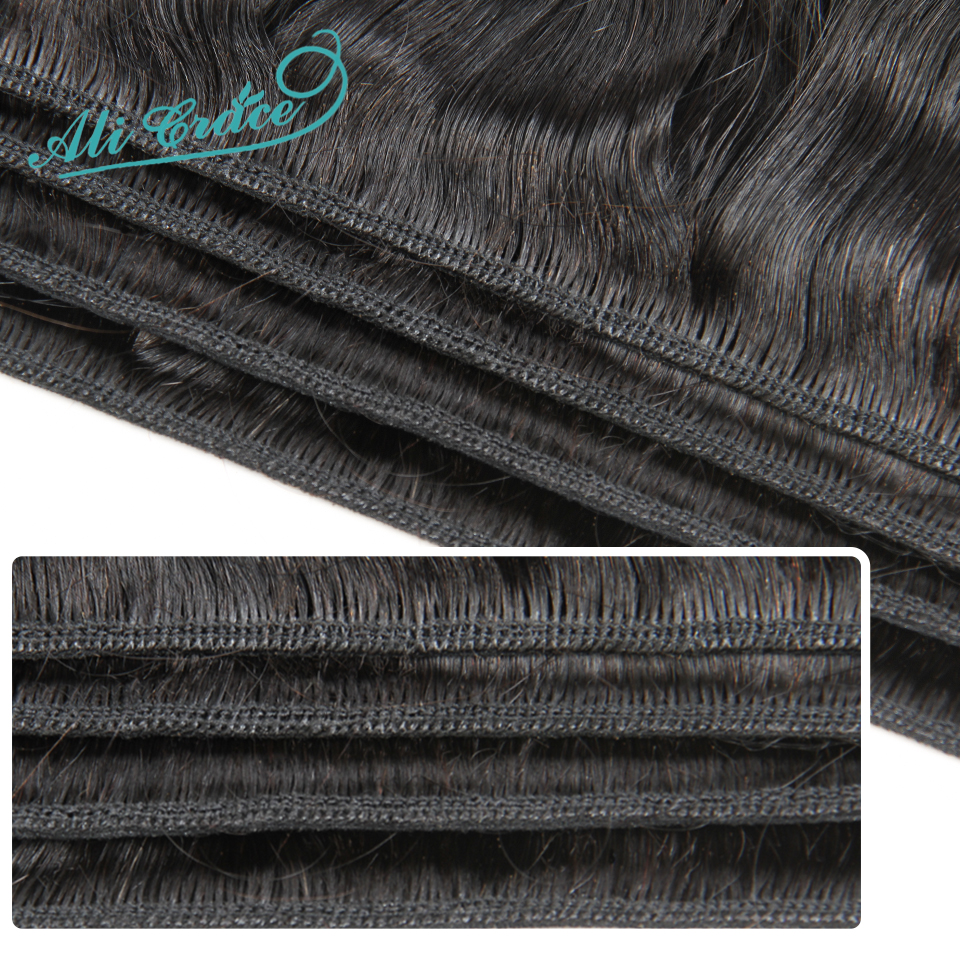 Fortunately, Ali Grace hair company has been using double stitch wefts in their production process.
It is essential to keep in mind that no hair will be completely shed-free, your hair extensions require more attention.
---
Life Expectancy(9.1 out of 10)
---
The care of your hair extensions is what will determine how long they last you.
Usually, the lifespan of Ali Grace Hair extensions is 3-6 months up to a year or longer, depending on the general care they receive.
It's important to get into a good routine with your hair extensions from the start because good habits equal longer lasting extensions.
So, if you want to learn how to properly take care of your hair extensions, that's another story:-)
---
Ali Grace Hair Support(9.3 out of 10)
---
So at this point, I tested out the main features of Ali Grace. And it was time to see how their support stacked up.
Fortunately, asking a question to their support is easy: they have a little Intercom chat button at the bottom of every page.
I didn't ask them something that their support team could answer with a template (like "Shipping Time & Area").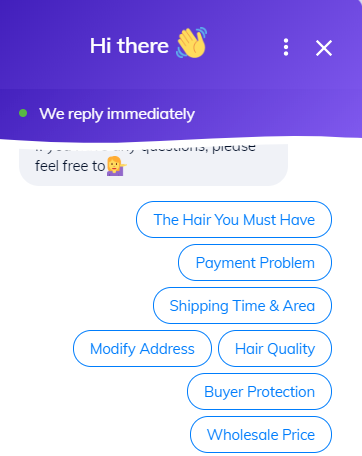 For this test, I sent this message over to their support.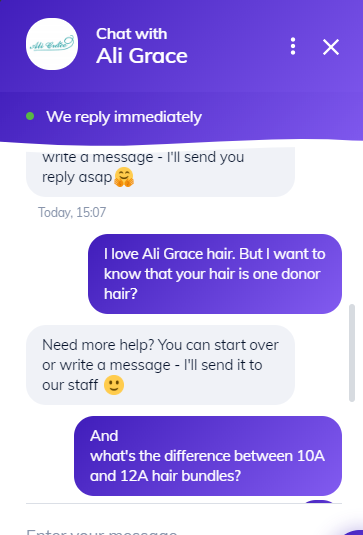 And 8 minutes later, I received this: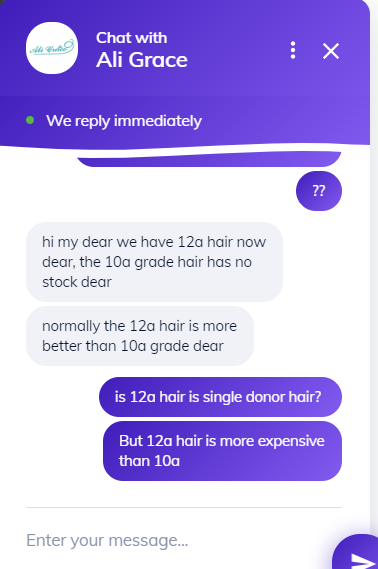 Honestly, not super helpful. To further test their honesty, here is our process.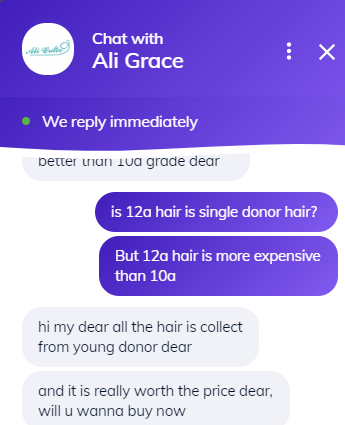 So all in all, their support was solid. But not amazing either. For example, In their response, I didn't still understand the difference between 10A and 12A hair.
Overall, I'd rate their support as a solid B-.
---
Other Opinions(9.3 out of 10)
---
In order to create an unbiased review – I tried to check out different reviews.
In this way, you could see an unbiased perspective on it.
What People Say
Ali Grace's website has a lot of customer reviews.
But as official websites tend to be biased and only show praise, I didn't include those ones here.
Instead – I checked their page on Amazon. It probably contains the most unbiased reviews on the Internet.
But Ali Grace doesn't sell many products on Amazon, and these listings don't have plenty of reviews.
So yeah, I can only go to the second option- AliExpress.
Considering it has over 20000 reviews – that's a really high grade.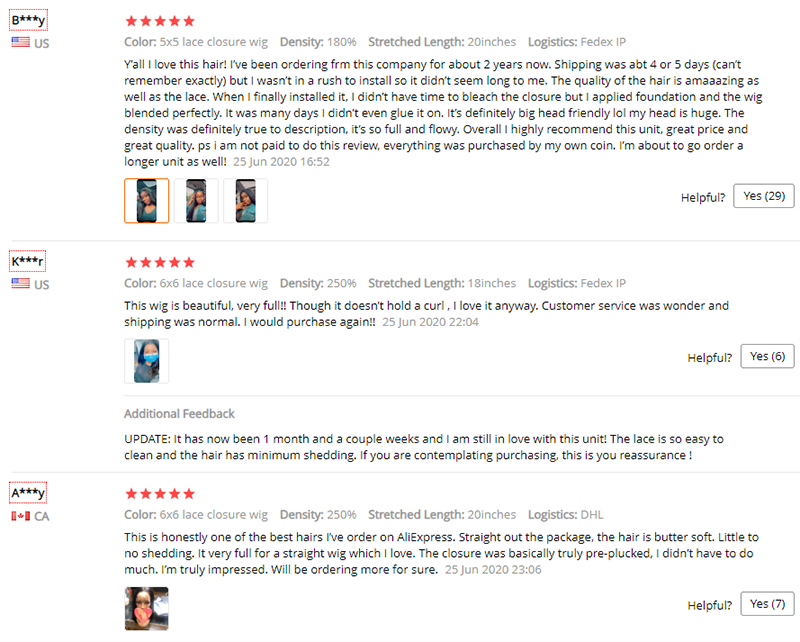 Here's what customers say about it:
Some people say the density of their hair was definitely true to the description.
Others say it's one of the best hair they tried.
Some people say their hair is soft, beautiful, and thick.
Others praised their logistics and customer service.
A few others say there's barely any shedding and tangling
Overall – there are quite a lot of positive reviews.
Another point worth mentioning is:
When the customer bought hair products from AliExpress, if they have not rated this product for more than 30 days, the system will automatically give this product 5 stars.
That's why Amazon reviews are my top pick.
But we can also see that there are enough satisfied customers, right?
Biggest Complaints
As I said – I found pretty few negative reviews on Ali Grace.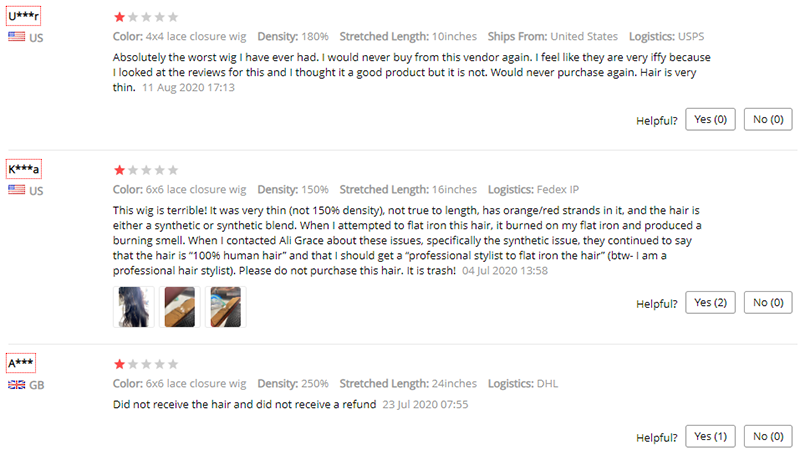 And out of those I found, most were related to:
The hair is thin
Product is not like the photo
I personally think that it's normal that a product also has negative reviews. No matter how good the product is, it can not satisfy 100% of users.
When evaluating a brand, we also need to see the number of reviews, the rate of bad reviews, and so on.
Some customers may encounter an interesting situation.

As you can see, they induced customers to cheat.
Obviously, this is very unsatisfactory. Even so, I also want to give this brand a chance.
Because this situation is under 1%.
Overall, more than 80% of customers are satisfied with this brand. So yeah, Ali Grace is not bad.
---
Pricing(9.1 out of 10)
---
My Ali Grace review just wouldn't be complete without talking about pricing.
I will compare Ali Grace to other hair brands on the market, like ISEE, Nadula, Alipearl, Beautiful Princess, Baisi.
Here's the comparison table: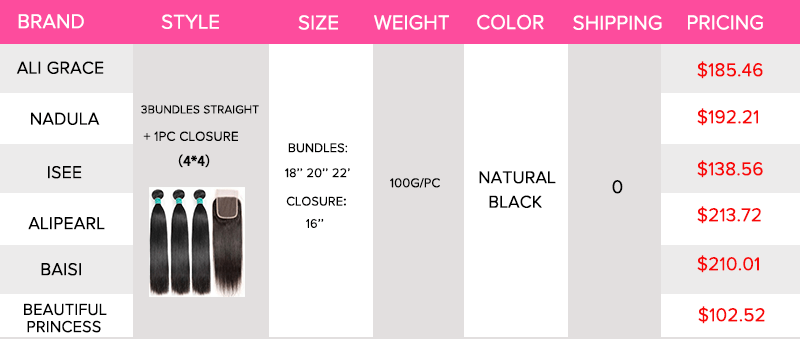 As you can see, Ali Grace's price is not the lowest, but it is also not the highest.
Honestly, the quality of this hair grade is not expensive.
Longest Hair Proportion: >=30%
Less Short Hair
Virgin Remy Human Hair
You're probably wondering:
Why are the prices of ISEE and Beautiful Princess so low?
Even though their hair is also virgin Remy human hair, there are more short hairs and less than 15% longest hair proportion in their hair bundles.
Plus, the quality of hair raw materials is NOT the same.
In terms of price, I think this brand is worth a try.
---
Where To Find It?(9.4 out of 10)
---
Ali Grace hair is pretty easy to buy online.
You can find it available in several retailers/websites – including:
Amazon
AliExpress
the official website
As I said above, there are a few hairstyles available on Amazon.
So I would recommend that you buy Ali Grace hair on their official website or AliExpress.
There might be variations, but it depends from time to time.
In other words, I compared their hair price on AliExpress and the official website, and it's different.
So you should check these two websites before placing your order (especially if you want the lowest price).
---
Ali Grace Hair: Things I like
---
Here are some of the things that I really liked about Ali Grace.
Their hair is 100% human hair. You will never find synthetic or animal fiber mixed in their hair.
You can purchase the high-quality of Virgin Remy hair extension at affordable prices.
Ali Grace hair company has a professional customer service team to help you by phone, text, and email.
They offer 30 Day No Reason Return & Exchange policy.
Although their headquarters are in China, they can ship from the United States.
This brand has a good number of influencers that talk about them.
Ali Grace Hair is rated as the top brand by the AliExpress Official Platform.
Note: Top Brands are top-rated stores on AliExpress.
---
Ali Grace Hair: Things I Didn't Like
Now it's time for me to highlight a few things that I felt Ali Grace could do better.
Professional Levels of Customer Service
---
My Overall Recommendation Is…
If you're looking for a hair brand with quality vs price, I HIGHLY recommend giving Ali Grace a try.
In fact, it's one of my favorite overall hair brands.
But when the price is not a deciding factor, if you want to get the highest quality hair extensions with one length, Ali Grace is NOT the perfect solution.
What Do You Think?
So that's it for my Ali Grace hair review.
And now I'd like to turn it over to you:
What's your experience with Ali Grace?
Or maybe you have a question about something in my review.
Either way, let me know by leaving a comment below right now.