Here is my personal review of the human hair brand Yolissa.
This brand has a great social media presence. It doesn't look too bad:
enough satisfied users behind
pretty decent price
a wide range of products
However, is their product too good to be true? And is Yolissa Hair worth trying?
I tried to dig deep into this brand and find out the truth behind it.
So if you want an in-depth Yolissa hair review, this post is for you.
Let's dive in.
Note: This post was not sponsored by Yolissa nor was I compensated for writing this article.
What Is Yolissa Hair?
Yolissa Hair is a human hair company that provides affordable and fashionable hair for black women. They provide a variety of different hair products and have an easy-to-navigate site that allows you to quickly find products. The company has its own factory which allows them to offer high-quality yet affordable hair to its customers. Even though this company is based in China, they serve clients from all over the world.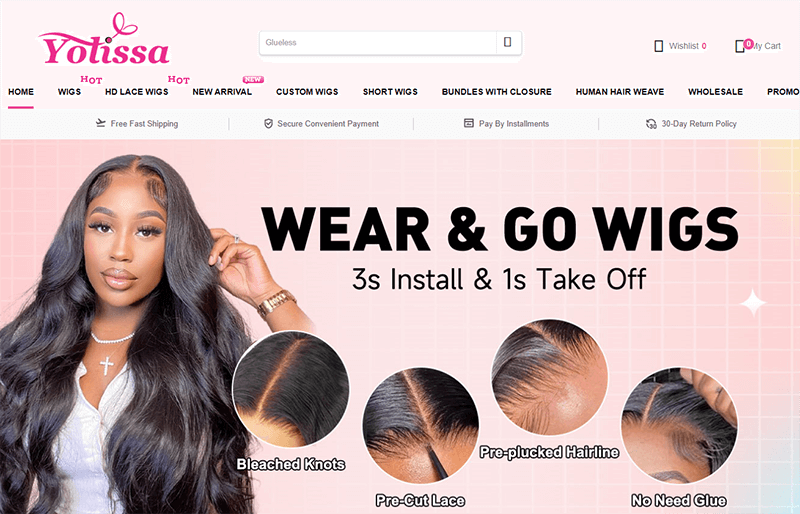 Visit Yolissa Official Webiste
If you are an experienced wig wearer, you might have heard of this brand, Alipearl. In fact, both brands have the same company behind them. Specifically, Yolissa and Alipearl Hair belong to Xuchang Longyi Hair Accessories Co., Ltd. In other words, if you like Alipearl, Yolissa is also a great option.
Yolissa Hair is known specifically for its lace front human hair wigs but offers a lot more. The company provides a vast amount of wig types along with bundles and closures. These products are available in different textures, styles, colors, and lengths. Plus, you are also able to choose the density and the type of lace you prefer. This company is a one-stop shop for your needs.
My personal experience with customer support was pleasant. There are many options to connect with the company. They highlight at least 4 different methods: WhatsApp, iMessage, email, and phone numbers. The company also had a live chat feature like many other sites. They answer relatively fast, in my case, just seconds.
The delivery of the products was also very quick. My package came via USPS in 4 days. And the shipping was free. Honestly, it's not bad. The hair arrived damage-free. And the hair comes in a silk bag. Relatively, the packaging could be improved. The company also provides free gifts along with the hair itself.
The majority of the reviews for Yolissa Hair were extremely positive, which was a good sign for customers. You can easily see huge mentions of this brand on social media, such as Youtube, Tiktok, Facebook, and Instagram. This is an extremely encouraging thing to see when looking for a reputable company.
Well, let's take a quick look at some bestseller products of Yolissa.
So now that you know the main things about Yolissa Hair, it's time to showcase it in more detail.
Product Quality
Here is the product I have purchased and tested: Yolissa 24 inches 13×4 human hair HD Lace front 180 density body wave wig. Compared to other hair companies(like Arabella, Megalook, and Hermosa), the hair was close to $330 which is quite expensive.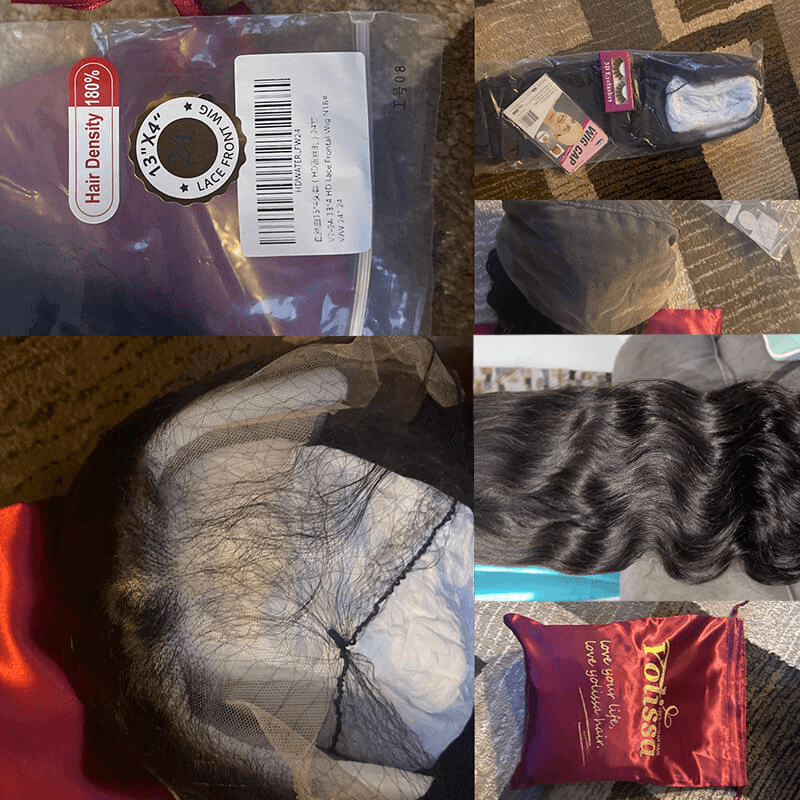 Hair Strands
When I received the hair, I liked the look of the hair itself. And this wig didn't have an odd smell when first taken out of the package. Another thing to note is there are very few shorter hairs in the wig. This is one of the important indicators to measure the quality of wigs. The unit has a beautiful bounce.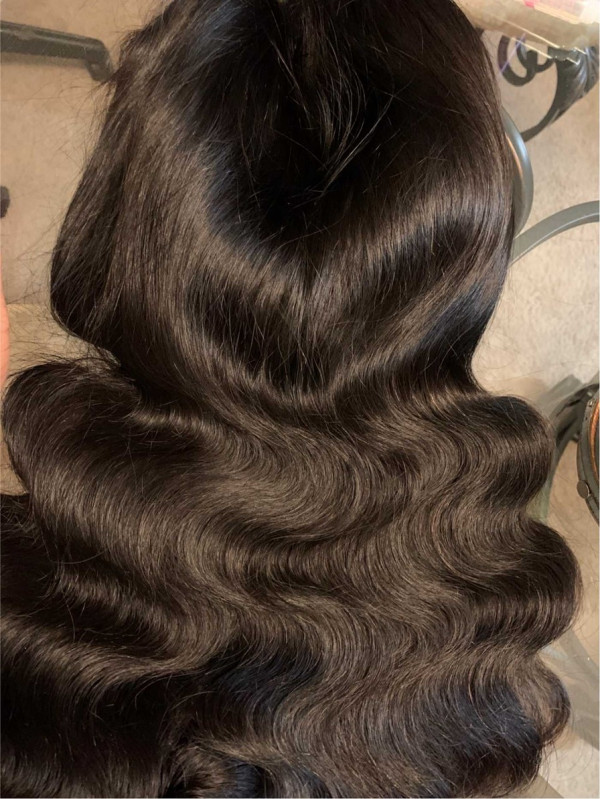 The color of the hair was 1B, which is black. The wig was 24" in length. The strands felt quite soft and silky. This is desired as it leads to fewer tangles. The color of the hair is consistent throughout the entire hair strand. This is a great sign in identifying true human hair and another way it lives up to high quality. Honestly, their hair uses 100% human hair.
When brushing through the stands, you notice the unit has little to no shedding as well. The issue of tangling and shedding was not much of a problem with Yolissa Hair. One downside I found to the hair strands was how the hair became a little thin at the ends. For this price, I would expect more.
Overall, their real products are almost the same as the product pictures on the website. When I receive them, it was the one I ordered…in color, style, etc.
Hairline
The unit was made from 13×4 HD frontal lace and the entire hairline was made from lace. This will lead to a realistic-looking hairline. The unit did come pre-plucked and with baby hairs, so that is easy to fix on your own. This frontal lace is also hand tied. It gives you a great amount of space to work with when styling.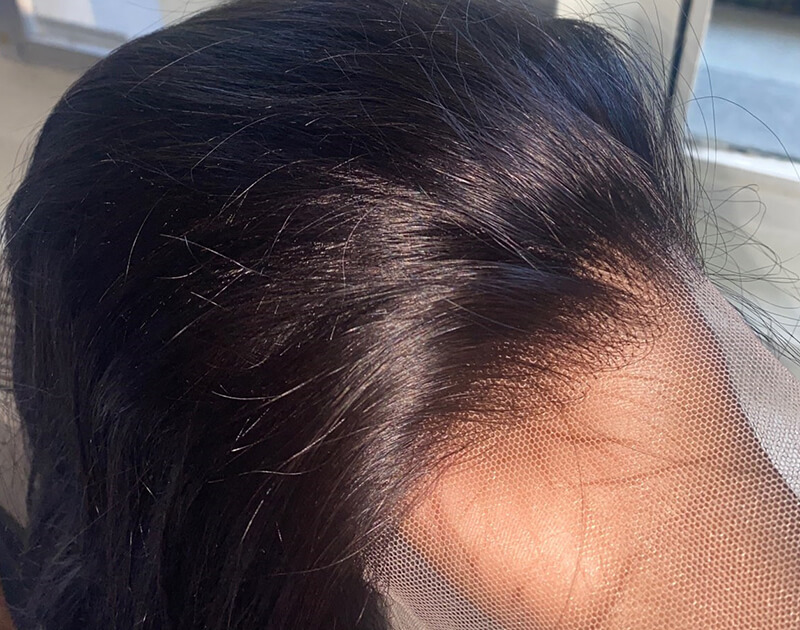 HD lace is known to be thin and blend in with many skin tones, while this is the case the knots tend to be more prominent. Fortunately, the knots are very small in size. And they bleach the knots slightly. It's always a plus when you need a glueless install.
The HD undetectable lace came in the color transparent. This color makes it perfect for blending into the skin, especially for those who have a darker skin tone. Overall, this company did a great job at creating a natural-looking pre-plucked hairline.
Density
You had the opportunity to choose, but this wig was purchased at a density of 180%. The unit felt extremely natural and did look not fake. Since the hair is longer in length(24''), the ends of the strands aren't just as thick as the rest of the unit. The longer length of the hair seems to balance out the high density perfectly.
The site offers four additional options going up to 250%. While those densities are nice, I feel as if you would need to purchase a longer length of hair in order for it to not be too thick and look balanced.
Fortunately, they provided many customizations. And you had the chance to switch up the length and density, but need to pay an additional fee. Even though the 180% density works, for the price of the unit, I would have expected a high density.
Construction
I found the unit to be constructed quite well, especially where the lace meets the cap. They blended well with the hair strands making it appear natural. The lace frontal takes up about half of the area of the cap. The back half of the cap is equipped with two elastic straps and 3 clips. Many parts of the hair had double stitching to secure the unit.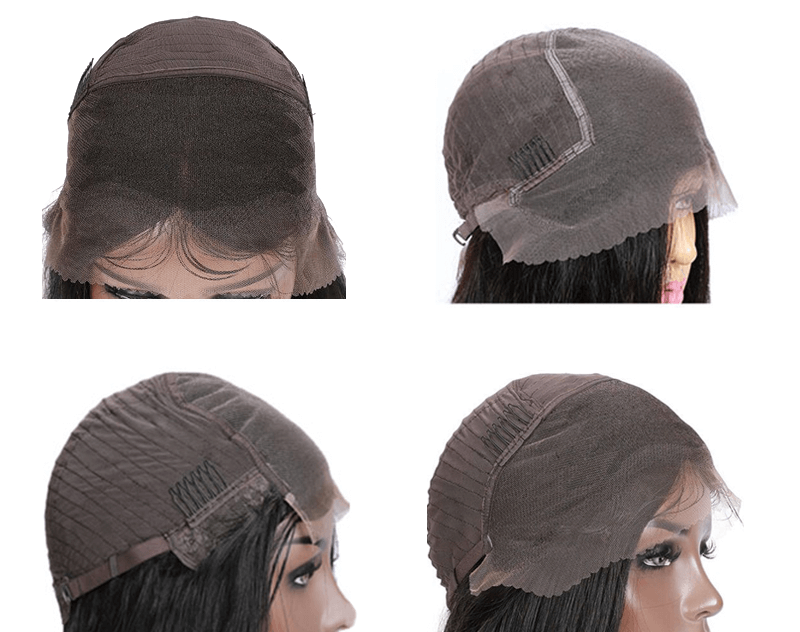 The frontal is also well blended with the cap. And the wefts were sewn straight and no excess string was present. It has no major flaws in terms of the way the unit was put together.
The cap is made from a very stretched material that is breathable. So your head doesn't get too hot. However, the cap only came in one size, 22.5 inches, which is about average. The material of the cap was extremely flexible making it fit just about anyone.
Customer Support
The company has a variety of different options to contact customers. They use email, WhatsApp, iMessage, and social media messaging. Like many other sites, the company had a live chat feature. This enables customers to get a timely response.
I sent the message over to their support by live chat.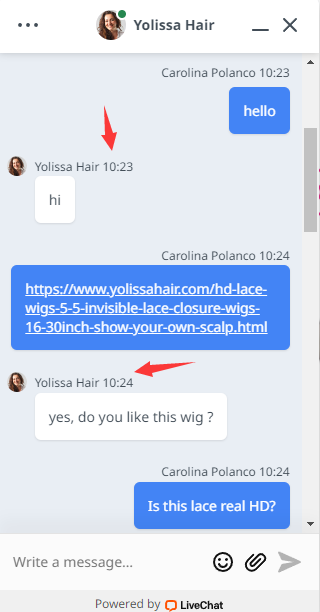 And less than 1 minute, I received this: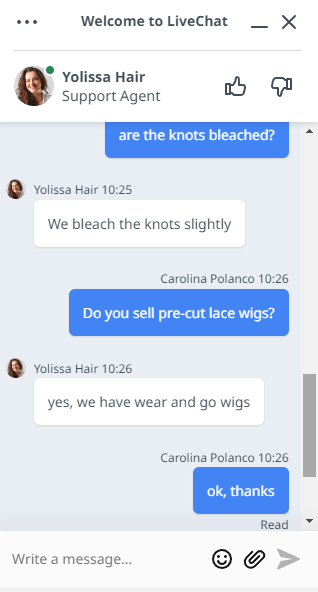 I even asked a follow-up question. And she quickly replied to that too. So yeah, live chat is always a bonus. Their support staff got back to me pretty much instantly. And they were super friendly and helpful. Overall, they did a great and thorough job of answering my question.
When the order was placed I did receive an update via email and text. They provided a tracking number along with a notification of the hair being delivered. This company strives to build a good rapport with its customers.
Delivery Time
The delivery of this item was relatively fast, about 4 days. Plus, the products arrived damage free. The company provides free shipping. The method typically takes 2-7 business days and is shipped via DHL, FedEx, UPS, or USPS. Honestly, it's not bad.
It is worth mentioning that they have overseas warehouses in the United States. So US users may receive the goods faster. However, for all international orders, the products will be shipped from a warehouse in China. Shipping is also free and the services used are DHL or UPS. The estimated arrival time is 4-7 days with regular free shipping. Considering the products are coming from China. This is a great deal for the buyer.
Keep in mind they don't ship to PO boxes, this may pose a problem for some. This company also recommends your shipping address be the same as set up in your Paypal account. If it's not, you may cause the order to be delayed while they verify.
Return Policy
The company provides a 30-day return window which is a long amount of time to know whether the hair will work for you. But the products have to be returned in their original state. If the returned product has anything wrong, or quality issues, the company will pay for the return shipping. In all other cases, the buyer is responsible for shipping fees.
Pricing
One downside of this brand is the price. Compare to other hair brands, the price of their hair is a bit on the expensive side. Well, I will take a 180% density deep wave 5×5 lace closure wig as an example.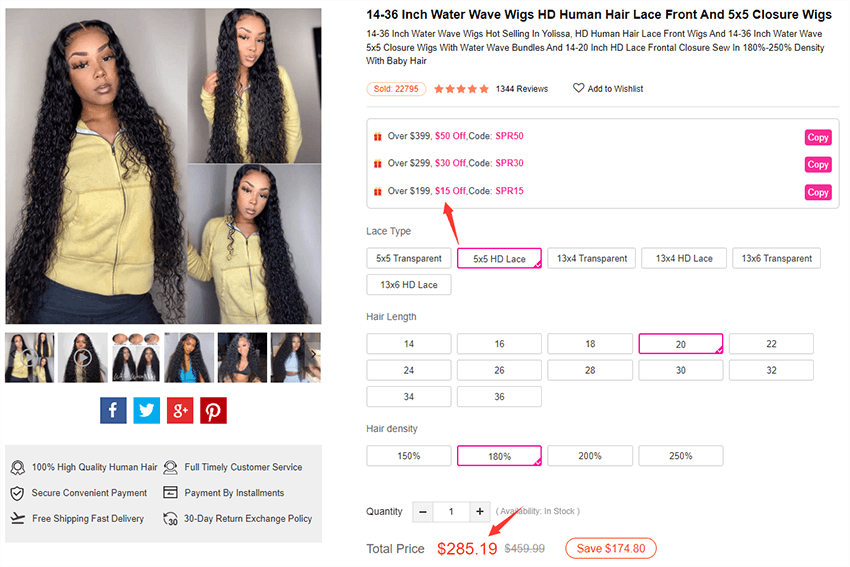 The above pictures show that the price of this 20" natural color deep wave 5×5 HD lace closure wig is $285.19. And you can get a $15 discount. And the shipping is free. So this wig costs $270.19.
Honestly, this price is relatively expensive. How does Yolissa's pricing compare to other hair brands, like UNice, Arabella, Megalook, Hermosa, Jessie's Wig, and Tinashe?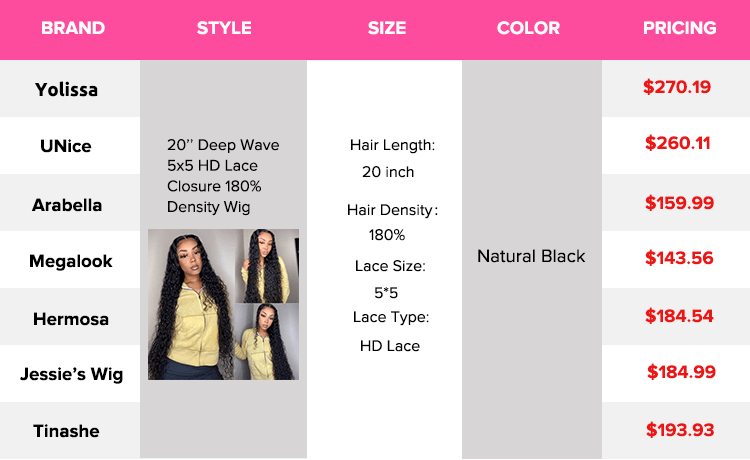 Image Last Updated: 2023-04-22
As you can see, the price of this Yolissa wig is the highest. If you are new to the wig world or on a tight budget, I would recommend these two brands as alternatives, Arabella and Megalook.
Where To Find It
Unluckily, Yolissa Hair is ONLY available on the official website.
The company doesn't sell on Amazon.
You can't also find them on AliExpress.
As I mentioned above, Yolissa and Alipearl belong to the same company. In other words, Yolissa is a trustworthy company. So their official website is the best option to buy it.
They accept a variety of payments, like credit, debit cards, and PayPal. Another plus is the fact that this company offers the option to pay in installments, specifically Afterpay and Klarna. This service allows you to buy now and pay later.
One benefit of their site is the preselected categories. It allows you to shop by popular categories such as 4c edge wigs, pre-cut wigs, and glueless wigs. The company has a wide range of products. They come in a variety of different colors and styles. The product pictures are also eye-catching part.
One thing I did notice about this site is they have some discount codes or coupons highlighted on many parts. This is a beneficial way to save some money.
So if you're looking for the best place to purchase Yolissa– it's their website.
Other Opinions
In order to create an unbiased review – I tried looking for other opinions.
Fortunately, Yolissa's review is quite easy to find, such as on Youtube, Tiktok, and third-party review websites. Actually, I found many positive opinions indicating that Yolissa is a reputable company.
I checked out many authentic reviews. And I found over 80% positive reviews:
Some people say they have amazing customer service.
Many claim their hair is beautiful in color and the texture feels so soft.
Other people say they offer super fast delivery.
Lots of customers recognize this company.
Overall, more than 80% call this company great.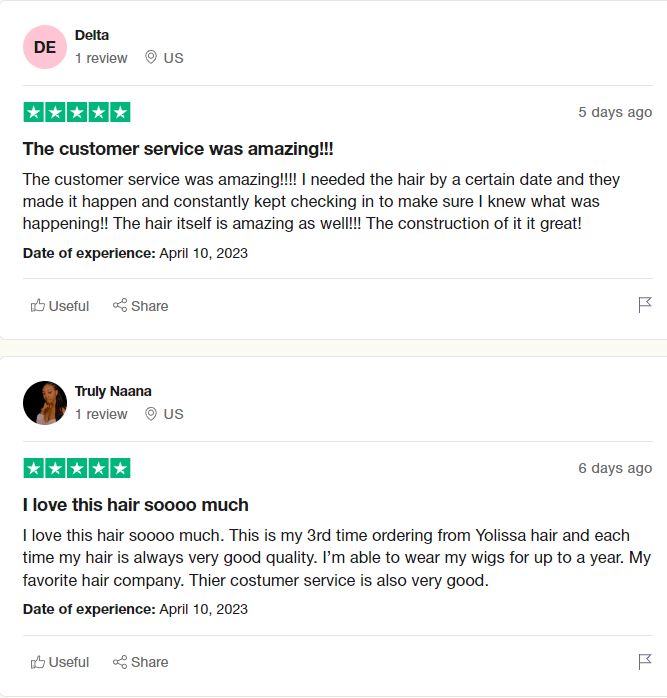 So it's quite obvious that Yolissa is also an excellent choice. However, there are some unsatisfied customers as well.
Most negative reviews on this brand are related to:
product price(expensive)
hair quality(thin, shedding, not the same as the product picture)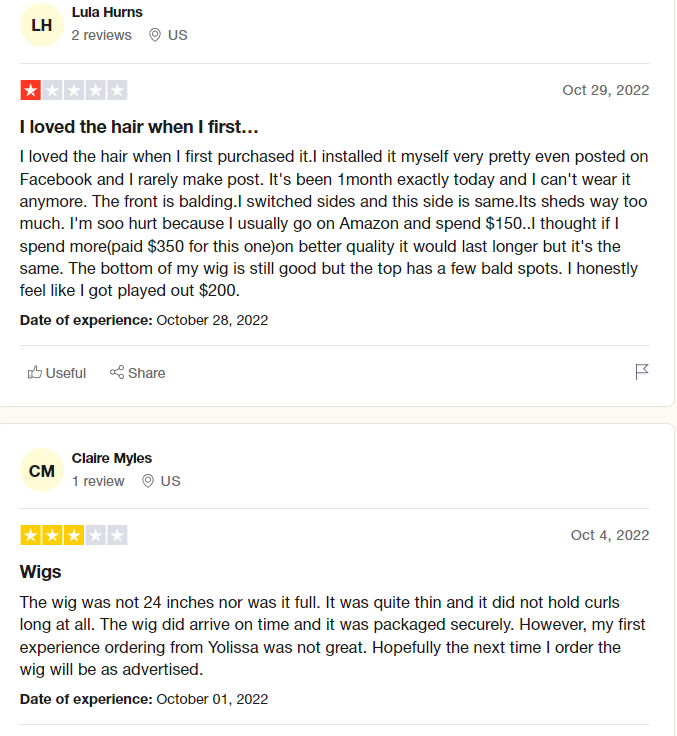 Now, I pretty much agree with this point about price complaints. Yolissa is a great brand, but it's really a little pricey.
Pros & Cons
Here are some of the things that I liked and didn't like about Yolissa Hair.
Pros
This is a well-known and reputable company.
The hair is made with 100% human hair and is soft and silky.
Their hair felt healthy and the color was gorgeous.
They have a wide range of human hair products.
The company also offers a 30-day guarantee.
The delivery was fast, taking only 2-5 business days to arrive.
They not only accept a variety of payments but also offer installment plans.
There is always a way to save some extra money or receive an additional gift.
A large number of customers are satisfied with their products
Cons
They are expensive compared to other popular China-based hair brands.
One area they could have improved on is website loading speed(slow).
FAQ
Is Yolissa Hair Legit?
Yes, this is a real store, with real hair products that actually arrive on your doorstep. You don't need to worry about being scammed by this company. You will get your wigs and you can return your hair for a prompt refund if you don't like the unit.
As I mentioned above, Yolissa and Alipearl have the same company behind them. Alipearl has a high reputation in the hair industry. While Alipearl's head office is located in China, they have overseas warehouses and multiple physical stores in the United States. So Yolissa Hair is also a trustworthy brand.
Are Yolissa and Supernova Hair the Same Company?
Yes. Both brands belong to Xuchang Longyi Beauty Hair Products Co., Ltd. They are located in Xuchang, China.
How Long Does Yolissa Take to Ship?
If the hair you ordered is in stock, your order is processed within 24 hours and shipped afterward. The company provides free standard shipping for US orders because the items are sent from their warehouse in the United States. The shipping time is supposed to take an estimated 2-5 business days. The hair was shipped via USPS.
For anyone shopping outside of the United States, the company does offer international shipping. The services used are DHL, UPS, or FedEx. The package took about 3-7 business days to arrive.
I think this is very reasonable and another plus was the free shipping.
How to Track My Yolissa Hair Order?
A tracking number will be provided as soon as the order has shipped but it may take a few hours to update. You will receive a notification email from their company when your order has been shipped.
Their website offers a tracking order function. You enter the order number or tracking number to view the details of logistics. You can also contact them by Email, LiveChat, WhatsApp, or iMessage to track logistics information.
Final Conclusions
Overall, Yolissa Hair is a great brand. The company has a positive reputation and has been around for years. They had an appealing website and offered a range of products. This company truly provides its customers with high-quality human hair. Delivery was fast too. But it's NOT competitively priced compared to its main competitors.
Is Yolissa worth it? It's tough for me to answer. Whether this brand is a good fit for you depends on who you are. If you have a limited hair budget, or you're new to the hair world, then I would suggest you look at other brands.
The biggest reason is the fact that their hair is not cheap. You can choose other brands as an alternative, like ISEE, Arabella, and Hermosa. It is worth mentioning that Yolissa hair company also offers some human hair products that cost under $100 or $200. So you can compare the prices of different brands before you decide to buy.
If your budget is a little more generous, Yolissa Hair is definitely good enough. Overall, their product quality relatively matches the price. You get what you pay for.
Now It's Your Turn
There you have it: my complete review of Yolissa.
Now I'd like to hear about your experience with this brand.
Have you used Yolissa Hair before? If so, how did you like it?
Or maybe you have a question about my review.
Either way, let me know by leaving a comment below.