This is my in-depth review of a new hair brand, Julia Hair.
In this review I'll cover:
What Julia Hair does
Key features
Things I like
Thing I don't like
My overall experience with the hair brand
Whether or not I recommend it
So if you want an in-depth Julia Hair review, this post is for you.
Let's dive right in.
Note: This hair brand was called Ali Julia in the past, but it recently changed its name into Julia Hair. It's exactly the same product – nothing changed, except the name.
---
What Is Julia Hair? A Quick Review
---
Julia Hair is an original brand focused on designing, producing, managing, and selling human hair.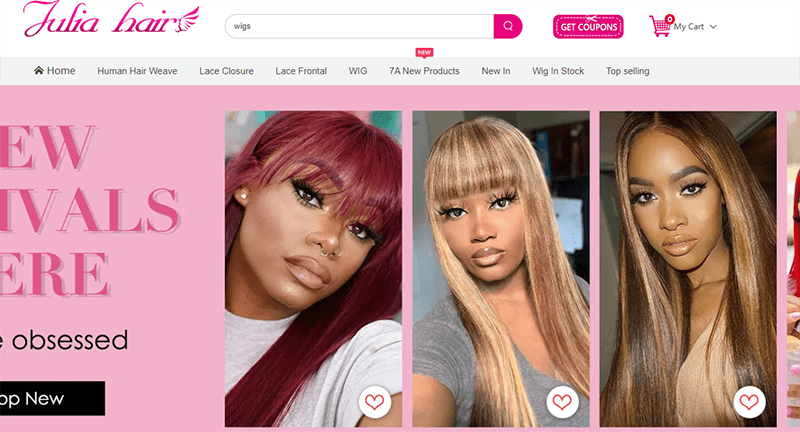 If you've ever used a popular hair brand (like UNice or Rosabeauty) you'll be right at home with Julia Hair. It's got many of the same features.
They offer hair weave, wig, lace closure. And they cover the broad spectrum of styles in today's hair market.
Plus, they only sell human hair products and do not deal with any other types.
Before digging deeper into Julia Hair, please allow me to show you a list to see their products at first sight.
With that background info out of the way, it's time for my Julia Hair review.
---
How To Buy Is Cheaper?
---
You can actually pay 5% less than others on the total amount for the same texture, size and weight. Here's the strategy I use:
Become an Affiliate of Julia Hair
Choose to buy hair products at major promotions, such as Black Friday, Back to School, etc.
Place an order with your own tracking link
Well, I'll explain:
First, click this link to their official website, then sign up for Julia Hair Affiliate Program. To learn more about this program, be sure to check out this page.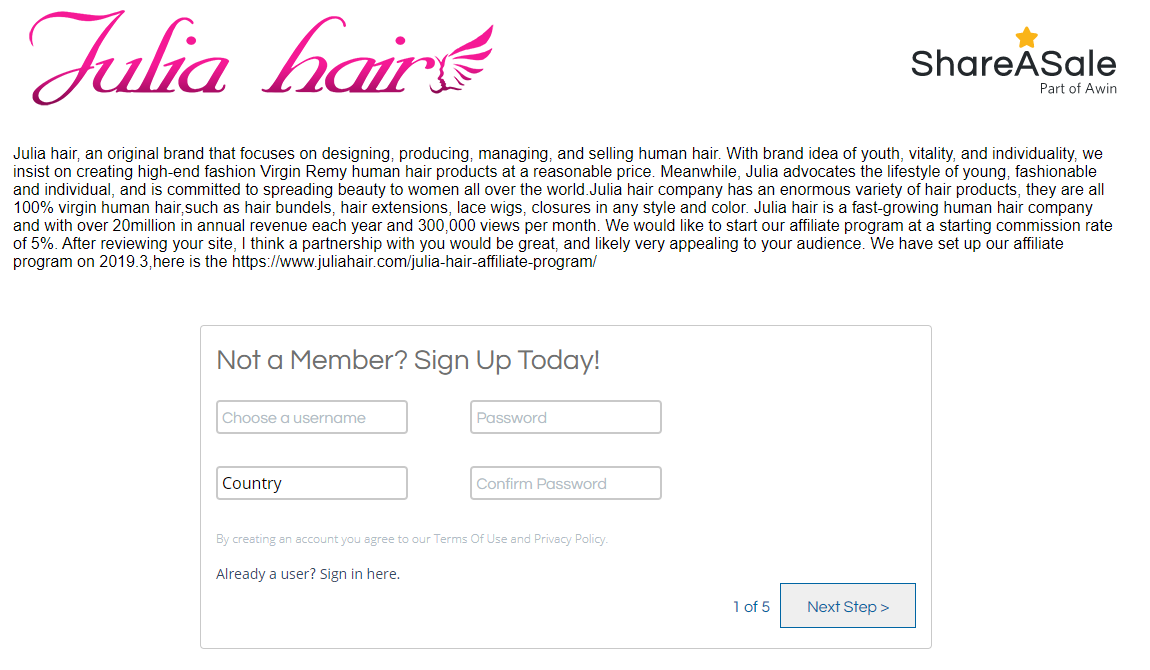 If approved, you can receive an email.

Second, you can choose to purchase hair products on sales promotion. This is because the price in this period is lower than usual.
The last step, the important thing to remember is that you should open your tracking link in Safari or Chrome.
After coming to their official website, you can use a campaign coupon code to complete the payment.
As a Julia Hair affiliate, you will earn a 5% commission. If you make the calculations, this means you get another 5% off on your order.
So yeah, that's how I manage to save lots of money buying Julia Hair.
Besides, you can also share your tracking links with your friends. When they buy hair products through your personal link, you can get a 5% commission. Pretty cool.
So now that you know the main things about Julia Hair – it's time to analyze it more closely.
---
Authenticity(9.3 out of 10)
---
Transparency is important for hair companies. I know there are many more women who appreciate honesty. And I believe you should know what you're really getting.
Now – let's take a quick look at the main ones whether or not they are honest.
1. 100% Human Hair
They claim to provide 100% human hair that is completely natural and of high quality.
When doing research for this Julia Hair review I found that their hair is the same as they claim.
In reality, their hair is 100% human hair. You will never find a synthetic or animal fiber mixed in their hair.
When it comes to hair material, there is nothing to complain about for this hair brand.
2. The "Exotic" Hair
That's a pretty common strategy in today's hair industry.
After the "Brazilian Hair" marketing tactic became successful, it was only natural to see the "exotic" hair craze perpetuated through other exotic textures from around the world.
To be honest – These hair are never from these areas, it's just a clever marketing tactic that makes the hair appear more exotic and desirable.
The truth is: what you are really getting is some variation of Indian or Asian hair.
So now that you know the truth about so-called "exotic" hair, you may be wondering:
Is there no real Brazilian hair on the market?
In my opinion, they are extremely rare and could not possibly support the enormous commercial demand.
As the consumer, you can't clearly prove that the hair you bought came from their stated place of origin.
Therefore, I personally recommend focusing on other quality variables you should consider when shopping for human hair products.
Overall, all the "Exotic" name to describe Julia hair extensions is 100% marketing.
3. 100% Virgin Hair
Virgin hair is a popular term in the world of hair extensions.
Just about every hair company claims to carry virgin hair and if not educated properly you can get scammed.
First of all, let's take a look at what virgin hair is.
Virgin hair is a term for hair that has never been chemically processed. Chemically processed hair is hair that has been color-treated, permed, bleached or dyed.
It's worth mentioning that their factory uses weak acids to process raw materials in the production of hair.
However, it's a common step in hair manufacturing. Because the raw materials collected from various countries or cities are dirty, they need to be disinfected with some things that other hair shampoo can't do.
At this point, Julia Hair is above average when compared to the other brands of hair extensions that I have tested out and reviewed.
Another thing worth mentioning is that their hair is steamed processed, and I will explain steaming in the next chapter.
This hair that has been steamed processed is still called virgin hair in today's market.
The bottom line? Relatively, Julia Hair is real Virgin Hair. They can be styled much like the wearer's own hair. You can dye, cut, curl, bleach, and more.
4. Single Donor Hair
Many hair companies claim that their hair is from a single donor.
Unfortunately, most of these claims are often untrue.
To be honest, it is more of a marketing ploy to raise the price of hair products.
Now, that is not to say that there is no authentic hair from one donor. Even if there is, and you don't have an absolute way to judge whether or not they are true.
Overall, Julia Hair Company didn't use "Single Donor Hair" as a selling point to market their hair.
Sure enough, their hair is NOT from a single donor.
---
Appearance(9.7 out of 10)
---
There are so many websites out there that have beautiful pictures of their hair products and when you receive them, they aren't the same product.
Basically – Julia hair is as described.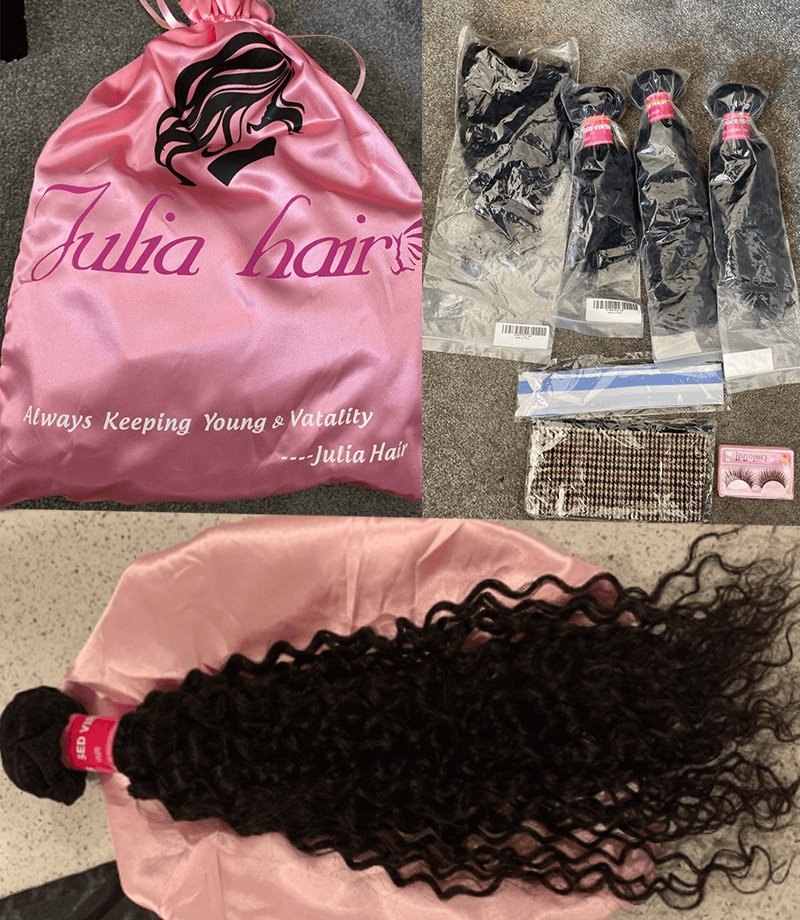 The hair is packed in a pink bag or box. As you can see, the hair is really beautiful. And it is soft, silky.
Minimal to no shedding when I ran my fingers through. Even though it's curly hair, I could run my fingers through without getting caught.
Plus, the hair had no weird smell and was true to length. It is worth mentioning that there is almost no gray hair in their hair.
In this chapter, Julia Hair looks pretty good.
---
Processing(9.4 out of 10)
---
If you were curious about something behind hair production, here's what you should know.
1. Steam Processing
The more commonly sold human hair products have a various pattern that is achieved by steam and bamboo.
In fact, steaming is one of the processes in hair manufacturing. And it allows for the creation of those hot exotic and unique styles like body wave, deep wave, jerry curl, kinky curly and so much more.
Obviously, if done well looks beautiful.
2. Mixing Hair
The official website of Julia Hair offers human hair bundles of two grades: 7A, 10A.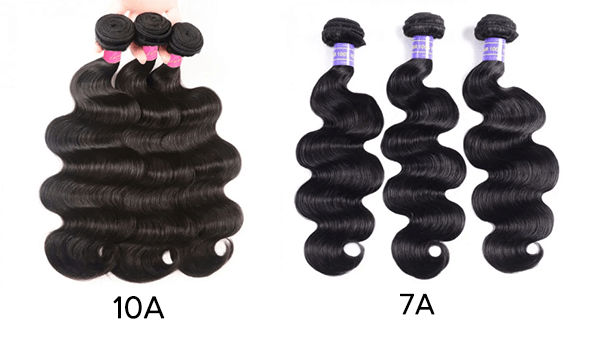 If you're new to the hair industry, you probably have this question:
Why have so different prices for virtually identical products from the same companies?
Simply, the price of a hair bundle is determined by the longest hair ratio.
I'll explain it with an example…
If you want to buy a bundle of 22" Julia body wave hair, here's the difference between 7A and 10A:
10A hair bundle: around 35% of the hairs are likely to measure approx 22", with the additional 65% comprising of a combination of lengths which are likely to be between 16''-20" in length.
7A hair bundle: around 15% of the hairs are likely to measure approx 22", with the additional 85% comprising of a combination of lengths which are likely to be between 14''-20" in length.
Now it's clear. Each piece of Julia Hair is NOT one length.
In fact, mixing hair is a step in their production process. Julia hair is mixed with several lengths.
During production, they mix lengths together to make the hair cheaper.
However, that's a pretty common strategy in today's market. Not everyone needs the highest quality hair.
---
Tangling& Shedding(9.6 out of 10)
---
Shedding and tangling is a normal occurrence with not just your natural hair but with all types of human hair products.
This can happen for dozens of reasons.
But now, I'm talking about one of your biggest concerns: Quality
Julia hair company uses high-quality Remy human hair as raw hair material in its products. Remy hair has cuticles that are running in the same direction from root to end.
Besides, they use the double-weft process to make sure the hair is sewn tight enough.
Another thing worth mentioning is that there are multiple steps for tangling and shedding tests in their production process.
Specifically, the staff repeatedly brush the hair with the fine-tooth brush to remove the split hair.
Overall, when it comes to Julia hair, tangling and shedding are not an issue.
---
Life Expectancy(9.4 out of 10)
---
Honestly, it's tough for me to answer.
That's because the lifespan of human hair products will depend on how well you take care of them, what products you use on them, and how often you wear them.
Basically – with proper care and regular wear, Julia Hair can last anywhere from 3-6 months or even longer.
Keep in mind that creating a good routine with your Julia Hair from the start will help prolong their lifespan.
---
Julia Hair Support(8.9 out of 10)
---
Like any hair brand, support is a HUGE part of the brand's overall value.
This is why I decided to test out Julia's support.
Fortunately, Julia Hair has a chat option. Which means that I didn't have to go fishing around for a support email.
I wanted to better understand the technical term in the hair market. So I asked them about it: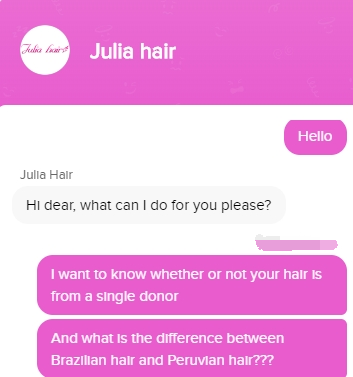 And about one day passed, I actually didn't get a reply.
At least according to this test, their support looks NOT to be responsive.
---
Other Opinions(9.4 out of 10)
---
In order to judge fairly, I wanted to check out some other (authentic) reviews of previous customers.
Note: I only considered authentic reviews, not promotional ones.
Julia Hair has many reviews on its official website. But I rarely include official website opinions in my reviews, because they tend to be biased and fake positive.
Fortunately, the products also sell on Amazon, which was my #1 to go to the website for real opinions.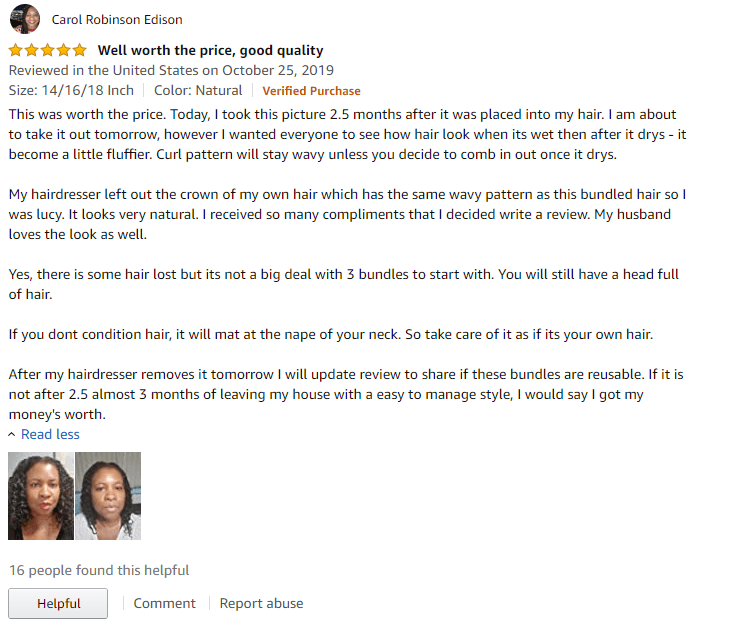 Here's what I found out:
Many people praise Julia Hair
Some say their hair bundles are thick, soft, true in length.
Others claim they are a well-known luxury hair company.
There were also a few complaints.
Some people claim the products aren't human hair.
There are a few claiming this hair only lasts for about a month.
Others say the wefts get very thin at the bottom.
Now – I have to agree with the last category.
But considering that you can buy this kind of quality product at a lower price, I personally think it's not bad.
As the old saying goes: "you get what you pay for".
Even though all the reviews could be real, I don't think they are 100% relevant.
That's because even the best hair will get bad reviews.
In short – most customers are satisfied, while a few customers are really disappointed.
I would say the percentage is about 80/20.
So it's pretty clear that Julia Hair is not a scam, but a good brand.
---
Pricing(9.6 out of 10)
---
To be honest, Julia Hair isn't too bad in this chapter.
It's surely not the cheapest product – but it's not that expensive either.
So compared to many hair brands, it's actually affordable.
1. The Exact Price
Their official website offers the best offer for this product.
I will take 3 bundles of curly hair weave as an example.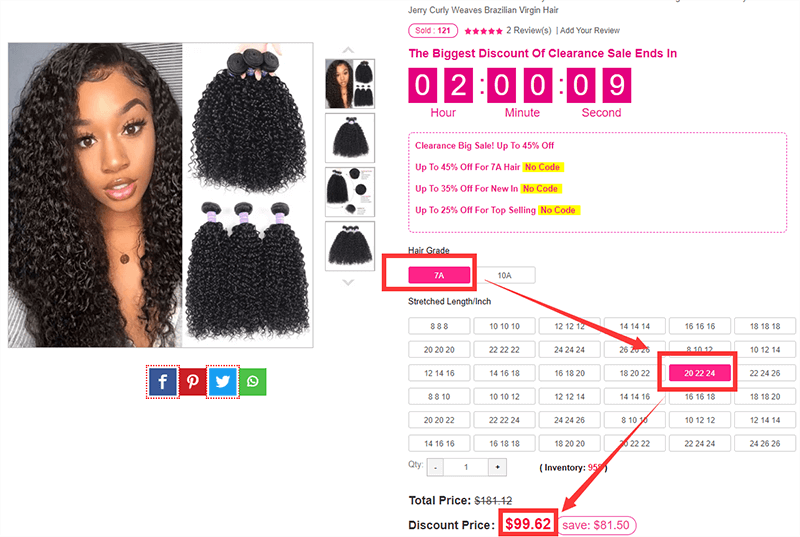 As you can see, 3 bundles of Julia 7A Curly Hair costs almost $99.62 (20" 22" 24" ). And 3 bundles of Julia 10A Curly Hair costs almost $144.49 (20" 22" 24" ).
Shipping is also included, which means that the price of the two grades mentioned above is the final price.
So Julia Hair has a really affordable price – which is a big advantage.
2. Competitors' Price
I will compare Julia Hair with its main competitor: Alipearl.
Same style, size, color, quantity, weight
costs $195.72 per 3Bundles
shipping is free
That's a total of $195.72 per 3Bundles(20'' 22'' 24''). If you make the calculations, 10A bundles of Julia Hair is almost $50 cheaper than Alipearl.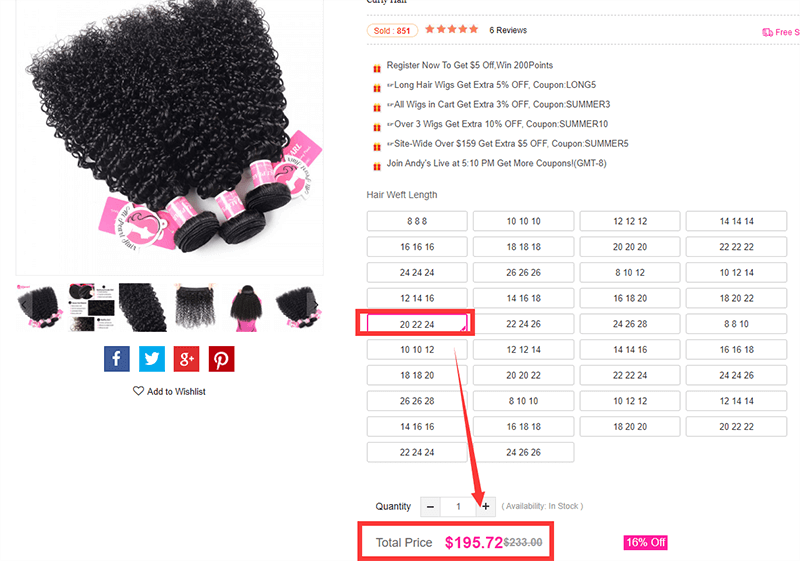 So I would definitely prefer Julia Hair(in terms of price).
---
Julia Hair: Things I like(9.6 out of 10)
---
Here are some of the things that I really liked about Julia Hair.
100% Remy Human Hair
High-quality hair products at affordable price
Didn't undergo chemical treatment or processing(Relatively speaking)
Tangle Free, No Shedding
Can be styled and treated like your own hair.
30 days Return/Exchange
Fast Shipping(US warehouse)
Have a rich experience factory(Perfect production line)
---
Julia Hair: Things I Didn't Like(8.9 out of 10)
---
Now it's time for me to cover a few things that I think the hair brand could improve on.
Poor customer service support(My personal experience)
---
Where To Find It(9.6 out of 10)
---
Fortunately, Julia Hair is quite easy to find online.
When it comes to online retailers, most are selling it:
Its official website
Amazon
Ebay
AliExpress
In my opinion, if you really want to purchase these products, the official website is the best choice.
That's because there are more hairstyles on its official website. Plus, if you follow the tips from above, you can get it at a cheaper price.
And if you subscribe to them on the official website, you will receive an email as soon as they offer some discounts.
At this point – I think it's the best choice.
---
My Overall Julia Hair
---
Overall, Julia Hair is a great hair brand. They provide high-quality products, but the price is not expensive.
And it's competitively priced compared to its main competitors.
But if you want to buy more popular human hair wigs, I would recommend instead: Luvme.
So all in all, if you do want to give Julia Hair a shot, I don't think you'll walk away disappointed.
What Did You Think?
That's it for my review of Julia Hair(Ali Julia).
Now I'd like to hear from you:
Do you use Julia Hair? If so, how do you like it?
Let me know by leaving a quick comment below.