This is my SUPER in-depth review of Alimoda Hair.
But does this hair brand really work?
Considering little relevant information on the Internet, it has high chances to be a scam.
So let's find out the hidden truth behind.
Note: Alimoda is very similar to another one called Lemoda. In fact, the two brands belong to the same company.
What Is Alimoda? A Quick Overview
Alimoda is a China-based brand that sells human hair, but they do offer international shipping.
Its bread and butter products are hair weave, closure.
Well, you can see that their company has such a limited product range. For example, they don't sell wigs that are hot in today's market.
Unlike Luvme, UNice, this brand hasn't earned quite a reputation for themselves. And their official social media channels have very few fans following.
Plus, there is even little information on the Internet to review the brand.
Obviously – they are not popular at the moment. That is because their company is now focusing on promoting and marketing another brand – Lemoda.
Honestly, the price is by far the biggest advantage of Alimoda.
Now – here comes the interesting part. Their company claims over more than 200 stores in Guangzhou, China.
If you ask me, that's impossible:
Our team in Guangzhou didn't see as many stores as they claimed.
Instead, it's pretty unknown.
For this reason – I'm almost 100% sure this claim is fake.
But if you really want a hair brand that offers high-quality at a lower price and is well known, I recommend something else.
So yeah, you have known the main things about Alimoda, now it's time to get into more details about it.
---
Authenticity(8.2 out of 10)
---
Firstly, let's see if they live up to their claims. Here's what you should know:
Real Human Hair
This is the most unquestionable point – Alimoda hair is never mixed with animal hair, synthetic hair in order to reduce the price.
In other words, their hair is 100% human hair, it is true.
You may be wondering:
How can I know whether or not the hair is real?
Well, there are so many ways to decipher it, such as Burn test, Colour, Bleaching, etc.
But 100% foolproof way is that you try it for yourself.
Overall, I can't complain about Alimoda on this point.
Virgin Hair
If you're a fan of human hair products, you may have heard this term: virgin hair.
But what is virgin hair?
Virgin hair refers to strands that have never been color-treated or chemically processed in any way.
Specifically, it's hair that is totally free from perms, bleaches, color treatments, and dyes.
To be honest, it's just on paper.
You often can see the wavy, curly hairstyle in today's hair market. In fact, these gorgeous hairstyles have been steamed processed.
Besides, the collected hair materials also need to be repeatedly cleaned with strong detergents called weak acids to achieve the purpose of sterilization and disinfection.
So yeah, virgin hair is just a relative term.
In my opinion, the natural color weave of Alimoda is virgin hair. Like their 613, highlights, ombre hair does not count.
Exotic Hair
If you visit their official website, you will see that they offer Brazilian, Malaysian, Peruvian, Indian hair.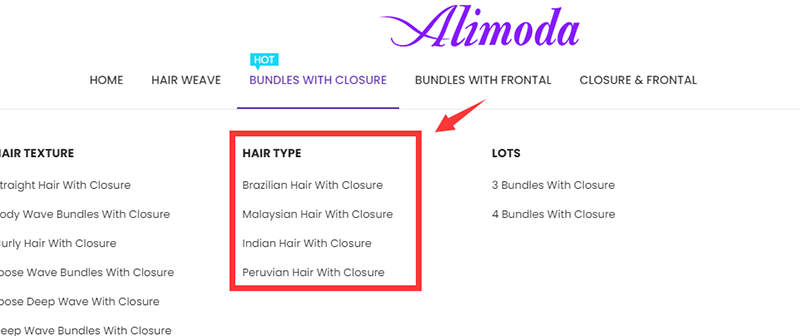 In fact, this exotic hair is just marketing. And there's no difference among these hair bundles.
Their exotic hair does not originate from the countries they are named after.
It is also worth mentioning that they claim their factory have raw materials purchasing agent in Brazil, Peru, Malaysia, India, Myanmar.
Unfortunately, it is often untrue.
That's because Alimoda hair is exactly made of Asian hair. Obviously, the price of their exotic hair also betrays them.
---
Appearance(9.1 out of 10)
---
In this chapter, let's take a look at the real hair products of Alimoda.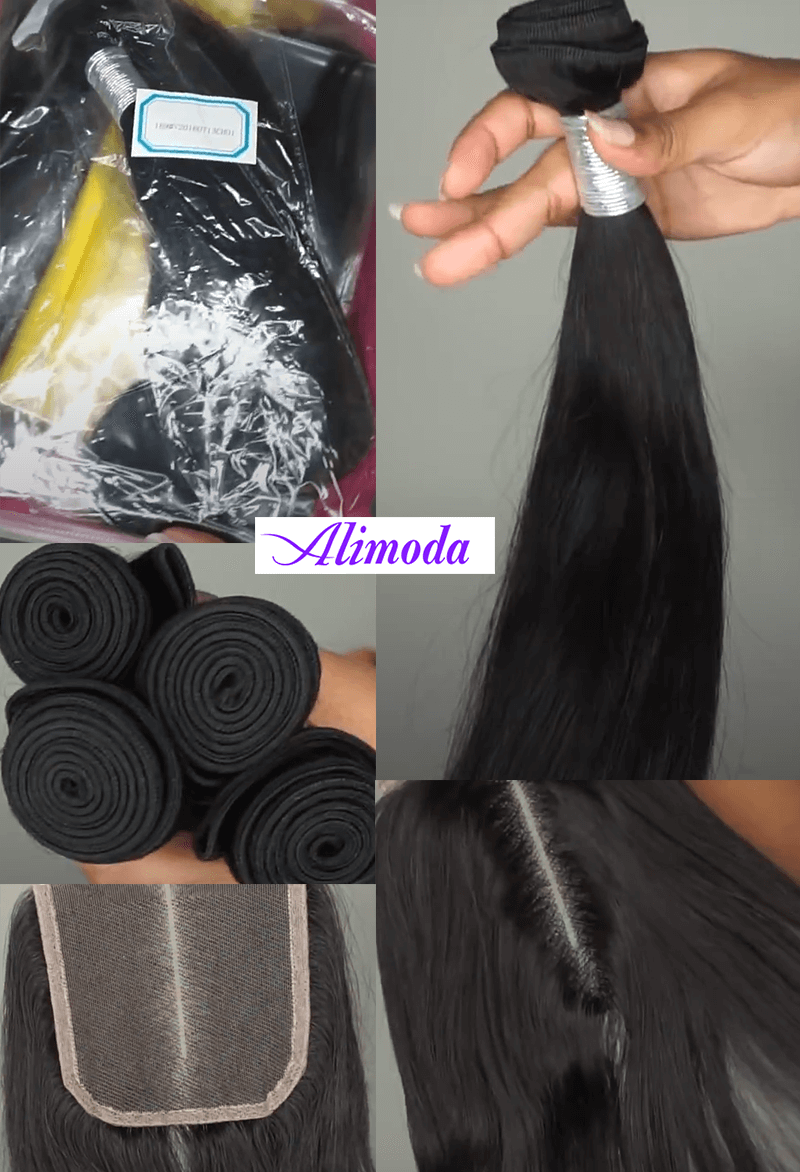 As you can see from the picture above, their packaging design is a transparent bag. So there wasn't really anything new or too impressive about the packaging when compared to other brands.
The good news is that they give a bag of yellow curler sticks as a free gift.
The hair is soft, beautiful, and true to its length. The hair color is natural(1b). Sure enough, their hair hasn't been color-treated.
When you run your fingers through the hair bundle repeatedly, it hasn't shed.
Besides, their hair does have no bad chemical smell.
However, there are minimal white or red hairs in the bundle. This is normal like our own hair.
The lace of the hair closure is brown. But the knots aren't bleached.
The biggest drawback is that the hair end is thin. Considering its price, you can't ask for more. After all, you get what you pay for.
Overall, Alimoda hair is not bad in terms of appearance.
---
Tangling&Shedding(8.8 out of 10)
---
When it comes to this point – Alimoda hasn't a big problem.
They use Remy hair material to manufacture hair products. The term Remy means that the hair comes with a cuticle layer laying in the same direction from root to end.
This prevents tangling and provides natural movement.
Other than that, their hair does be double-wefted. This process reduces shedding because it is sewn more securely.
Keep in mind when you install the bundles, you don't cut the wefts in pieces. That's because it can easily cause hair shedding.
All in all, Alimoda hair is relatively tangle-free and shedding-free.
---
Life Expectancy(8.7 out of 10)
---
Alimoda claims that their hair can last 12-24 months. It's obviously a little over boasting.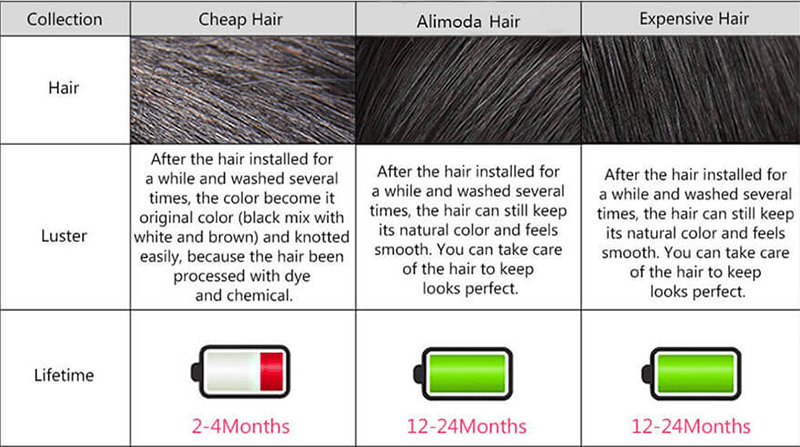 The lifespan of human hair weave will depend on how you take care of them.
Honestly, this quality of their hair can last 3-6 months or even longer with proper care and regular wear.
It is important to treat them with extra caution and use natural products.
---
Customer Service(8.5 out of 10)
---
I wanted to see how the customer support in Alimoda compared to other hair brands.
Unfortunately, Alimoda hasn't a live chat option. Which means that I need to email them.
For this test, I decided to ask a question:

Three days later, I still haven't been answered. I feel very disappointed with this.
So they don't get a pass there.
The good news:
Their company offers phone customer support, which I believe is really important. Besides, this is also more convenient to communicate with them.
But when you have bought their hair, they will process your order and email quickly. Now you've discovered the problem:(
Alimoda Hair has a return policy. You can get your order exchanged or returned within 30 days. This time period is quite generous.
However, do keep in mind that they will not pay for the shipping charges for returning the product. This is the case with most companies.
In general, I'd say Alimoda's after-sale service is good. But the initial response didn't answer my question (bad).
---
Online Reviews(8.4 out of 10)
---
I wanted to create an unbiased review, so I checked out all the real opinions I could find about this brand.
Note: I only considered authentic reviews, not promotional ones.
What People Say
The biggest problem of this brand is that it has very few real reviews:
It does have a page on Amazon but it has few reviews.
There are a few reviews on it on 3rd party websites.
Alimoda Hair is relentless in sponsoring YouTubers.
Most of the bloggers have never actually tried Alimoda hair.
Now – there are some customer reviews on this brand.
But the problem is that they're on its official website.
I always try to avoid the company's website – because the reviews are biased (false positive).
So here's a quick look at what amazon buyers think about Alimoda:
Some say their hair is very soft and pretty.
Others say it's natural-looking and it last long
On the other hand, others say Alimoda hair is not what they thought they were getting.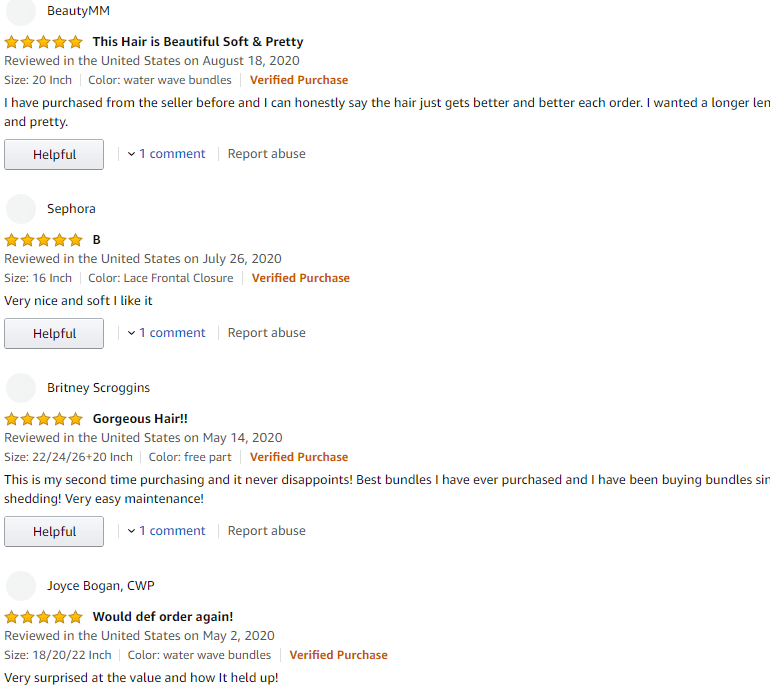 Basically – there are 2 groups of customers:
some say it worked really well
others say it didn't work at all
However, it's quite normal that opinions are mixed up. Furthermore, I noticed there was a high percentage of positive reviews(over 70%).
So it's pretty clear that Alimoda isn't a scam.
---
Pricing(9.2 out of 10)
---
This section is going to be pretty short. Because I will show you a chart to compare with its main competitors.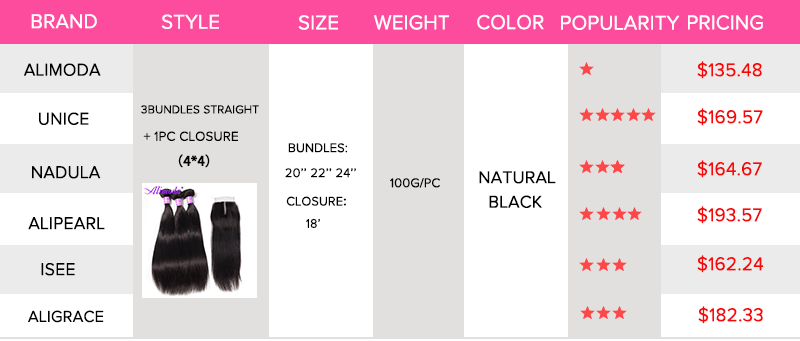 So yeah, Alimoda is significantly cheaper than other hair brands.
It is also worth mentioning that the longest hair proportion of these brands is 10%-30%.
I will explain the technical term.
The longest Hair proportion is the percentage of the longest length hairs in a bundle.
Normally, one hair bundle is NOT one length. In other words, while the hair is being sold as 24" in length, they mix in shorter lengths on the weft.
That's the main why there is such a big difference among these brands.
As I said above, the price is the biggest advantage of Alimoda.
---
Payment & Shipping(9.1 out of 10)
---
The payment option is the standard one, you can ONLY pay through PayPal. This is more common in Chinese brand e-commerce hair websites.
The shipping was advertised as free. But your order is shipped from China, you maybe need to pay a duty fee when you collected your parcel according to local policy. This was not mentioned on the checkout page.
They offer international logistics, so in general, you can receive the package within 3-7 days.
Overall, there is no big problem in this chapter.
---
Where To Find It(8.4 out of 10)
---
As I mentioned before – Alimoda Hair's product is quite hard to find:
Only available on its official website.
Amazon has only a few products.
At this point, I couldn't find it on eBay.
Not even available on AliExpress.
Now – the fact that it's only sold on its company's website. But it's not necessarily a bad thing.
I know a lot of hair brands following this strategy and they're still great, such as Luvme, Luxyhair, Mayvenn, etc.
But there's another problem:
I personally don't agree with all the claims on their website.
And since I wouldn't have any other choice – I would probably think twice about buying their product.
---
Pros & Cons
---
So here are the good and the bad points for Alimoda.
Pros
100% human hair
Lower prices
Fast Shipping
30 Days No Reason Easy Return
Cons
The hair end is thin
Limited product lines
Poor customer support
Unknown brand
Dishonest
Alimoda Review: The Bottom Line
Overall, I can't recommend Alimoda Hair.
This hair brand is not a scam, but it's far from perfect.
It actually has a few major questions:
Not honest with us
The official website looks very untrustworthy
very little info about the brand
Customer support is not so good
As I said before – this brand is really similar to Lemoda.
Some products of the 2 brands look identical, but the price is very different both 2.
In fact, they also have the same company behind. This is very disturbing.
So what should you use instead?
My personal recommendation is called ISEE:
lower price than its main competitors
worked really well
high-quality virgin Remy human hair
enough satisfied users online
available on several retailers
So if you want a quality alternative to Alimoda Hair, that's the brand I would recommend.
Now I'd Like to Hear From You
So that's it for my Alimoda hair review.
And now I'd like to turn it over to you:
What's your experience with Alimoda Hair?
Or maybe you have a question about something in my review.
Either way, let me know by leaving a comment below right now.