This is a list of the 10 best African American human hair wigs in 2023.
These amazing wigs provide the most natural feel and look.
And in this guide, I'll reveal the best African American wigs.
…and help you choose the best one for you.
The Best African American Wigs–Overview
Just like choosing a diamond, picking a wig requires a certain level of understanding of details. In other words, finding the best human hair wig brands online can be hard.
We wanted a more natural, fashionable look and feel. And we also wanted most of these to be within the same average budget.
Over the weeks I've looked into 85+ different human hair wigs providers. But if a human hair wig lacked these basic natural looks and Remy features, I dropped it from our list.
If you're new to the wigs industry, now you might be wondering:
What's Remy?
In fact, it's an important factor that affects the quality of the wig.
When crafting or manufacturing a hairpiece, hair follicles are usually made to run in the same direction.
Given that human hair cuticles normally all run in the same direction, there is a significant reduction in tangling.
Ultimately, I left 10 African American human hair wigs behind for you.
A lot of the features of these 10 African American wigs will be very similar. This is because we have determined some things that are mandatory for natural-looking and affordable prices and enjoyable experiences.
Allowing for a top 10 picks ensures that all African American wigs are of high quality, but there is some variety to suit all of your needs.
Last update on 2023-01-19
African American Human Hair Wigs Reviews
Let's take a look at some of the top-rated African American wigs and break down their features for you. What makes them great? All you need to know is included in this comprehensive review.
1、UNice Ombre Honey Blonde Money Piece Highlight Curly Wigs
UNice hair is one of the best wig companies on the hair market. They have plenty of wig options available for you. The wigs come in multiple colors from natural black to natural brown, from 1B to #613, etc.
They offer full lace, 360 lace, and lace front wigs. There are plenty of UNice Hair wig reviews for you to watch and get acquainted with the Hair brand.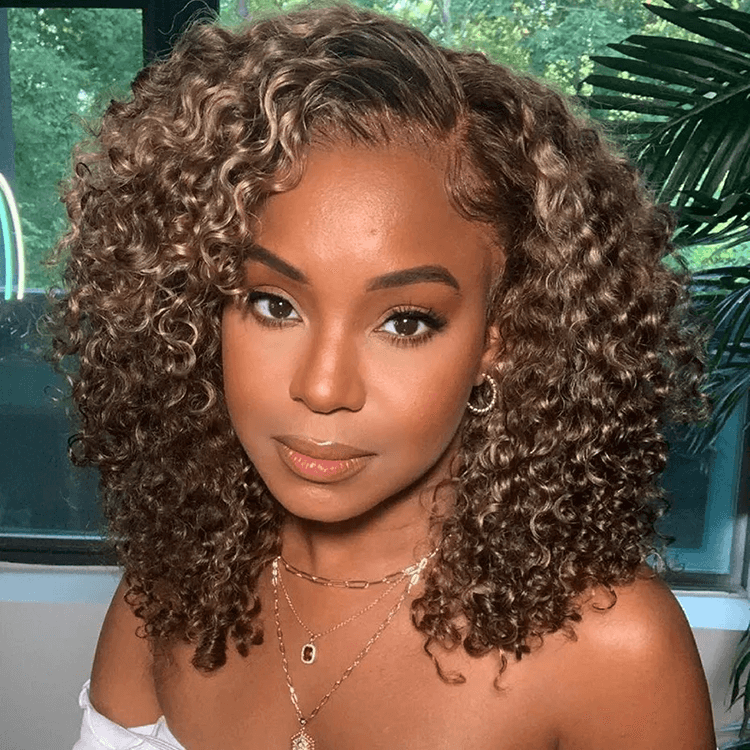 The highlight curly Remy hair wig comes with a natural shine. It's so beautiful and soft. The lace is medium brown, however, it's basically transparent.
This lace frontal wig with bleached knots and hair clip combs attached inside comes already pre-plucked. It also includes an adjustable band for a more secure fit.
The size ranges from 14 inches- 28 inches while the price of this wig varies between $129.00 – $380.34, depending upon the size. This hair is 100% real human hair. They allow you to pay in 4 monthly installments, which is honestly great.
Plus, a density of 150% the texture of this wig perfectly complements the African complexion.
Remember, great care for curly hair wigs can make or break longevity.
>CLICK HERE TO VIEW ON WEBSITE<
2、Wowear Water Wave Lace Front Wig
Wowear Hair is a top brand on Aliexpress and has been one of the premier go-to locations for women looking for quality human hair products.
This brand is sought after by many due to its wide range of quality product lines including hair weaves, lace closures, wigs, pre-colored hair, etc, with all hair textures and types.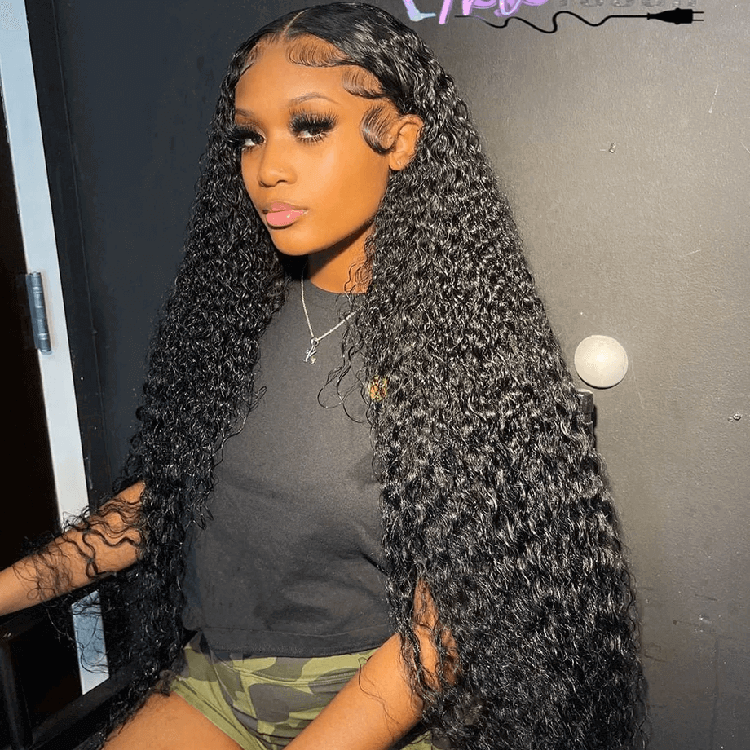 This wig is made up of Remy water wave human hair. And the loose curly hair is soft and thick and is the perfect option if you are looking for a beautiful voluminous style that makes a statement.
The wig has a 13×6, 5×5, 4×4, 360 frontal, or 13×4 customizable, free-part lace front that has been carefully handcrafted giving you an undetectable, straight-from-your-scalp look when installed.
What's more, they offer 2 options – 150% and 180% density. And this wig from Wowear is available in sizes between 12 inches to 34 inches.
The price of this wig would range between $54.22- $271.92 depending upon the size.
Wig Construction:
150%, and 180% density giving you a full and natural look
Free-part lace front
Lace color: medium brown
Pre-plucked hairline with baby hair
4 built-in wig combs
Adjustable straps
> Click here to see the most recent price for Wowear Hair<
3、Julia Hair Water Wave Headband Wig
Julia Hair specializes in selling 100% human hair products. What makes this brand worth your coins is quality, amazing and wonderful products, that can last easily over one year with the proper maintenance.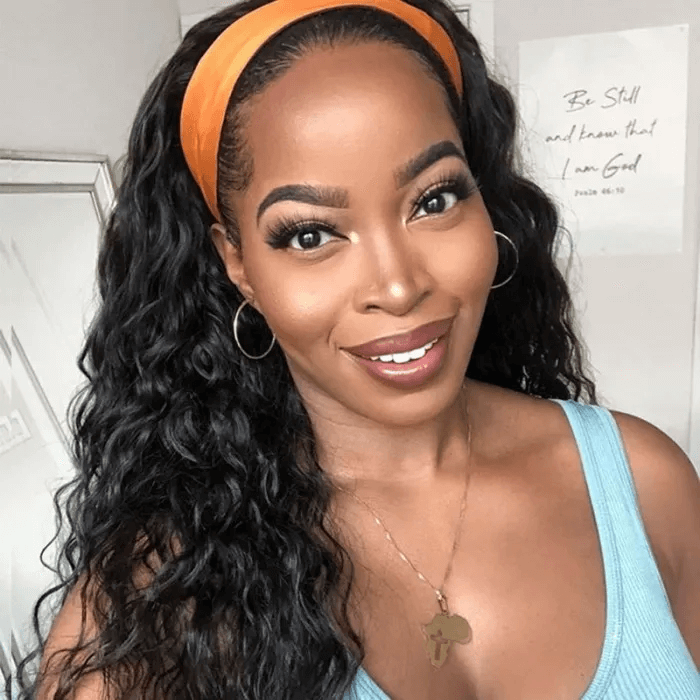 Choosing the right kind of attire may seem even easier but the matching hairstyle is what many women spend a lot of time on.
This human hair headband wig for black women is the perfect solution. And headband wigs are great protective styles for wig beginners, they're quick and convenient hairstyles. No lace no glue.
This wig from Julia Hair is made of the high-quality Remy human hair. It's a combination of wig and headband attached in front, with the hair sewn on a soft wig cap. They are also called no lace wigs or half-wigs because they start almost halfway from your forehead while your natural hair remains in front.
They only offer 1 type – 150% density. Usually, a density of 150% of the texture of this wig will give you a full and natural look.
Plus, it comes with adjustable straps at the back of the cap, elastic material that allows the cap to fit any head size, and tiny clips within the cap to hold onto your hair.
Available in sizes between 10 inches – 26 inches, this one is going to cost you somewhere within $94.12– $305.95 per piece.
> Click here to see the most recent price for Julia Hair<
4、ARABELLA Remy Body Wave Lace Wigs For Women
ARABELLA is relatively new on the human hair scene. They carry a HUGE selection of top-quality hair bundles in all styles, lengths, and textures that are also silky and soft. There have thousands of 5-star reviews on their site.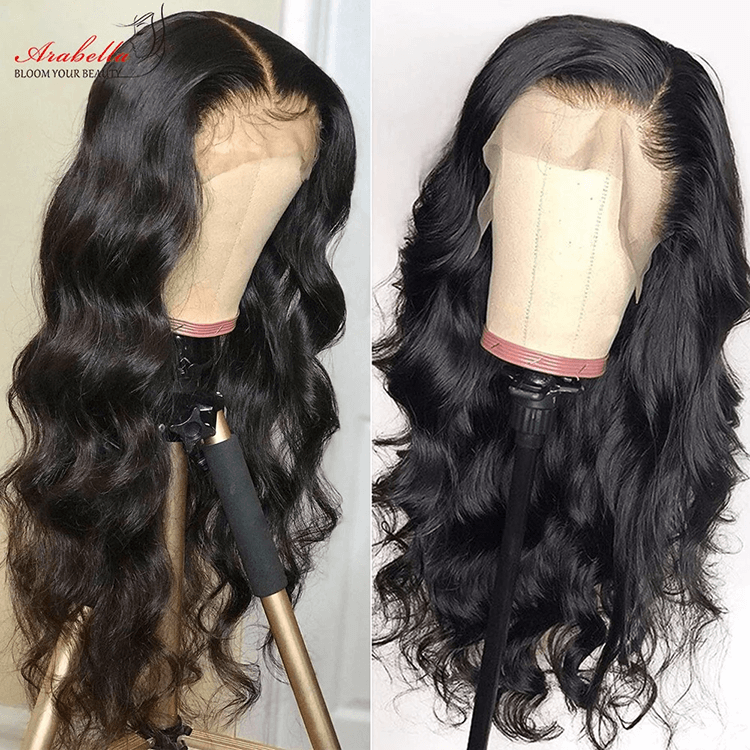 This wig is made out of Remy human wave hair, which is one of the most popular hair textures due to its versatility. Its wavy pattern has beautiful volume when worn in its natural state but also holds a curl very well.
Crafted out of baby hair this one comes in superb shapes and makes your hairline look all-natural. The base material is made out of transparent swiss Lace while the texture of this wig is soft and wavy.
This wig has a 13×4/4×4 lace front that has been carefully handcrafted giving you an undetectable, natural look when installed. And there are adjustable straps, which ensure you can adjust the cap bigger or smaller.
To help you fix your wig, they added 3 built-in combs to it. And this one comes in sizes between 8-30 inches. Priced at $27.27 – $149.25 per unit, this hair wig is worth the investment.
It comes with two density types – 150% and 180%. If you are looking forward to those luscious locks then make sure to order a density of 180%.
Besides they offer Shipping from the US. No additional charges if are to ship out from the States. Overall, here is your best wig option for wavy hair!
>Click to view more real customer reviews<
5、Rebecca fashion Jerry Curly Short Pixie Bob Cut Wig
Rebecca fashion is a well-known brand focused on human hair brand offering quality hair to women around the globe!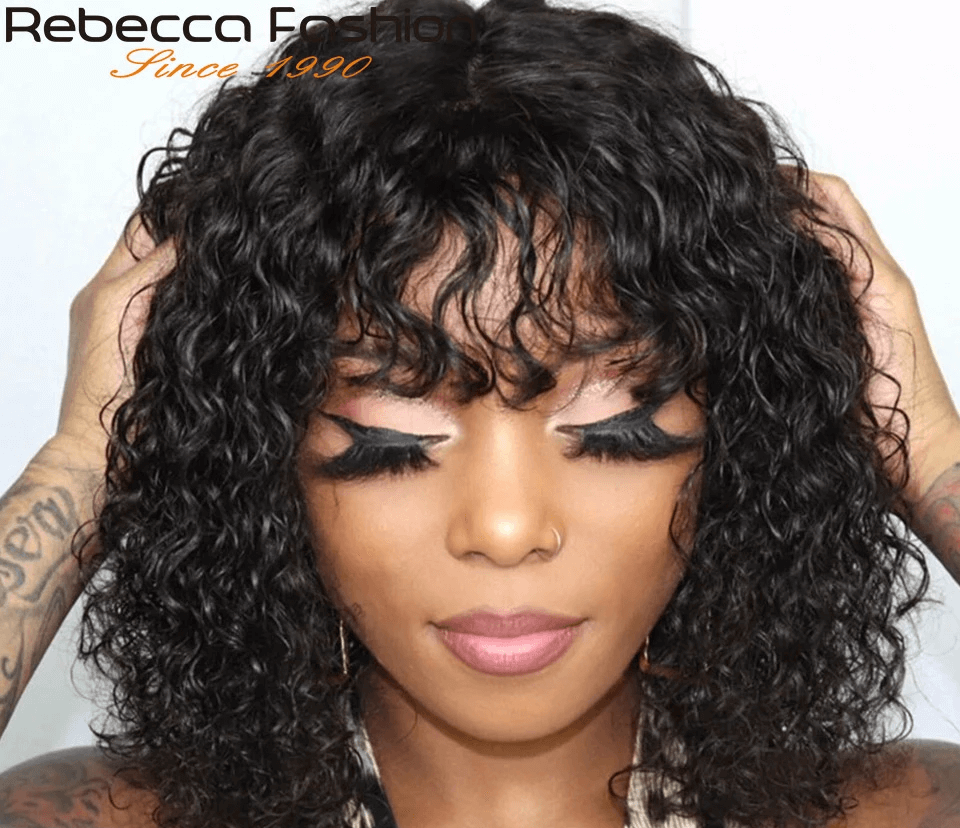 What we love the most about the curly hair is that it is actually in its natural state. And jerry curly hair wigs can be used to provide even more volume to an already curly hairdo.
Made out of great Remy human hair the Afro Kinky Curly wig in natural color is available on Rebecca fashion's official store at a price ranging between $15.43 – $115.24.
Don't let the amazing prices fool you. This hair is still a 100% human hair wig! It's very nice, soft, and full hair curled like a dream and looks very natural.
This is the popular pixie bob cut wig. The texture of this wig is what makes it special. The size ranges from 10 inches- 20 inches. And it's going to fit perfectly on your skull to give your hair a natural appearance.
Another plus point of this wig is that it has fine quality, breathable, and durable net cap. This ensures that you can feel very comfortable when wearing it.
The bottom line is:
This is fantastic hair!
>Click Here To View Current Pricing & Discounts<
6、WeWave Deep Curly Lace Front Wigs 
WeWave is also a favorite China brand, started in 2018. They have an enormous selection of 100% human hair. And they offer hair extensions, bundles, and wigs in every available texture and style.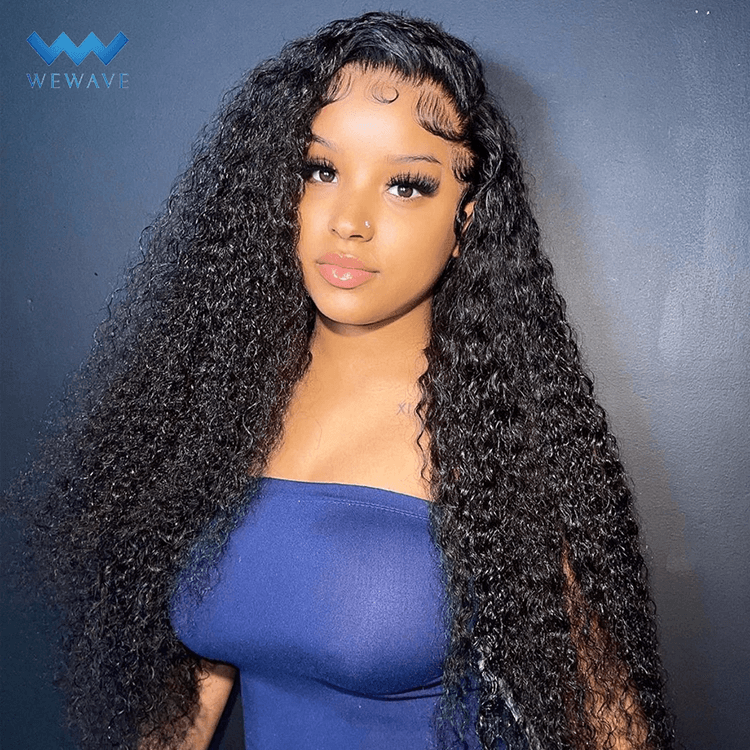 The fantastic curl pattern is sure to blow your mind while the natural color would look perfect on any complexion. But steam creates the wavy version.
This hair is absolutely amazing, it's really soft and the curl pattern is so gorgeous. The issue of tangling and shedding was not much of a problem with Modern Show hair wig.
It comes with two density types – 150%, and 180%. This wig will give you a full and natural look.
The fine soft hair which goes into the making of this wig comes with just the right fullness. The pre-plucked hairline is yet another advantage since it looks totally natural when installed.
The 10 inches – 36 inches hair wig is priced at $60.91 – $300.52 per piece.
You will fall in love with this new hair wig.
>Get your $50 Coupon Code for this store.<
7、Ashimary Human Hair Straight Lace Frontal Wig
Ashimary is another newer human hair wig brand offering quality hair at affordable price. But that does not mean they are less experienced. They put together some of the experienced and talented people in the industry. They are committed to producing more fashionable and high-quality human hair products.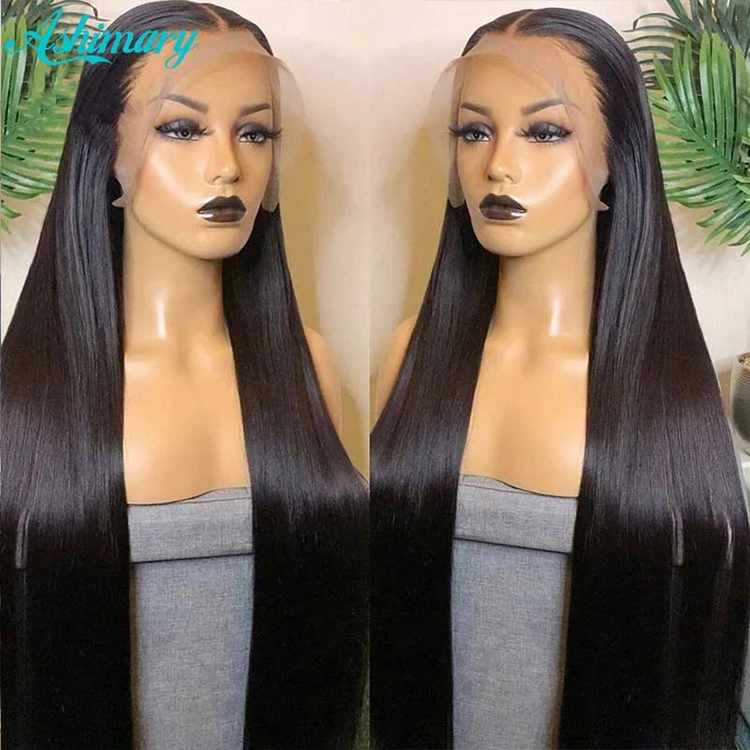 What woman doesn't love the luxurious look of a straight hairstyle? If you are looking for the best wig for a straight hairstyle, then this is it!
The wig is absolutely beautiful. It's soft, bouncy and has no smell! It's curly and true to length. It comes with five lace types – 4×4,5×5,6×6,13×4 and 13×6.
The size of this wig varies from 12 inches to 34 inches and the price ranges from $67.27 – $340.63.
Depending on what you choose, you can have up to a good density ratio of 250%. Honestly, 250% density of unprocessed hair sounds incredible!
Another selling point:
This outstanding hair wig has been bleached knots well and natural enough with pre-plucked and headline. You can not even see the scalp.
>Coupon codes available HERE.<
8、Queenlike Hair Long Straight Human Hair Wigs
Queenlike Hair is a reliable China-based brand with high-quality hair and low price. Their company can be custom ordered in the color of your choice and they offer excellent customer service.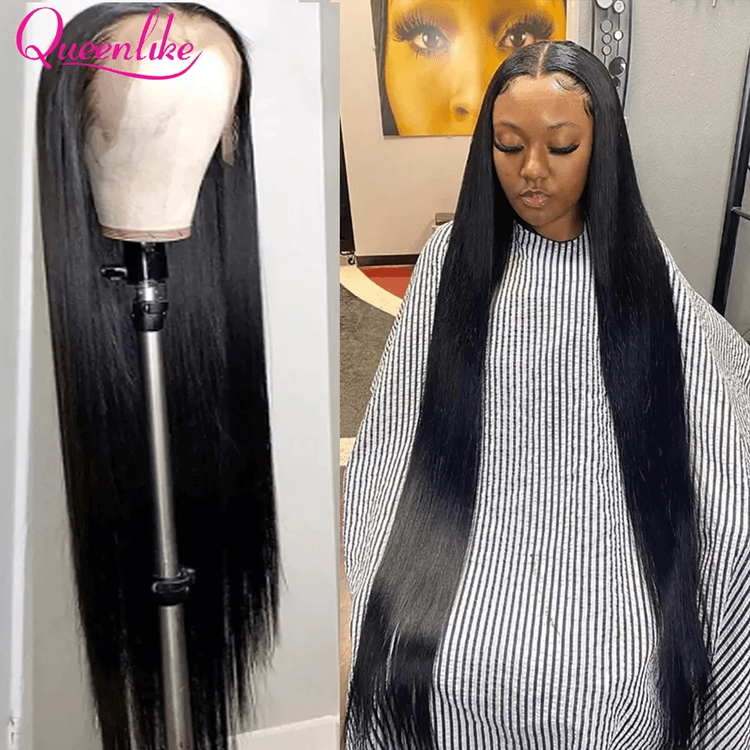 The straight style of hair is the overall best selling category. There are many different styles, but the straight tops them all as the top style of wig.
This wig is made out of Remy human hair that has a natural pattern and is the perfect option for someone looking for a style with longer lengths.
The size of this wig varies from 10 inches to 42 inches and the price ranges from $74.51 – $386.34, depending upon the size of the wig.
It comes with four density types – 150%, 180%, 210%, and 250%. You can also opt for whatever hairstyle you prefer in different lengths and densities.
If you are looking for a human hair wig that won't break the bank then this is the wig for you!
>CLICK HERE TO VIEW ON ALIEXPRESS<
9、Nadula Beginner Friendly V Part Wig Glueless Jerry Curly Human Hair Wigs
Nadula is a very well-known brand as they provides high-quality yet affordable human hair products to help you change your look. They offer a massive selection of hair extensions, weave, closure, wigs and other human hair products compared to many others.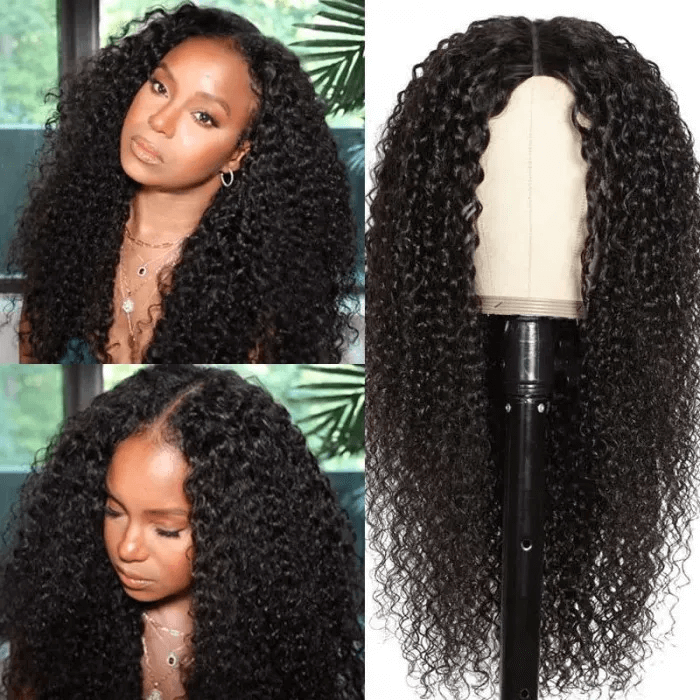 Big curly hair is fun & sexy! As a matter of fact, this v part wig is sewn on a V part cap with clips and adjustable straps on the back. This wig allows you to blend your own hair through a specific V-shaped opening at the top of the wig. They are a perfect glueless solution: they can be applied without using adhesives/glues.
This wig is made out of Remy human hair that is thick from weft to tip making it easy to style and maintain. And the hair is soft, silky, and ready for styling! With this V-shape, you can mix your hair with your wig to create a more natural hairline.
The 14 inches – 28 inches hair wig is priced at $102.53 – $331.80. per piece. You are surely going to fall in love with your new v part hair wig since it's not going to shed or tangle even after a few washes.
Nadula is popular because of its affordable price point matched with fantastic hair quality.
The bottom line is:
This is definitely a beginner friendly wig!
>CLICK HERE TO VIEW ON WEBSITE<
10、Ishow Highlight Wig Brown Colored Human Hair Wigs
A popular hair vendor on AliExpress, Ishow Hair is also one of the older suppliers operating with massive overall fine ratings and feedback. And Ishow Hair is a fashion brand.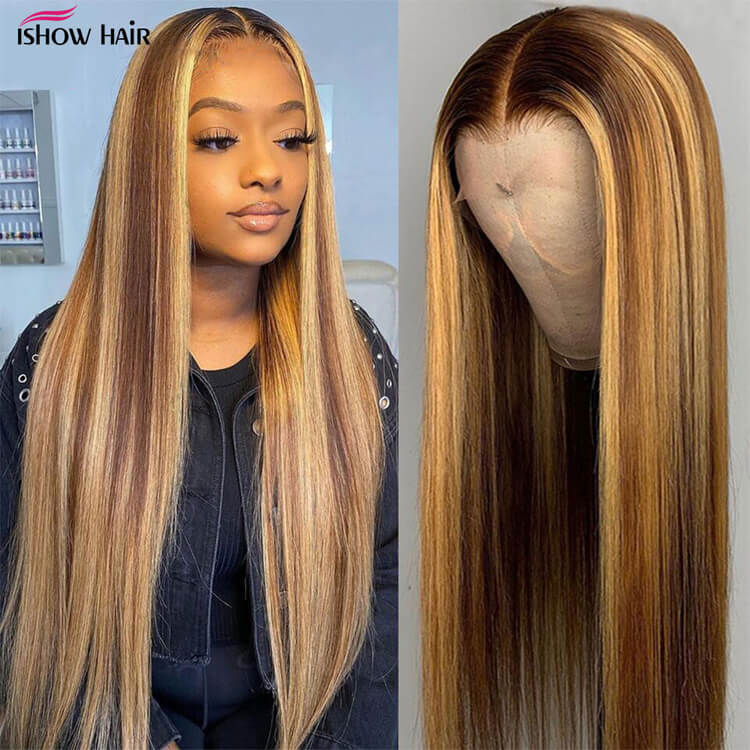 This hair wig is at the bottom of the list.
It is not because it is bad hair, but just it's a matter of my preference.
These lace front wigs are made up of premium Remy human hair that has cuticles that are running in the same direction from root to end. This ensures that the hair does not tangle or matte easily(if properly cared for).
The hair is very soft, full, thick, bouncy, and manageable. It's pre-plucked very beautifully and has 4 combs inside. And the cape is perfect. They even put in adjustment straps to sew on to fit your head size.
Crafted out of baby hair this one makes your hairline look all-natural. The base material is made out of Swiss Lace.
When you take a closer look at the first part of your hair, you can't even see the knots. The lace can blend perfectly into your skin! And you did not have to bleach knots or anything.
They offer two types – 150% , 180% density. The length varies from 8 inches -26 inches while the price ranges within $49.12 – $244.76.
Once again the price makes this 100% human hair an incredible value.
>CLICK HERE TO VIEW ON ALIEXPRESS<
Conclusion
There you have it: a list of the best African American Wigs on AliExpress.
Now I'd like to hear what you have to say:
Have you bought from any of the vendors listed here?
If so, leave a comment below right now.