In this post, I'm going to review the human hair brand, MS Lula Hair.
Does this brand in reality? Or it's just another scam?
So I'm going to share:
What I like (and don't like) about it
Main features
Things to improve
How it compares to Unice
A whole lot more
In short, I'm going to let you know whether or not MS Lula Hair is worth trying.
Let's dive right in.
MS Lula Overview: What Is This Brand All About?
MS Lula Hair is a hair eCommerce business based out of Guangzhou, China. The hair brand offers a number of integrations, including Hair Weave, Wigs, Closure, and more(like Julia Hair).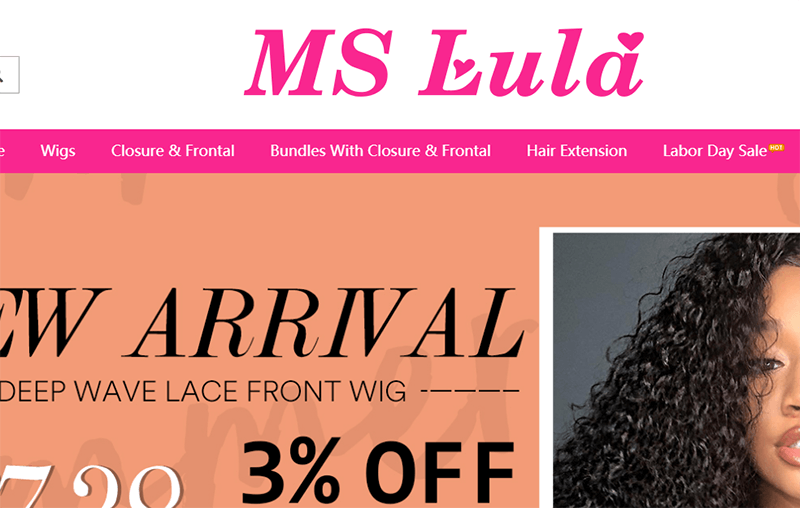 Their own "about us" page emphasizes their core vision: To help you Express Yourself.
In other words, they can provide you a wide range of hairstyles, even custom products. It looks not bad.
Another thing worth mentioning is that they have their own factory to make human hair products. Obviously, this is a big advantage.
Direct-to-consumer company(no middleman)
Strictly control product quality
Plus, they claim to describe their products truthfully and no false advertisement.
I'm going to point out the truth of that claim a little bit later.
Now – they also provide Non-Remy hair on the AliExpress store. This means that their low and middle-end products are mixed to sell, so if you want to buy human hair from their store, you need to pay attention to that.
With that out of the way, let's take a look at MS Lula's main features.
---
Authenticity(8.5 out of 10)
---
In this chapter, we'll see what they claim.
1、100% Human Hair
As it turns out, their hair is 100% human hair that has never been mixed with animal hair, synthetic hair.
If you doubt their claim, a burning test is a good way to do it.
In my opinion, this is the least controversial point.
2、Raw Virgin Hair
If you've been in the hair industry for a while, you are familiar with these two terms.
If you're new, it is very important to get a proper education. Otherwise, you may be get scammed and lose out on hundreds of dollars.
The definition of raw hair used to imply that the hair has not undergone ANY chemical, heat, or steam processing.
In fact, raw hair is the purest and natural form of hair available on the market.
Now let's move on to the other term which is Virgin hair.
Virgin hair is a term for hair that has never been chemically processed. But chemically unprocessed also includes steam, heat processing in today's market.
MS Lula Hair company offers hot trendy styles like curly hair, deep wave, water wave, or body wave. Honestly, these unique styles are created by steaming.
So yeah, their hair is not real raw hair. Relatively, the hair is only virgin hair.
3、The "Exotic" Hair
This is a common marketing strategy for hair companies.
But to be honest, it's just marketing. The popular kinds of virgin hair do not originate from the countries and areas they are named after.
So, the "Exotic" MS Lula Hair is exactly some variation of Asian hair.
4、Single Donor Hair
Single donor hair is a bundle of hair that is cut only from one donor.
In fact, it is also a marketing strategy to raise the price of bundles.
Plus, ever wonder why thousands of bundles look exactly the same? It is not because thousands of hair donors had the same curl pattern.
Look at the photo below. Can you imagine their hair was cut from one donor?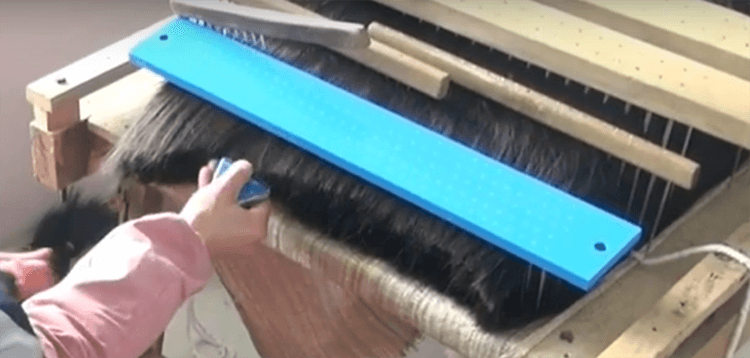 As you can see, it's a step in the production process of most hair factories.
Overall, MS Lula Hair is not single donor hair. And in most cases, whenever hair brands claim one donor hair, it is often untrue.
---
Appearance(9.1 out of 10)
---
Compared to other brands – MS Lula has a pretty good selling point:
All kinds of colored hair
It's essential to know 1 thing: these hairs have undergone a chemical process, including 613 blonde hair.
Let's take a closer look at their real hair products.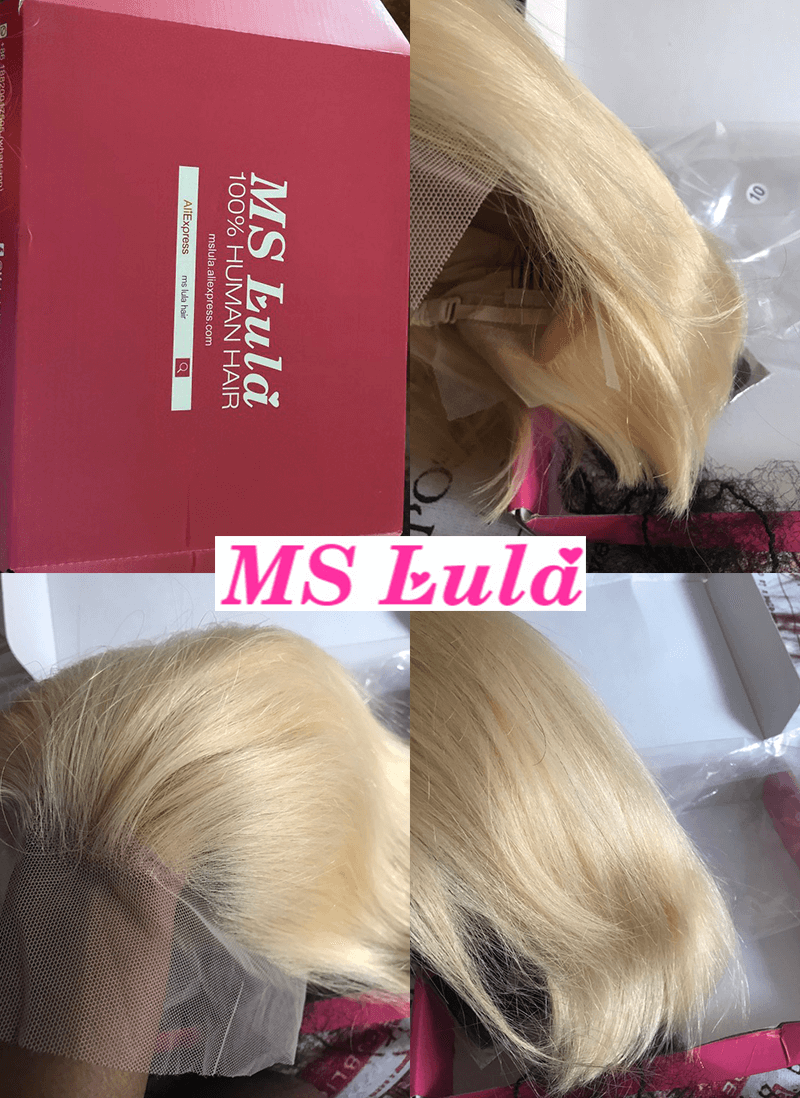 As you can see in the picture, it's a pink box made with good quality material. The brand name mentioned on the hair wigs' box – MS Lula Hair. The wigs inside were neatly coiled to keep them from getting tangled up.
Besides, the cap under the wig as a gift.
Well, it's a 613 bob wig. This kind of hair is made by bleaching. So yeah, if they claimed that this hair wig is made using virgin hair, it's often fake.
The good news:
This wig is silky, soft to touch. It's full but not too full gives you a very natural look.
The hair had a slight smell. So I personally suggest you wash it with a little shampoo and conditioner after receiving your order.
There are 4 combs inside the cap & an adjustable strap to fit different women.
The bad news is that their hair end is relatively thin. However, you should know the old saying: you get what you pay for.
It is also worth mentioning that the knots have been bleached and the lace is transparent.
Overall, I have nothing to complain about In terms of appearance. Specifically, the hair is almost just like the picture.
---
Tangling&Shedding(8.9 out of 10)
---
As I have already mentioned, MS Lula hair company offers Virgin Hair, Remy Hair, and Non-Remy Hair.
In today's reviews, I will not talk about Non-Remy hair.
Tangling is not much an issue for their Remy hair. This is because they use Remy hair material to manufacture their products.
Remy hair is a hair quality meaning the cuticles point in one direction. If properly cared for, this kind of hair will not easily cause tangle.
Plus, they have excellent machine-made and hand-tied technology.
Hair bundles can be double-wefted or single wefted.
MS Lula hair adopted the advanced technology to make the double weft. when we pull the hair strongly, the hair will not cause shedding.
All in all, their hair is relatively no tangling and shedding. It is essential to learn some knowledge of hair care.
---
Life Expectancy(8.8 out of 10)
---
I'm going to dive into the different kinds of MS Lula's human hair products available and how long each of these would last you.
Virgin Remy Hair Weave
To have your hair bundles sewn in, you'd need to have your natural hair braided into cornrows first, and then these bundles would be sewn onto the braids with a needle and thread.
Usually, the lifespan of MS Lula Hair weave is 3-6 months or longer, depending on the general care they receive.
Virgin Wigs
Wigs typically are attached to either a plastic or net base which holds the hair in place, which usually covers your entire head.
Natural wigs, when taken care of well can last up to 6-12 months.
Overall, I can't give you an absolute number.
That's because the lifespan of human hair will mainly depend on how well you take care of them, what products you use on them, and how often you wear them.
Even if you buy the best quality hair, you don't take good care of it, it will probably not last up to 3 months.
---
Customer Service(7.8 out of 10)
---
As part of this review, I'd like to see their Pre-Sales and After-Sales service.
Pre-Sales Service
Fortunately, they offer a variety of ways to connect with their company, including WhatsApp, Phone, Email, Live Chat, etc.
I usually ask them some questions before buying their products. And I send MS Lula a support message through live chat.
Unfortunately, I only received an automatic reply.

For further testing, I decided to send an email to them. A few days later, I still haven't got a reply.

Obviously, the company simply ignore me!
Although they provide phone support, I'm not satisfied with the quality of this service.
After-Sales Service
MS Lula Hair does have a return policy which is pretty much standard. But their policies are not amazing, they are even well below average.

As you can see, the return period is 2 days from receiving the order and the products must be returned in the same condition as they were received in.
This time period is NOT quite generous.
What's more, the package must be unopened, and the hair products shouldn't be used or modified in any way.
But they don't-refund the shipping charges, so if you aren't happy with what you received, you will lose out on the shipping fees at the very least.
This is the case with most hair companies. In fact, so far, I have only seen Mayvenn Hair that pays for the return fees too. That, I think, is great customer service.
Plus, if you want to get the products you bought returned, then all you need to do is get in touch with the company through email and request a refund.
Overall, I'll have to give MS Lula Hair 2-stars for customer service.
---
Online Reviews(8.5 out of 10)
---
Before I went on to make my purchase, I tried to find out as much as I could about the hair brand.
During my research, I found out that the company had very few customer reviews on the internet.
no page on BBB, TrustPilot, or similar websites
some bloggers have never tried their product
However, there are some "special" positive reviews with MS Lula Hair on Youtube.
Unfortunately, that are actually promotional. These reviews were being published by those who had been sponsored by the company.
This is a common marketing trick for hair companies. Their companies use cash returns to motivate buyers to help them promote their brands.
Even they looked for social media influencers to do many sponsored videos.
So yeah, you should try to avoid these biased reviews.
Now – there are some customer reviews on their products.
But the problem is that they're on its official website.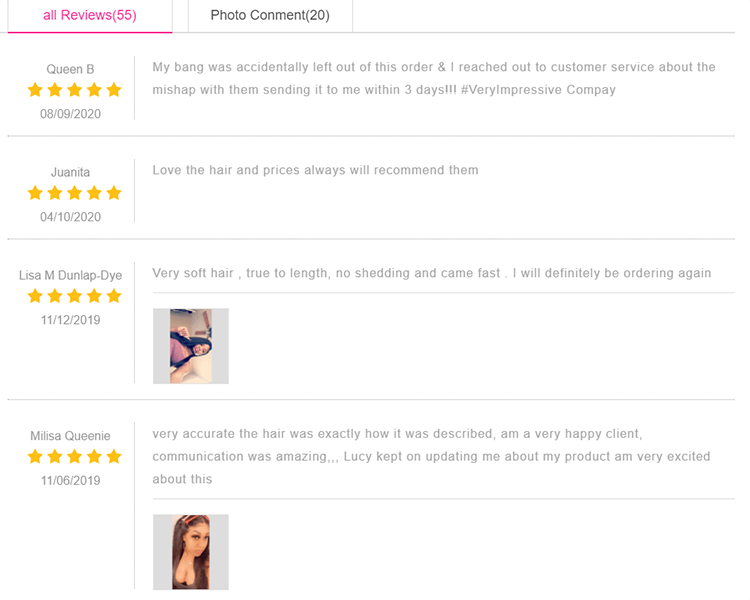 Honestly, in 90% of cases, the reviews are biased (false positive).
I can only go to AliExpress to look at what other users' opinions do(from 87 reviews).
Some say their hair took color super well and looks extremely natural.
Others praise that the hair is true to its length and density.
A few also claim the hair is extremely thin.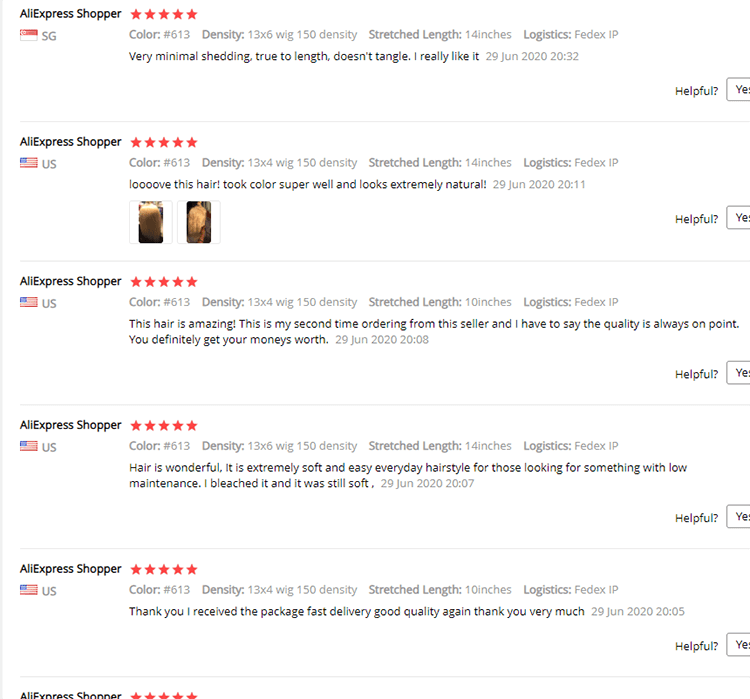 Generally, buyers are quite happy with MS Lula.
The biggest complaints are related to hair ends – which I definitely agree with.
Overall, it doesn't have a lot of negative reviews (even though it doesn't work for everyone).
But I think that's quite normal.
In my opinion, there's not a lot of real reviews about MS Lula on Aliexpress. The positive rate is relatively good. So their hair is not a scam.
PS: If you're a previous user of MS Lula Hair, I would appreciate hearing your feedback on it (whether positive or negative).
---
Pricing(8.1 out of 10)
---
Before I settled for one, I did a quick comparison online for the many brands and the prices they offer.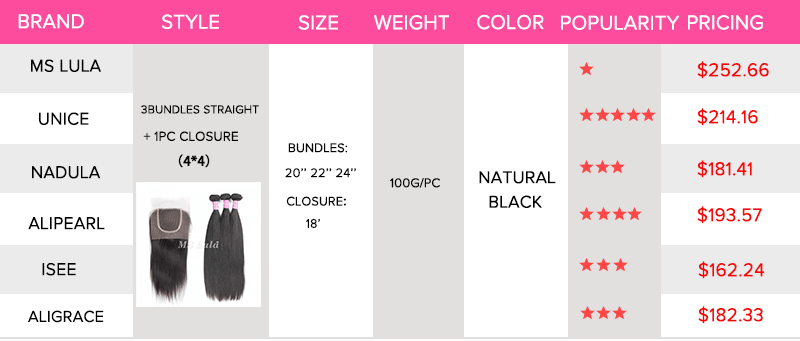 Honestly, I was alarmed by their price. The price of MS Lula is the highest among its main competitors.
I don't think the quality of their products is better than these brands, such as UNice, Alipearl, Aligrace.
So in my opinion – it's extremely easy to choose among these 6.
The price of ISEE Hair is the cheapest, but the longest hair proportion of this brand is the lowest.
In short, the longest hair proportion is the percentage of the longest length hairs in a bundle.
For example: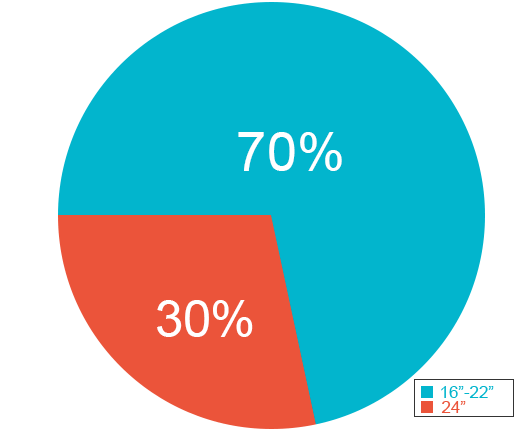 As you can see, a 24" hair bundle might contain around 30% full-length hairs(24"), and 70% varied length hairs(16"-22").
In terms of price – I can't possibly recommend MS Lula:
The hair is extremely expensive.
its actual value is under $180(hair sets in the table above)
Unknown brand
So whether you choose an alternative or not, I would advise you to avoid this brand.
It's literally not even close to its actual value (in terms of money).
---
Payment, Shipping, and Shopping Experience(8.8 out of 10)
---
The buying process was quite standard on its official website. If you have any experience with online shopping, then navigating MS Lula Hair's website should not be much different.
Fortunately, the website had the necessary certificates. So you could see that it was secure. It's very important because during online shopping you have to provide your personal information.
Once you had the products you needed, you added them to the cart, added your contact details and delivery address.
Then you can ONLY pay through PayPal, including credit card visa, MasterCard, and American Express.
If you buy products at their AliExpress store, you can choose other payment methods, such as credit cards, Alipay.
Anyway, once the order had been placed, you will receive an email immediately which contained confirmation of your order and an order number that you could use to track your order.
You can also qualify for free shipping if your cart's total amounts to $88 or more.
Well, MS Lula Hair shipped your parcel using DHL or UPS. In general, you can receive the package within 4-8 days.
In other words, you maybe encounter the situation of paying customs taxes. But this was not mentioned on the checkout page.
Overall, I won't complain too much in this chapter.
---
Where To Find It(8.4 out of 10)
---
At this point – you can buy MS Lula hair from its official website and AliExpress Store.
It's not available on other retailers like:
Amazon
Walmart
eBay
Wish(very few hair sellers have it)
So if you decided to buy their products, MS Lula's Official AliExpress Store remains the best choice.
However, there are more hairstyles available on their official website.
So yeah, if you want to buy their hair, you need to compare the two places.
---
Pros & Cons
---
Here's how I would sum up my opinion on MS Lula.
Pros
100% human hair
High-quality hair at an affordable price
Fast Shipping
Length Reference(30''-40'')
Available textures
All kinds of colored hair
Cons
a little expensive(compare with other major competitors)
Unfriendly customer support
Poor customer support
The return policy is not attractive
No overseas warehouse(US, Europe)
My Verdict – Is MS Lula Hair Worth Buying?
Short answer: It depends.
It's surely not a bad hair brand. And it's definitely not a scam.
This is probably the biggest advantage of MS Lula.
Long length hair bundles
Colorful hair
Other than that, if you simply want to buy some regular hair bundles or wigs, I personally would not recommend you to choose this brand:
a bit expensive
Brand popularity(no high)
Poor customer service
As I said before, I'm not a big fan of this brand in general.
But if you really want quality hair from a well-known brand – I would probably recommend this instead – UNice.
Pretty affordable
High-quality virgin Remy hair
Richer product line
Excellent customer service
Available on several retailers
Many authentic opinions about it
30 days Return & Exchange policy
Us overseas warehouse and multiple physical stores
Overall, you can spend less and get more things. So that's what I would choose instead.
What Do You Think?
So that's my MS Lula Hair review.
Now I'd like to hear about your experience with it.
Do you currently use MS Lula?
If so, do you think it's worth the money?
Let me know by leaving a comment below right now.